When it comes to the perfect brows, everyone needs to pick their poison. For some, using a trusty eyebrow pencil is all it takes, and today we've got a roundup featuring the 20 best eyebrow pencils!
In this article we discuss the following:
What is an Eyebrow Pencil?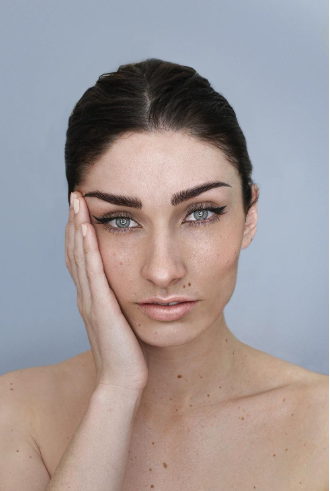 To answer this question, we enjoyed the words of Nikki from Brit on the Move. "Our eyebrows frame our face. People are drawn to our eyes and as such the eyebrows. Few people have naturally good shapes, few have full hair. Most people that have ever plucked their eyebrows end up with spotting hair growth and an uneven shape."
"With an eyebrow pencil you can create or mimic lines, ombre or full fill in. You have control. Whereas if you use a stamp or paste or brush on powder you don't have the same control and might have to touch up with a pencil anyway," says Nikki.
What Makes a Good Brow Pencil?
Whether you opt for a gel brow pencil, or one made from chalk, a good brow pencil is one that can cater to your individual needs. Skin comes into question, since people with oily skin will need to use a different formula compared to individuals with naturally dry skin.
At the end of the day, brand ethics, quality ingredients and an effective formula are what makes for a great eyebrow pencil.
How to Use Eyebrow Pencil
The first thing you need to keep in mind when using an eyebrow pencil, is that your goal is gap-filling and (potentially) thickening. You never want to be in a position where you're expecting a brow pencil to totally redefine your brows and shape them into something they're not — shaping comes from plucking, shaving or threading, and then a brow pencil comes after!
How to do Eyebrows with Pencil
Follow these simple steps to successfully do your eyebrows with a pencil:
Decide on your desired shape before you start filling
Pluck any stray hairs around your brows
Be clear on the ideal end point for each brow (close to the temples)
Start at the arch, and work your way out using upward strokes
Keep checking that you're working at the same height for both brows
Blend, and finish with a wax or a gel
Gina Calloway, founder and owner of Fear No Beauty, gave us her take on using brow pencils daily. "Eyebrow pencils are one of the least intimidating makeup tools. It's great because it's perfect for both a beginner and a pro. Eyebrow pencils are a good makeup choice because it's the easiest and best way to enhance your brows. You can create many different looks with it, giving your face more definition. With the right technique and practice, you can make yourself look like an even better version of yourself without too much effort. Unlike other tools, it won't hurt your eyebrows to use it. The ease of use is the reason why eyebrow pencils are great!" said Gina.
How to Pencil in Eyebrows to Look Natural
Using a natural eyebrow pencil doesn't mean you'll do a 'natural' job. One wrong move and your work can go from fab to drab real quick. For a natural look, keep these tips in mind:
Work slowly: focus on building, rather than wanting it done in a single coat
Blend, blend and blend some more
Ensure your pencil is sharpened to a strong point
Use a powder or brow sealing solution at the end
Stephanie Lawrence from Stephie Lashes gave us some top tips for achieving that natural look. "Most pencils are wax based, and this is key in long lasting wear. Brows are one of the first places on the face that perspire, and pencils are your best defense in making sure your brows stay put and don't run down your face. Be sure to choose a shade that is closest to the root of your hair color. This way, your brows aren't too strong or weak in color. As a professional and celebrity makeup artist, I always keep brow pencils in my kit and reach for them in nearly every application on all genders.", she explained.
How to Use Eyebrow Pencil on Thin Eyebrows
If you happen to have exceptionally thin brows, then you'll want to work with an angled brow pencil. This gives you better control over creating the shape and arch that is best suited to your face. A regular pencil will work too, but it won't be as forgiving when trying to develop arches or lines that are not naturally there.
We also enjoyed a conversation with Stephanie (who is mentioned above), about this very subject. "Since you can sharpen them, pencils easily create hair-like strokes for a natural and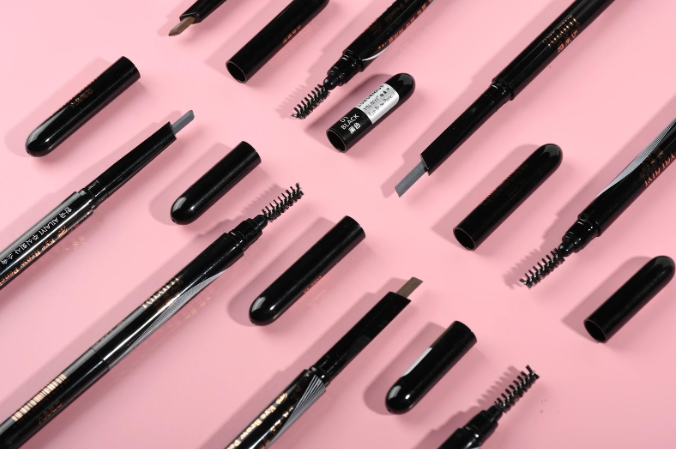 fuller looking brow. Especially if someone has petite or sparse brows, pencils are the perfect product for filling in and re-crating a feather-like strokes," says Stephie.
Eyebrow Pencil Colors
Choosing the correct color pencil for your unique brow needs is crucial, as the wrong color brows can make or break the face just as the wrong shape can.
More often than not, you want to stick to a shade that is nearest to your natural hair color. This isn't always plausible, of course, as sometimes people with red hair prefer brown or black brows, and there are many blonde haired individuals who opt for a darker shade of brows in order to open up the face.
Choosing your brow pencil color is thus a personal journey and something you need to experiment with! Not everyone can pull off the solid black look, while still looking natural.
Brown Eyebrow Pencil
Whether you're shopping for a soft or hard eyebrow pencil, brown tends to be a great middle ground for anyone who isn't sure where to place themselves on the color spectrum. When applied gently, a brown pencil can substitute for dark blonde, and when applied more heavily, it can border in the dark brown territory.
Dark Brown Eyebrow Pencil
Darker brown eyebrow pencils are a little less forgiving, especially if a light natural look is what you are after. Using a darker brown will require confidence, so you want to practice a bit first before making it a daily feature.
When applied gently, dark brown pencils can mimic regular brown to a degree, and when applied heavily, they can sometimes look very close to black.
Grey Eyebrow Pencil
There is no better cool toned blonde eyebrow pencil than that of a grey shade, and yes, this is a popular pencil despite what you may be thinking. Many regard grey to be one of the more realistic eyebrow pencils on the market, as it gives artists the ability to bring natural tones to the face.
There is something incredibly charming about grey-filled brows; these pencils are not just for people with grey hair.
Eyebrow Pencil Reviews
Because of the different types of brow pencils on the market (liquid eyebrow pencil, chalk pencils, gel pencils, etc), it helps to read the reviews of previous customers before committing to purchase anything.
Today, the beauty and makeup industry is so saturated online that you won't have to look very far to find at least one professional makeup artist who has reviewed the specific product you are looking at.
Waterproof Eyebrow Pencil Reviews
Waterproof brow pencils have been a complete game changer to the brow-game. We were all used to waterproof mascara, and then the brow equivalent arrived on the scene to send swimming face-beats to the next dimension.
For the most part, waterproof brow products seem to do what they say they will, but we would always recommend searching for real-life reviews of people who are testing the waters (pun intended) on your behalf.
Grey Eyebrow Pencil Reviews
The irony is that it was public reviews that actually made grey eyebrow pencils as popular as they are today. These products left the face-beat community largely uncertain upon first encounter, and it took the curiosity of a handful of artists to make use of these grey pencils, and then post their findings and visuals online.
Now, the world can't get enough of the unique look that grey brow pencils bring to the table.
Eyebrow Pencil Brands
While there are thousands of brow pencil brands out there, we're going to take some time to highlight a few favorites.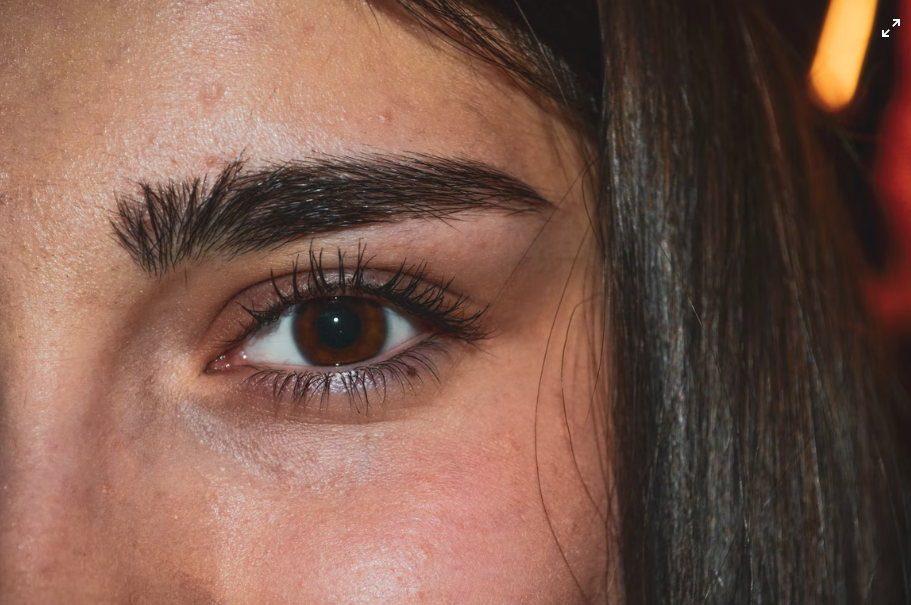 NYX Micro Brow Pencil
NYX is known for making one of the best eyebrow pencils in the USA. Nikki Webster, who we heard from earlier, shares this sentiment: "This is my all-time favorite brand. Their pencil comes in about 30 different shades so you can color match. It's super fine so you can create feather lines and create a hair-like effect. And, if you need to fill in deeper you can."
Benefit Eyebrow Pencil
Available in 12 dynamic shades, Benefit's skinny brow pencil is a product we've revered for a very long time. Benefit is a brand that delivers on their promises, no matter the product, so the fact that they guarantee 12 smudge-proof hours makes it worth every penny. Their online review section is equally as reassuring.
Maybelline Eyebrow Pencil
Maybelline has made every style of brow pencil available to the public. From slanted tip eyebrow pencils, to pencils with brow brushes built into the design, you can really get quite creative with your face using their range.
Above them all, we recommend their tattoo brow pencil which gives striking brows without losing their natural feel.
Anastasia Eyebrow Pencil
Anastasia is a brand based in Beverly Hills, and their latest eyebrow pencil is known as the 'Brow Wiz'. Offering 12 varied shades, Anastasia is one of the highest quality brands out there in terms of ingredients and execution.
Their brow pencils don't come cheap, and compared to other poor-quality brands one may even feel these are "overpriced". But as always the proof is in the pudding and you get what you pay for. As this is a wax based pencil, it won't smudge easily, and the brand is also proudly cruelty free and vegan.
Essence Eyebrow Pencil
The Essence brand gets our approval as a top rated eyebrow pencil, while simultaneously being one of the most affordable eyebrow pencils on the market. If a good cheap eyebrow pencil is what you're looking for, then it's safe to say the search is over.
Now available worldwide, Essence's brow sculpting range is not limited to just pencils. They have every tool in every shape and shade at the ready for whatever your unique brows call for.
Eyebrow Pencil vs Powder
Ever heard the phrase 'different strokes for different folks'? That's what applies when one starts to compare eyebrow pencils to eyebrow powders. A powder is better for people who don't like the waxy nature of a pencil, and powders are easier to build with when compared to pencils.
If you're a fan of harsher, more defined lines, then a pencil is the tool for the job. A powder makes for a more gentle and natural look, and offers less ability to draw strong edges.
Eyebrow Pencil vs Pomade
Yes, some people use pomade on their brows. Not sure what this is? Pomade is a greasy, waxy, or water-based substance that is typically used to style hair. Using it on brows allows one to achieve that fresh "laminate" look, with perky follicles pointing upward and staying put!
Pomade and eyebrow pencils couldn't be more different. For one, pomade can't fill your brows, it can only style them, so you're losing any sense of creativity in that regard. Pomade, however, can be a great product to use after you've shaped and filled your brows using an eyebrow pencil.
20 Best Eyebrow Pencils
So then, which eyebrow pencil is the best? The following is a roundup of 20 fantastic products, all great for some specific purpose that we will highlight below. A brow beginner? No problem. A daily swimmer? We've got you. Read on and find the perfect partner in brow-shaping crime.
1. Best Eyebrow Pencil for Beginners
Sephora Retractable Brow Pencil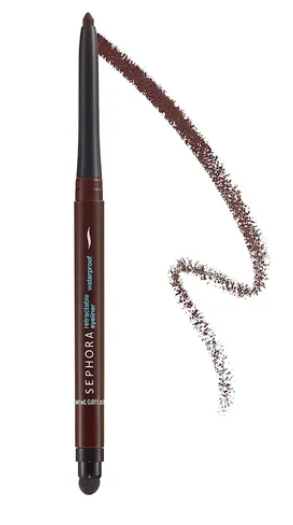 A waterproof formula featuring an ultra-fine tip means that you'll very easily pick up the brow-shaping technique when using this kind of pencil. We recommend Sephora's retractable pencil for all newbies to the brow club… it also doesn't hurt that it costs only $12, has a near perfect review rating, and comes in 12 different shades.
2. Best Drugstore Eyebrow Pencil
Rimmel London Brow This Way Professional Pencil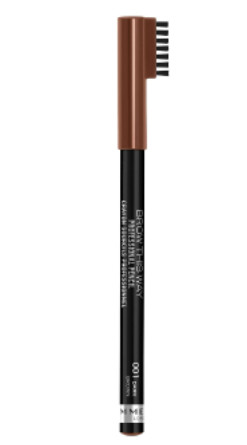 We got our recommendation for the best drugstore pencil from Nikki Webster, who we spoke with extensively earlier on in this piece. "This pencil by Rimmel is my on the go one. I have one in my purse and one in my at home makeup bag. This one is really quick and easy, I can create full brows in less than a minute."
3. Best Cheap Brow Pencil
Covergirl Easy Breezy Brow Micro Fine Fill + Define Eyebrow Pencil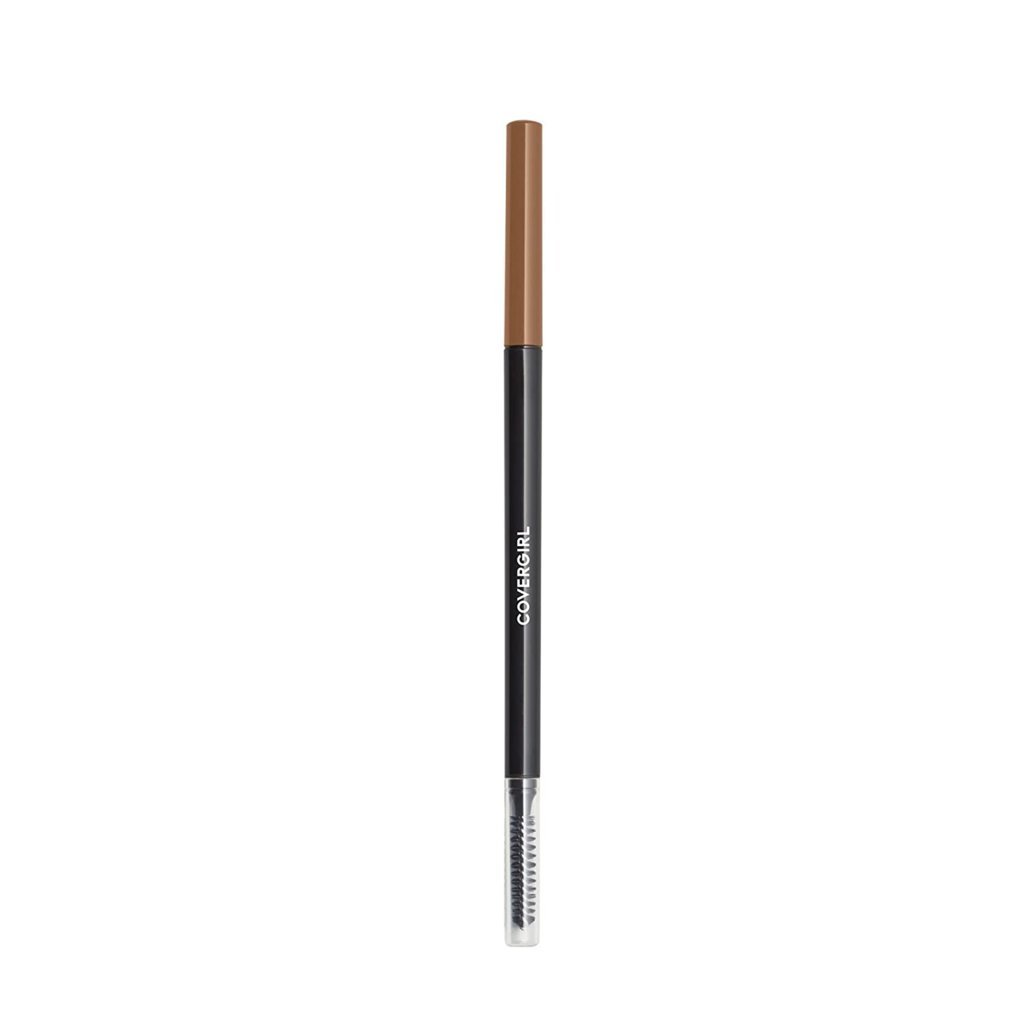 At just $6 a pop, we give great thanks to Covergirl for the creation of this fantastic (and cruelty free) brow savior. Somehow, this formula lasts the whole day, and all it takes to wash off before bed is a little light soap and water. The shade range is a little limited, but we can look past that when it comes to saving the extra cash.
4. Best Waterproof Eyebrow Pencil
Stila Stay All Day Waterproof Brow Color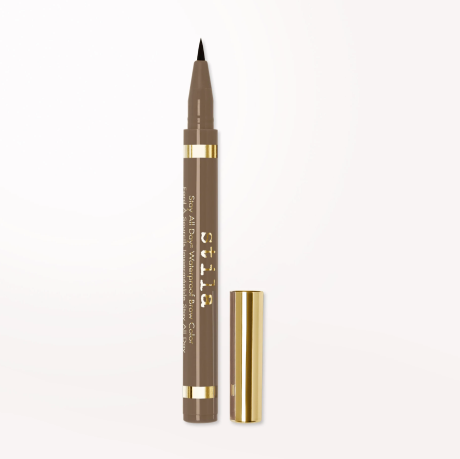 Swimmers aren't the only people who can benefit from a waterproof eyebrow pencil; if you're a gym/workout bunny, or you do a lot of clothing changes in a day (shirt-over-head type of changes), then a waterproof brow pencil will make a heck of a difference.
This one by Stila is our go-to, and the range of flattering colors work to compliment any skin tone they touch.
5. Best Eyebrow Pencil for Sparse Brows
Anastasia Beverly Hills Brow Wiz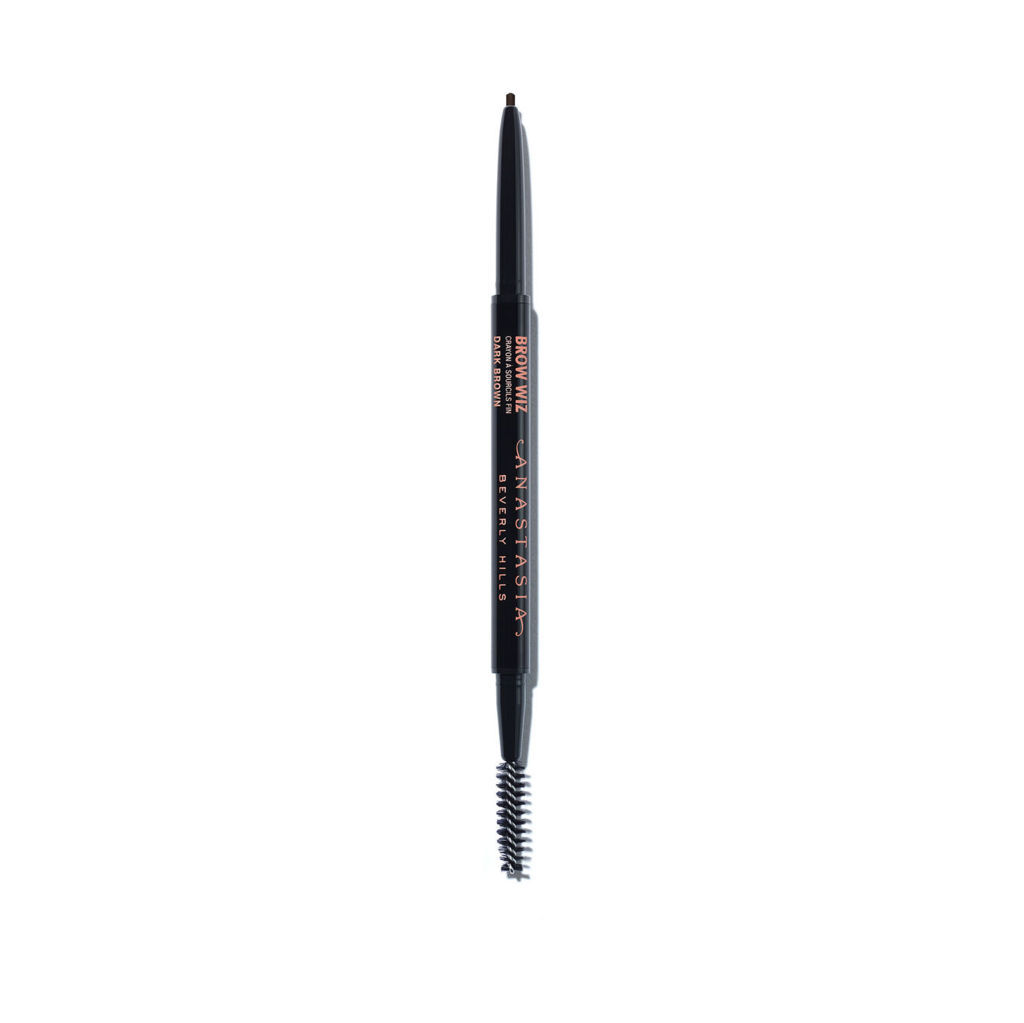 To have sparse brows doesn't necessarily mean you need to use the thinnest eyebrow pencil, but it can be an option. Earlier on we looked at the Anastasia brand of cosmetics, and their impressive eyebrow styling range.
Their Brow Wiz happens to be one of the best hair stroke eyebrow pencils for people with particularly sparse brows. It comes with a brush attached to the pencil, which allows for the product to be brushed through what little hairs are available, gradually thickening the brows.
6. Best Eyebrow Pencil for Blondes
Hourglass Arch Brow Sculpting Pencil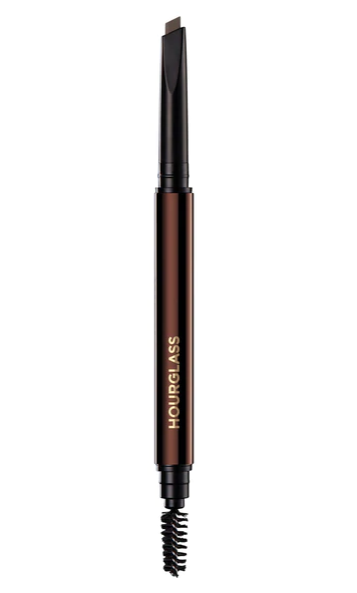 When it comes to understanding blonde brows, it helps to talk with someone who knows the lay of the land. Sally Stevens, skincare formulator, marketing manager and co-founder of Fast People Search, offered us some helpful insight into this part of the industry.
"I have very fine, blonde hair in my eyebrows. Without any eyebrow pencil, it looks like I don't have eyebrows. So, I use a blonde (which is actually a light brown) eyebrow pencil, and it does make a difference. I don't do complicated Instagram eyebrows, just a subtle bit of pencil and it does make a huge difference," explained Sally
This Hourglass pencil, in shade 'blonde', is all you really need.
7. Best Eyebrow Pencil for Gray Hair
Laura Mercier Brow Pencil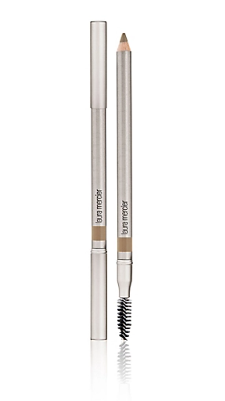 Laura Mercier is a leading cosmetic brand with a devoted following. This is because the products work, the formulas are of high quality, and the brand itself is transparent about their processes.
To match grey hair, one should opt for the pencil in shade 'ash blonde'. The cool tones blend beautifully with grays while still offering distinct shaping options using the sharp pencil edge.
8. Best Eyebrow Pencil for Black Hair
IT Cosmetics Universal Eyebrow Pencil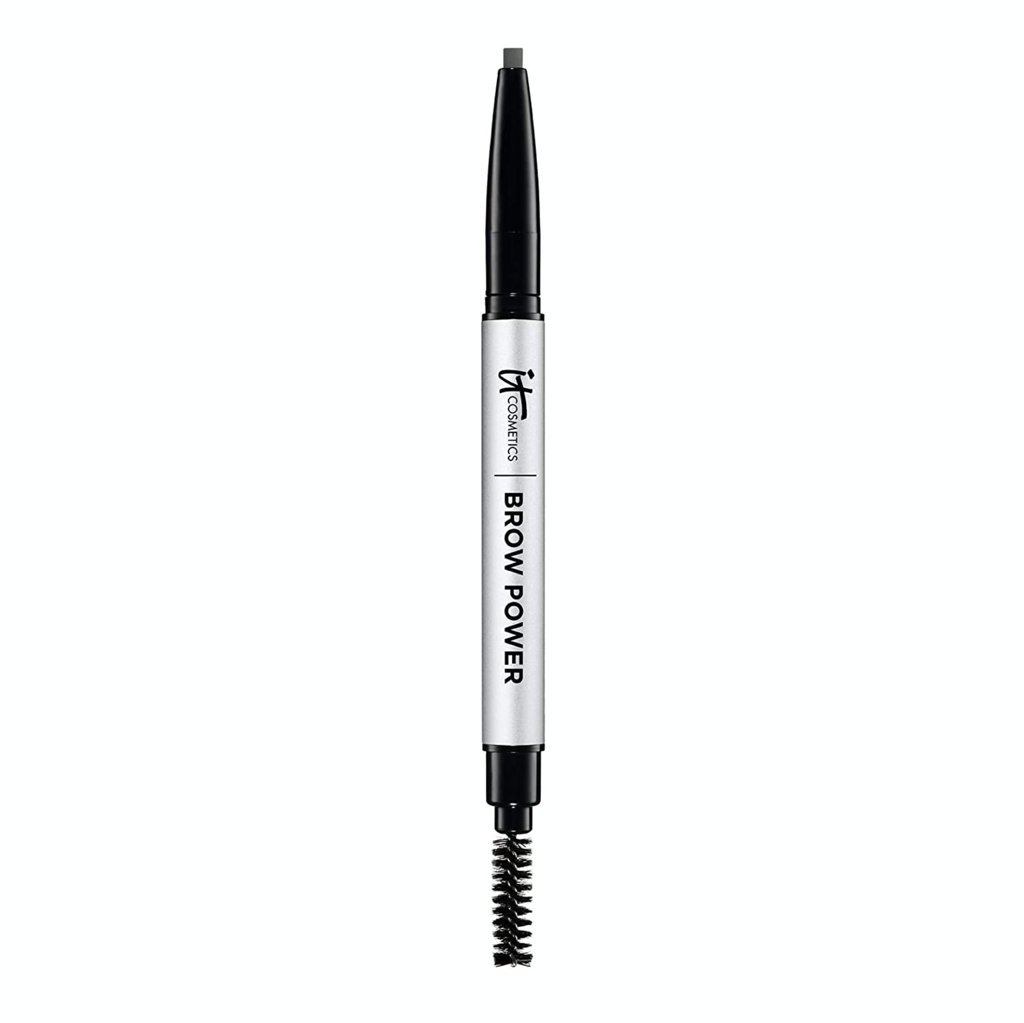 You won't understand the struggle of finding a suitable brow pencil for jet black hair unless you yourself actually have jet black hair. This isn't a case of simply using the darkest pencil you can find — often this isn't good enough.
One needs a jet black formula that can match the dark tone of the hair itself, and this pencil range from IT Cosmetics is one of few that have got it right!
9. Best Eyebrow Pencil to Fill in Scar
Valentino Brow Trio Eyebrow Liner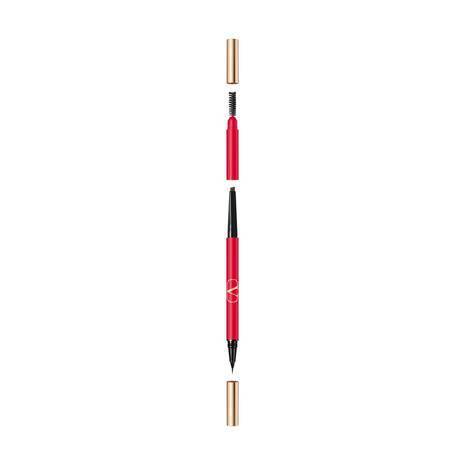 In order to close the gap on a scar, one needs to fake fuller brows. Some call this product by Valentino more of a "transformer", as opposed to just another brow pencil. A brush, marker and angled pencil all in one — there is no scar or gap that can't be filled to natural perfection with this toolset.
10. Best Eyebrow Pencil for Black Skin
Lime Crime Blushy Brow Precision Pen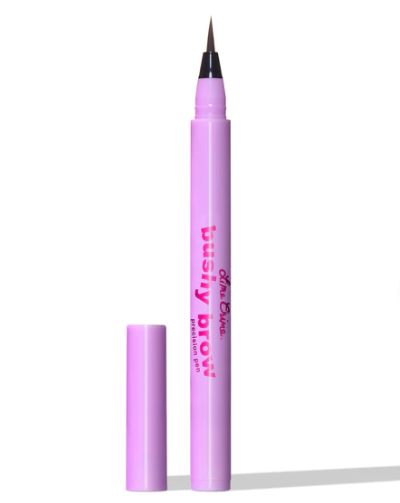 The community has spoken, and there is one eyebrow pencil that seems to always be at the front of the queue. Lime Crime's brow pen in shade 'black brown' is a must for any well-equipped makeup collection.
The vegan and cruelty free formula works in a feather-like stroke to amplify your existing brows without ever looking fake or harsh.
11. Best Korean Eyebrow Pencil
YRYM HT Tattoo Eyebrow Pen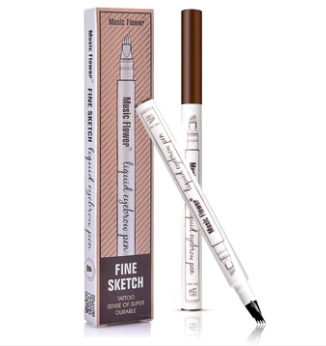 Korea has more than just great skincare to offer. YRYM HT is a Korean cosmetic brand that we keep a close eye on, and we love their sweat-proof, long lasting brow pencil for that 'tattoo brow' look.
The tip of the pencil features 4 points, which makes consistency whilst drawing pretty much impossible to mess up. Eyebrow innovation at its finest.
12. Best Eyebrow Pencil at Sephora
Charlotte Tilbury Brow Cheat Kit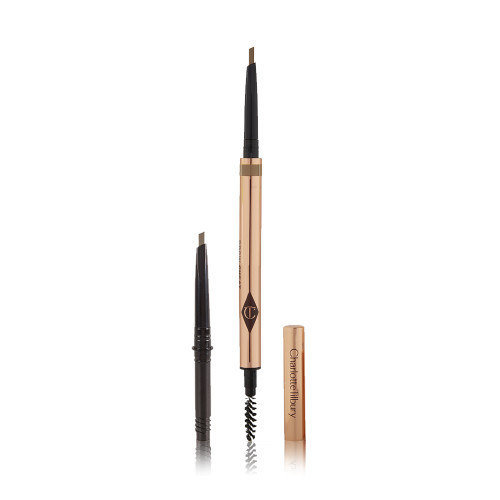 Sephora never stocks less than phenomenal cosmetic brands, but this brow cheat kit by Charlotte Tilbury has got to be our favorite! No idea where to start with your brows? No problem. This kit contains all you need to perfect the art of arch, leveling and brush-up.
At $34, this isn't exactly a bargain, but it is one of the best products you'll find both in-store and online.
13. Best Eyebrow Pencil at Ulta
Urban Decay Brow Blade Ink Stain + Waterproof Pencil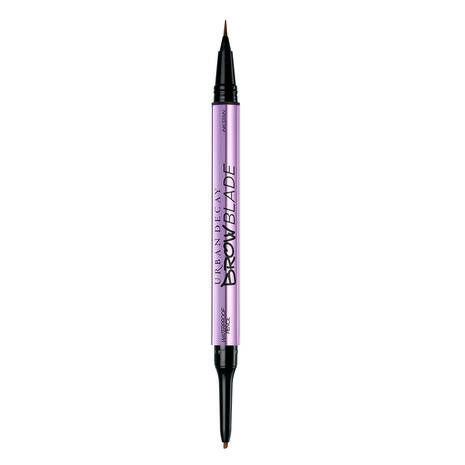 Vegan and cruelty free, we are obsessed with this flat eyebrow pencil by Urban Decay. You can purchase it on Ulta, or from the brand directly, and enjoy the benefits of a buildable, waterproof pencil that is unusually easy to apply.
14. Best MAC Eyebrow Pencil
MAC Shape and Shade Brow Tint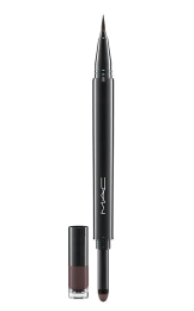 Mac has a range of different brow products on offer, all with unique abilities designed to cater to the different needs of brows. Our favorite, by far, is the Shape and Shade pencil that features liquid on one end, and a powdered sponge on the other.

We'll leave exactly how these two ends work together to your own exploration once you purchase — but just know that it will probably change the way you view makeup for good.
15. Best Long Lasting Eyebrow Pencil
L'Oreal Paris Brow Stylist Definer Eyebrow Pencil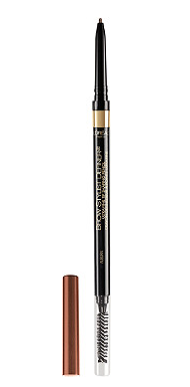 Let's face it, sometimes you just need eyebrow pencils that stay on, and it can feel like there is no brand out there that can deliver. Surprisingly, it's L'Oreal who has come to the table with a long lasting eyebrow pencil that actually sticks. The waterproof-nature of the product makes it a dream for gym goers, swimmers and beach-lovers.
16. Best Smudge Proof Eyebrow Pencil
Sigma Fill + Blend Brow Pencil

When it comes to clean beauty, Sigma is a brand we sit up for. This fine-tipped pencil is one of our favorites, featuring a formula that won't even smudge on the sweatiest day of the year (we tried it out!).
Made gluten free and lactose free, this is one of the best eyebrow pencils for sensitive skin, too!
17. Best Taupe Eyebrow Pencil
Kimiko Super Fine Eyebrow Pencil Automatique
Finding a good taupe colored pencil is easy, but finding one that holds this shade, even when being layered upon, makes things a little harder. We love this eyebrow pencil by Kimiko, and the closest thing to taupe is their shade 'latte'.
Filling in fine hairs is effortless with this pencil, and the color sticks, no matter how thick you pack it on!
18. Best Microblade Eyebrow Pencil
Glossier Brow Flick Pencil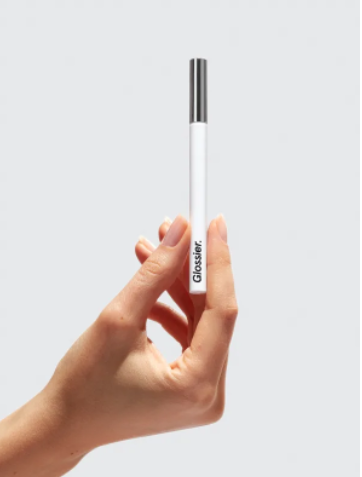 Creating that microblading effect is possible with the right pencil, but not all brands are up to the challenge. Always one to rise to the occasion, Glossier's eyebrow pencil has landed them a pack of repeat customers who just can't get enough of the effect it produces.
Easy to use and long lasting, you'll achieve the microblade effect within seconds.
19. Best Black Eyebrow Pencil
Fenty Brow MVP Ultra Fine Brow Pencil & Styler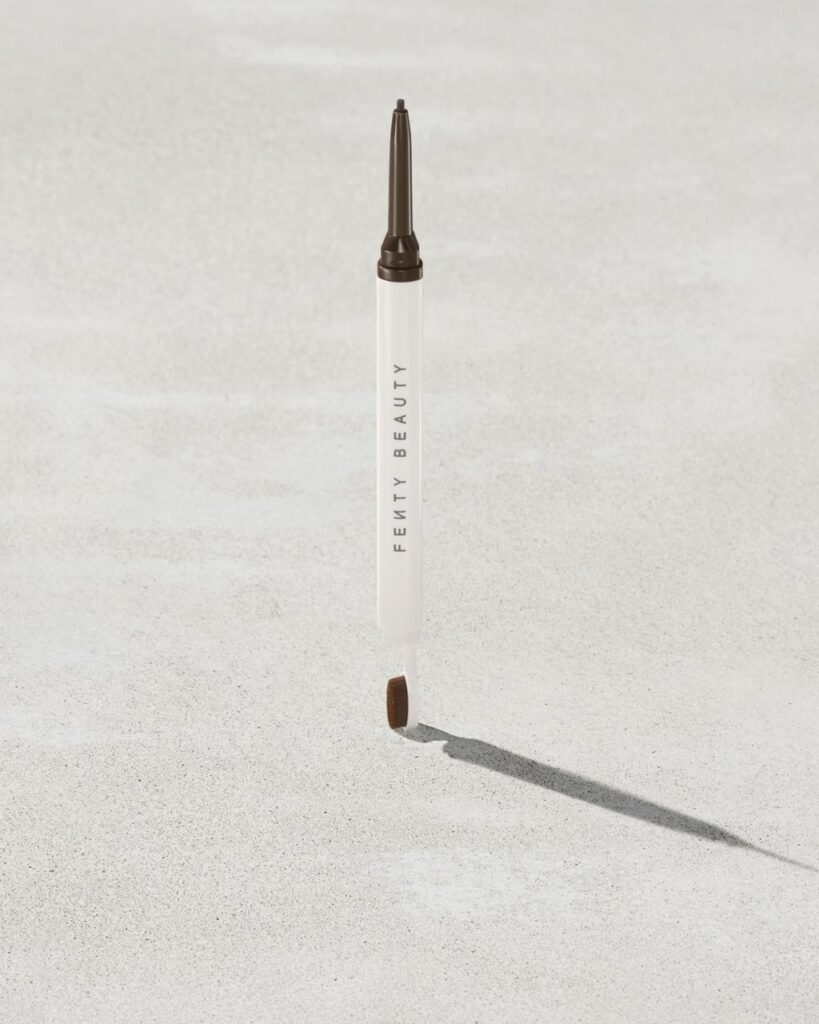 There's black, and then there's black; any experienced makeup artist will know exactly what we mean. That infallible, black as the night, eyebrow pencil was always going to be brought to the world by the queen herself — Rihanna, that is.
The Fenty brow styler, in shade 'deep black', is the only product we would trust with the job. Longwear precision finds a whole new definition with this brow formula.
20. Best Light Brown Eyebrow Pencil
Joah Brow Down to Me Precision Pencil

You're going to want to head over to the Joah website, and you're going to want to order this pencil in the shade 'soft brow'. Light brown eyebrow pencils are not difficult to find, but this formula by Joah requires no sharpening, and features a built in blending brush for that finishing touch.
Where to Buy Eyebrow Pencil
Where can't you buy eyebrow pencils these days? There are even some gas stations stocking cheap-brand products for those brow emergencies. The following are some of our favorite places to shop for great brow pencil brands. Which of them are most convenient for you?
Eyebrow Pencil at Walmart
Walmart wasn't always a place that we'd send customers looking for quality cosmetics, but in recent years they have seriously upped their game. Shopping for brow pencils at Walmart is a great idea, especially if you are the type of person who enjoys physically touching a product before committing to purchase.
One can even sample a lot of the products at Walmart before taking the plunge. This way, you can play around and decide if a round-tipped pencil, sharp-pointed pencil or slanted-edge pencil is better for your needs.
Eyebrow Pencil at Sephora
For those in the market for cruelty free drugstore eyebrow pencils, look no further than Sephora! There are few things as exciting as a Sephora shopping outing, and working one on one with the talented in-store artists to find the very best products for your skin and needs.
Sephora has the best range of brow pencils, hands down. They have access to brands from all over the world that a lot of other mainstream retailers simply do not. Shop online if an in-store visit is not convenient.
Eyebrow Pencil on Amazon
If there's a brand you have in mind, nine times out of ten you'll find it (at a discounted price) somewhere on Amazon. Brands themselves don't necessarily sell on this platform, but third party sellers will offer a range of products and play the middleman.
The reason we love shopping for any cosmetic product on Amazon is because of the platform's very public feedback feature, where one can read product reviews from past customers.
Ultra Slim Brow Pencil at Ulta
Similar to Amazon, Ulta is a hub for all things self-care and cosmetic. They too have a wide range of brand access that other platforms can't offer, so you're almost guaranteed to find a product that will blow you away.
Ulta's shipping, customer service, and general web layout is all very easy to navigate and take advantage of, and signing up to their newsletter brings regular discounts to your inbox.
Did You Enjoy This Article?
If you enjoyed this article, you might also like our articles discussing eyebrow and eyelash care such as: 13 Best Eyebrow Growth Serum and Microshading.