If you've gone this long without the use of organic tampons and pads in your life — we're astounded! It's high time you learn all about the risks that regular pads and tampons pose to your body, and what alternative options are out there for your benefit. Read on to learn all about the best organic tampons and pads on the market today.
In this article we discuss the following:
Why Use Organic Tampons and Pads?
There are pros and cons to everything, but when it comes to using organic tampons and pads, the positives far outweigh the negatives.
Consider, for a minute, the notion that certain medications can be administered vaginally. This tells us everything we need to know about what occurs when we place something inside of, or near to the vagina. It's absorbing everything it can, and this includes the compounds of your feminine hygiene products.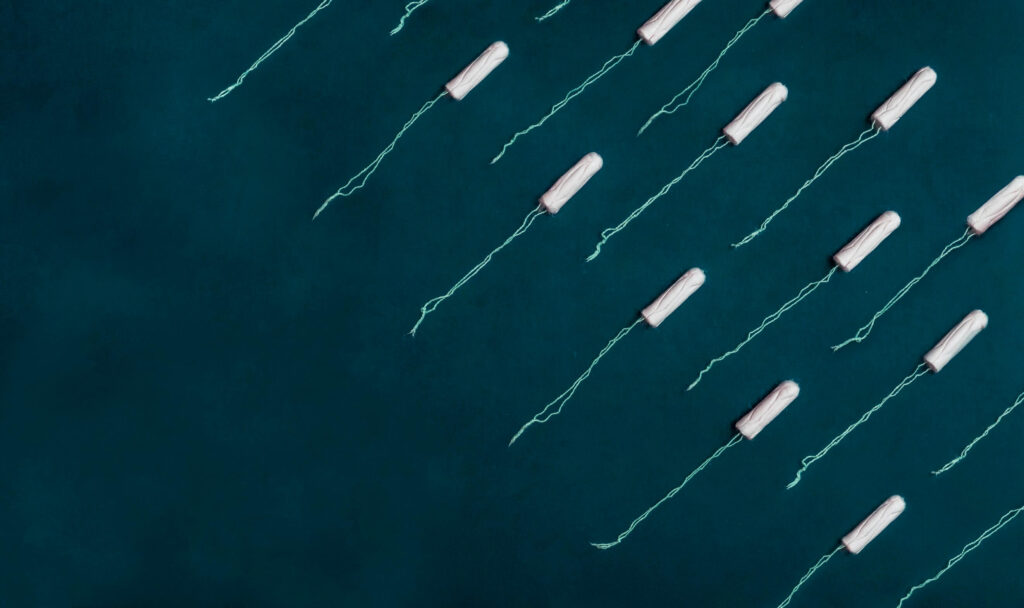 We use organic pads and tampons because we care about our bodies; and toxins entering the system via the vaginal canal is simply not acceptable in the 21st century. The chemicals involved in the production of these products put women at daily risk of something called toxic shock syndrome (TSS). Dioxins are also widely used, and these are known to cause cancer after long enough periods of exposure.
Amy Cattaneo has been switching to healthier products for years, but says "Tampons were one of the last things I changed but honestly, it should have been one of the first given they are actually inside my body."
We'll get into the lengthy list of chemicals that you need to know about shortly, but first we'd like to explore the environmental side of using tampons and pads.
We're quick to jump at the chance to save our bodily health, but few take the time to learn of the carbon footprint that using regular pads and tampons subjects the environment to. Non-organic pads and tampons are made with mass produced cottons that are not farmed using organic methods.
Bleaching is also a common practice; consumers love the lily white look of a perfectly bleached tampon. Production of bleach is one of the most harmful practices on the planet, and results in the leaching of chemical by-products into the atmosphere, in turn contributing to climate change.
What's more, non-organic feminine products are likely to be wrapped and packaged in plastic, generating a never-ending stream of waste to be added to the already overflowing landfills. A lot of plastic waste from hygiene products ends up having to be dumped in oceans and rivers; it is non recyclable plastic and thus of very little use to anyone.
Chemicals in Ordinary Tampons and Pads
Learning what exactly lives inside of your pads and tampons can be an eye opening, yet alarming, experience. You'd never think that such a compact item would be home to such a myriad of harmful substances.
"Traditional menstrual products provide no comprehensive list of ingredients or further info on their products." says Tori Ford, founder of Medical Herstory.
There have been many attempts on the internet to debunk the praise of natural feminine products. You'll find articles encouraging women to "calm down"; to drop the notion that toxin-filled pads and tampons may be contributing to any sort of vaginal condition.
One needs to keep in mind that the chemical industry relies heavily on the beauty and self-care industries; the two go hand in hand, and there are bound to be many agendas with the intent to elevate their status.
Case in point: Marisa Tolsma, certified GAPS™ Diet coach and founder of Bumblebee Apothecary notes that for her, "Conventional pads and tampons irritate my skin and are really uncomfortable. I have no issues at all with organic ones."
Pesticides
Conventional pads and tampons are made using conventional cotton. Conscious farming techniques are abandoned and instead corners are cut in order to maximize profits.
Pesticides are used to coat the crops that grow the cotton. In the process, these chemicals are absorbed into the plant itself, and will make the journey from the fields right into your vagina.
Chloromethane is one of the most commonly found pesticides in tampons and pads. To put its severity into perspective, chloromethane used to be used in the production of refrigerators, but it was abolished as a practice because of how toxic the effects are on the human body.
GMO
Brands are not expected to release this kind of information, but considering that 94% of all cotton growing in the US is genetically modified, your tampons and pads are almost guaranteed to contain GMO formulas.
GMO's, as we know, put the human body at risk of mutant cells which can lead to autoimmune diseases and cancers.
Styrene
Styrene is a type of chemical used in the production of synthetic rubber, resins, polyesters and plastics. Traces of styrene are always found in conventional hygiene products, despite it being a high risk carcinogen.
Styrene has been linked to lymphohematopoietic cancers, such as leukemia and lymphoma. It targets white blood cell counts in the body.
Odor Neutralizers / Fragrances
Any pad or tampon that claims to be better at "masking smell", or "staying fresh", will have been soaked in a chemical cocktail PEGs, PETs, contaminants and artificial fragrances just to give them that upper hand.
Absorption of these chemicals puts one at risk of hormonal deficit, infertility, birth defects, cancers and skin conditions.
Chlorine Dioxide
Chlorine dioxide is like taking refuge in the body of your tampon or pad if the product is that lily white tone we mentioned earlier. This is a form of bleach, and is slowly but surely being phased out due to the amount of research being conducted on the effects on both the human body and the ecosystem.
Benefits of Organic Tampons and Pads
As we said, it must by now be clear that using organic feminine products has more benefits to the body and environment than initially expected. It's like entering the rabbit hole; one you start learning you simply can't stop.
Most importantly, non toxic tampons are gentle on the body. Few people are aware that the vaginal canal is one of the most direct ports of entry to the bloodstream, so anything that penetrates the vagina for a significant enough period of time is included in the absorption process.
By making the switch to organic period products, you're virtually eliminating all risk of experiencing toxic shock syndrome, disease, infertility, cancer and hormonal dysfunction as a result of a pad or a tampon.
Contributing to a healthier and safer environment is a big benefit of using chemical free tampons and pads. By supporting organic cotton farming, you're significantly reducing your personal carbon footprint. The following are impacted when organic products are in use:
Less leaching of chemicals and pesticides into the soil of the crops
Less plastic waste being added to landfills and water sources
Less leaching of chemicals and pesticides into the air
Birds, bees and insects are protected from consuming pesticides and chemicals via cotton crops
When you add the benefit of not losing any money when making the switch from conventional to organic, the offer feels too good to pass up. That's right, organic hygiene products actually cost no more to farm or manufacture than their toxic counterparts.
There is widespread misconception that organic products come at a price, and while this may be true for organic foods, skincare and makeup, this is not the case with feminine hygiene products. Any brand that is retaining at above average cost is taking advantage of you; opt to support those who are competing with the conventional market!
Best Organic Tampons
Lola Tampons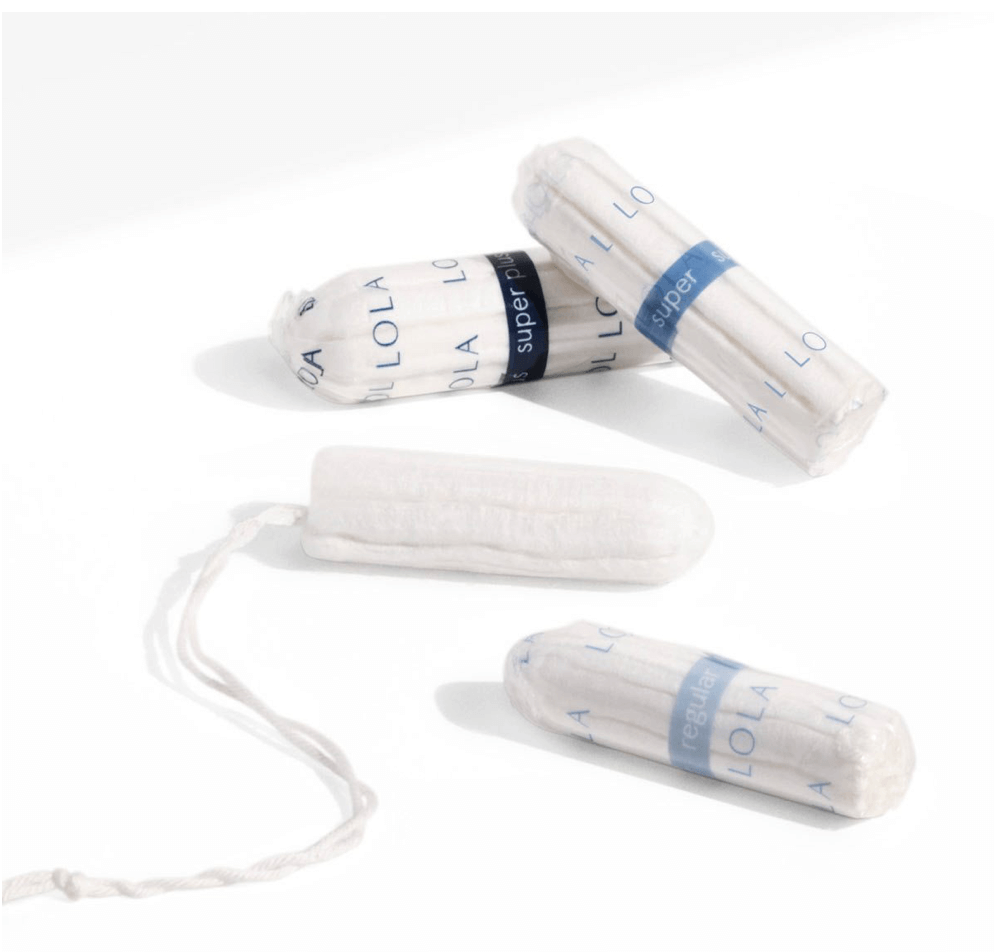 When it comes to organic cotton tampons, no brands do it quite like Lola. Lola is a comprehensive label dedicated not only to organic feminine hygiene products, but to organic sex essentials as well.
Early on, they saw a gap in the market for products that reached bathroom to bedroom; an all encompassing range of vaginal products that won't keep you in the line of fire as you move through your life.
If you read a Lola tampons review, you'll find women from all over the world coming together to share their organic journeys and how they are better navigating the more intimate moments in life as a result. Lola is a glorious community to be part of; they are definitely breaking the taboos surrounding these kinds of conversations.
L Tampons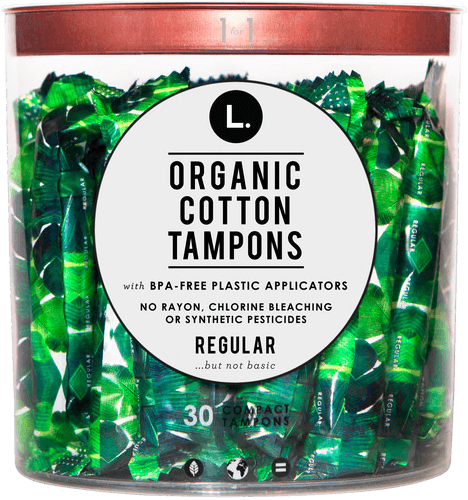 L are the makers of organic tampons and pads, and offer some of the safest tampons on the market.
The L organic cotton tampons boast never containing ingredients that you can't pronounce. They are free of all added contaminants, including bleach. We particularly love L tampons because for every single tampon or pad that is purchased, L makes one available to a person in need elsewhere in the world.
Period poverty is a global problem, so any brands that are working to fight the numbers is a brand worth your time.
Cora Tampons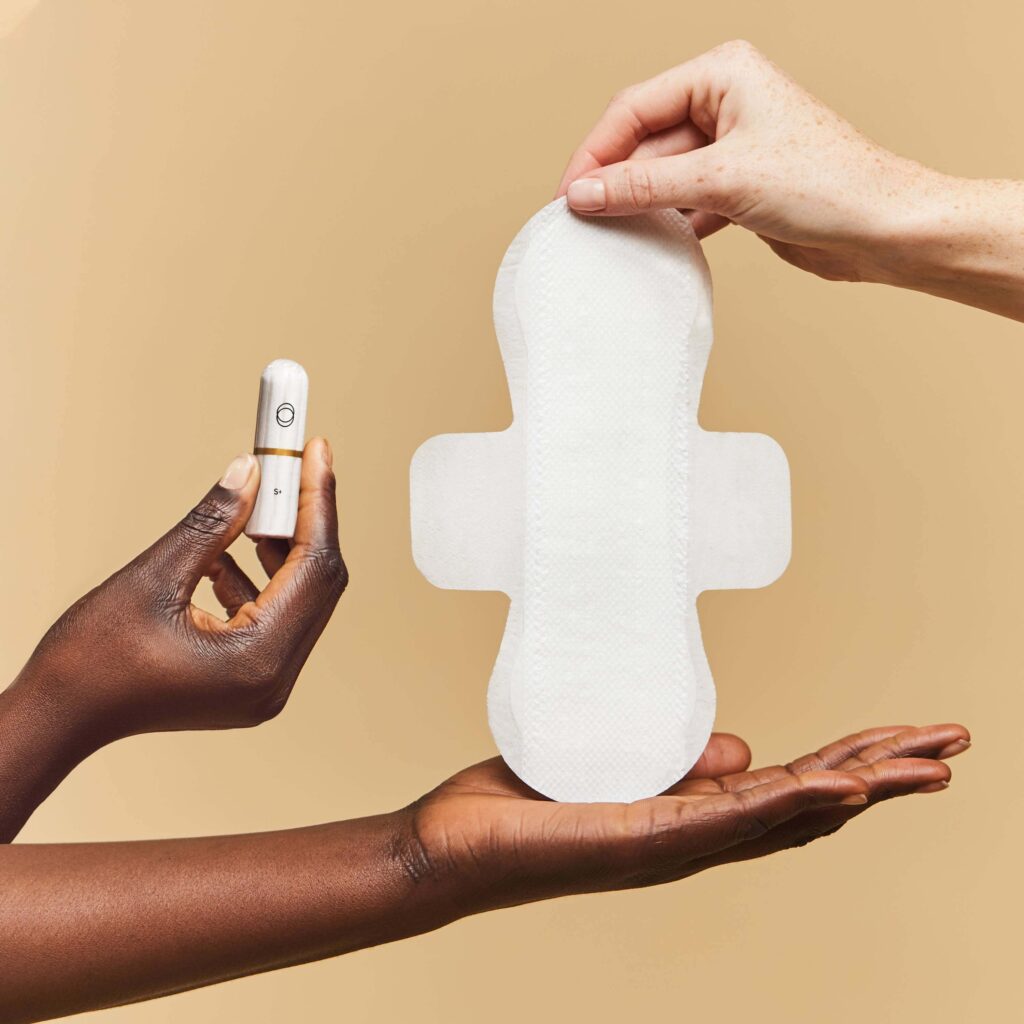 The Cora organic tampons are another brand we know and love. Cora recently introduced organic period underwear to their range, which is not something a lot of brands have jumped on the bandwagon with yet.
Their products are all made using organic cotton. The way Cora works is that you order the exact number of tampons you need per month, and they will make sure that they are at your door in time for your cycle.
Cora also supports charities around the world and has been dedicated to educating 15,000 women in Kenya and India about feminine hygiene.
Ob Organic Tampons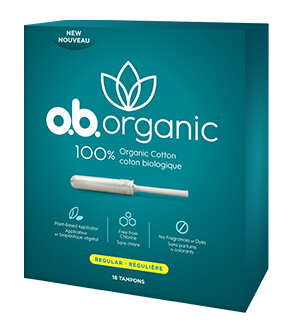 Something to note is that Ob's range does not consist of all natural tampons; they offer a mix of conventional and organic products, as desired by their consumers.
Ob has been one of the most recognizable names in feminine hygiene for quite some time. Their introduction of an organic line of tampons was no doubt strategic, but we do give credit where it's due and we must admit these are some of the healthiest tampons for both the body and the planet.
What's unique about Ob's organic tampons is that the applicator is environmentally friendly, too. The 'plastic' is made entirely of plant based materials and offers less harm to the planet.
Rael Tampons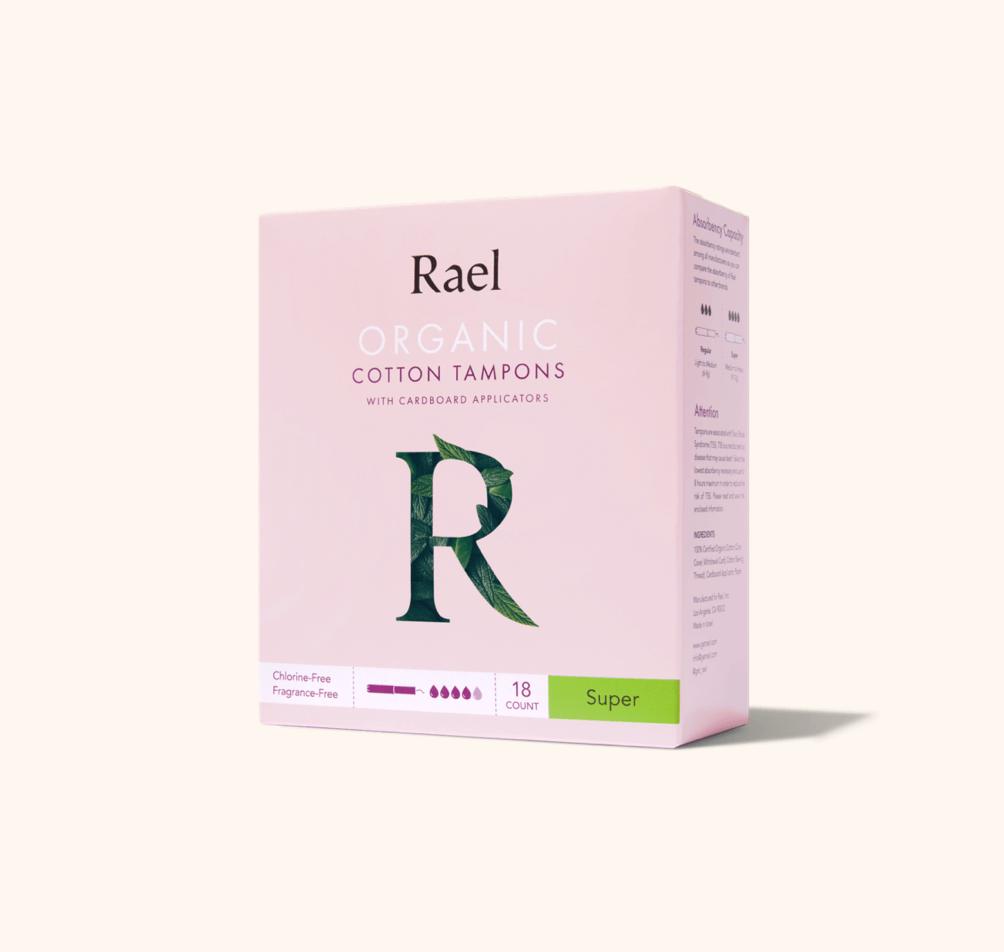 Some of the best organic tampons are made by American brand, Rael. All of their products are farmed and manufactured in Texas, and their quality is worthy of a mention or two.
What we particularly appreciate about the organic cotton tampons, is that their applicator batches are made entirely BPA free and biodegradable. This means less contaminants in your body, and less contaminants in the oceans and landfills.
Rael believes that since a period is the most natural thing in the world, the products you use should be too!
Natracare Tampons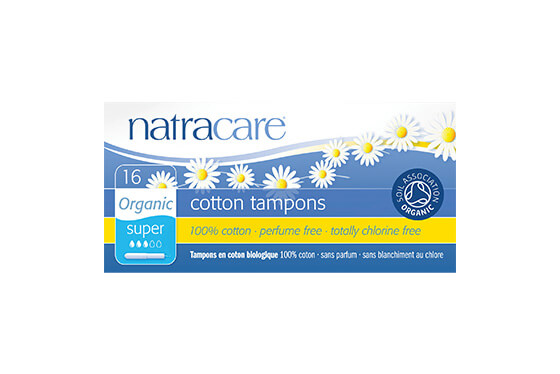 Netracare's range of free and clear tampons are oftentimes confused with the latest Tampax organic tampons. Both brands have similar branding, though are vastly different in ethics and conduct.
Unlike Tampax, the entire range of Natracare's hygiene products are natural and organic. They are also totally void of rayon fibers that tend to shed into the vagina and cause irritation.
Natracare offers compostable applicators, which is revolutionary technology if we do say so ourselves. We also love the fact that Natracare have made sure that their range of products is available worldwide, making safe tampons accessible to the masses.
Keep reading — we'll take a look at Natracare's very competitive organic pads target very soon!
Veeda Tampons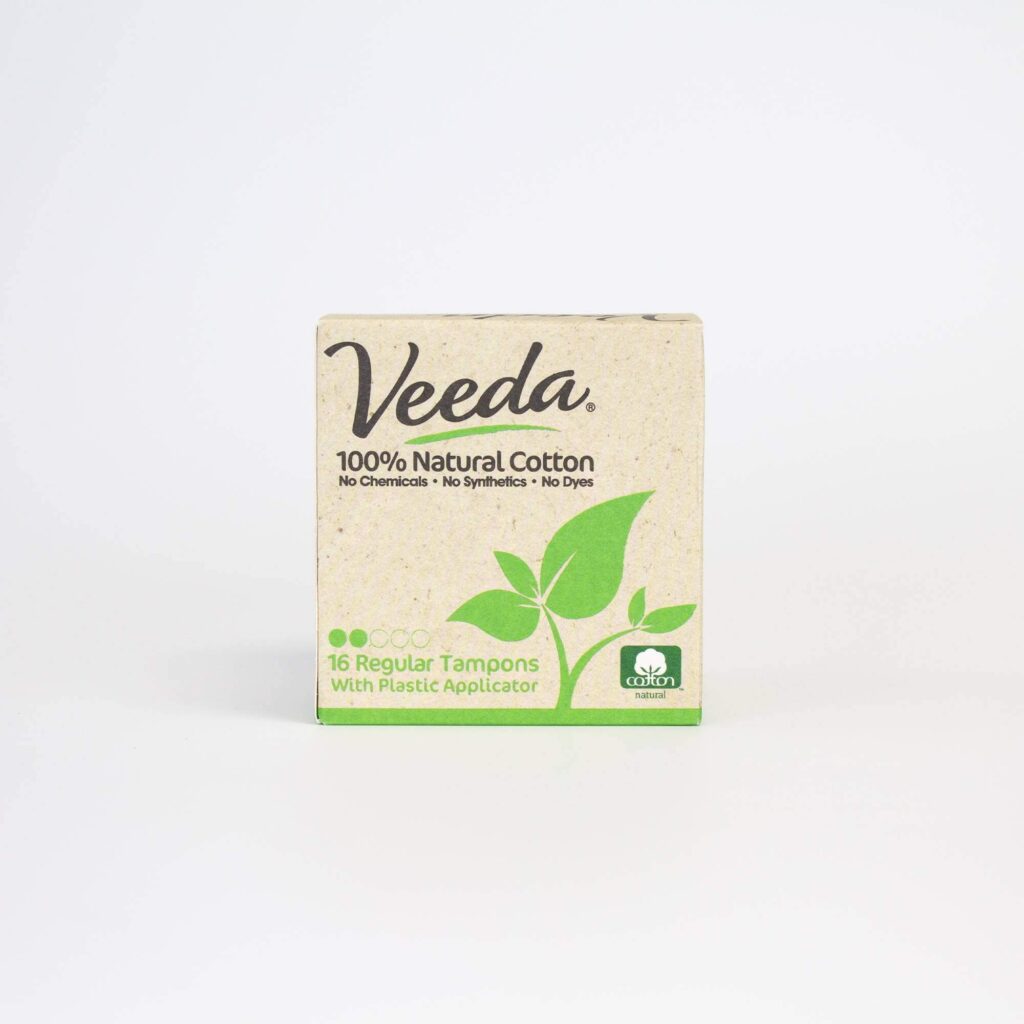 Veeda's latest spokeswoman is none other than 2000s icon, Hilary Duff. Who better to offer conscious feminine care advice than the actress who brought us Lizzie McGuire, offering us our first glimpse at what it truly meant to 'come of age'.
Veeda makes wonderful pure cotton tampons that care as much about the planet as they do their body that pays host to them. You'll be part of the ebb and flow of nature, contributing to a more sustainable environment in which you can live out your days.
Veeda, as a brand, embodies what it means to be healthy from the inside out. Their hypoallergenic tampons are free of all contaminants, especially those that irritate the most sensitive of skin.
Veeda also intends to remain one of the most affordable organic tampon brands on the market. Purchasing natural tampons shouldn't come at an added expense to the user; if anything, making this kind of conscious choice should be rewarded, and Veeda understands this.
We find Veeda to make the best organic sport tampons, compared to similar brands.
Seventh Generation Tampons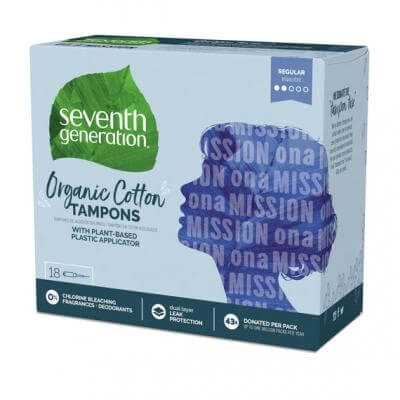 Another brand that is fighting the good fight; Seventh Generation are a line of period care products committed to eliminating the dreaded 'tampon tax' that plagues the market.
Since menstruation is a normal bodily function that no-one can avoid, it's quite infuriating that most governments charge tax on these products that are necessities. Paying tax to use a natural tampon is one of the most perplexing concepts if you let your mind dig deep enough — another rabbit hole of paradox and concern.
The Seventh Generation cotton organic tampons come in different shapes and sizes, depending on the individual needs of your flow. They also make their applicators from sugar cane, which is an environmentally friendly alternative to plastic.
This brand is particularly easy to find at most drugstores and department shops.
Kali Tampons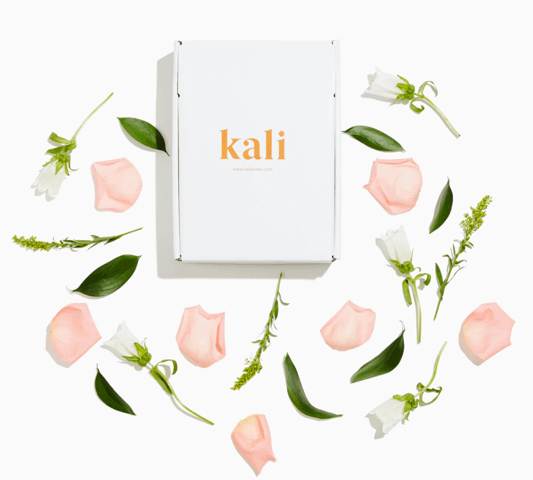 If you enjoy Playtex organic tampons, you'll love Kali!
Kali is like the more luxurious, hypoallergenic version of Playtex, with a far more interactive purchasing process. Once you're on the Kali website, you'll be prompted to design your unique product box, filled with all of the goodies you need to get you through your monthly cycle comfortably.
Kali will then ask you to stipulate a flow level for your free and clear tampons. They know that heaviness of flow tends to change throughout your cycle, so you can customize your box accordingly.
We find Kali to make the best tampons for sensitive skin, as their cotton is 100% organic, as opposed to the usual 95 – 98%. All of the farms they work with are sustainable and ethical, right from the way they treat their staff to the methods adopted during production.
We like how Kali plays on the notion that if you are seeking out organic products in your everyday life, there is no excuse to not be using organic products inside of your vagina. One can treat themselves to organic chocolate after dinner, slumber on organic sheets, spend thousands on organic beauty, yet accept toxic tampons when it's time to bleed?
Organyc Tampons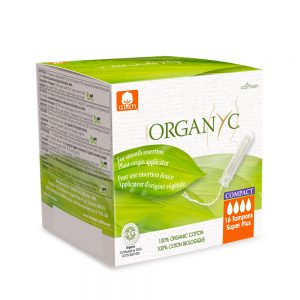 Similarly, Organyc takes a look at the ways in which organic eating is always the smart choice, thus organic feminine hygiene products must be too.
They draw attention to the idea of people around the world doing many daily practices to invite wellbeing into their lives, such as yoga and meditation, and yet fail to give simple consideration to the products used up close and personal with the bloodstream.
This is another great brand that uses only 100% organic cotton, sourced sustainably. There is not a trace of wood pulp in the formula, and you won't find a single molecule of pesticides, GMO, rayons or chlorines.
Organyc didn't stop at tampons, their menstrual pads are of equally as impressive quality. All of their products are incredibly breathable, and the brand is confident enough to claim you'll never, ever itch when using Organyc. If you're a lover of facial wipes, Organyc offers these in their range as well!
Best Organic Pads
Rael Pads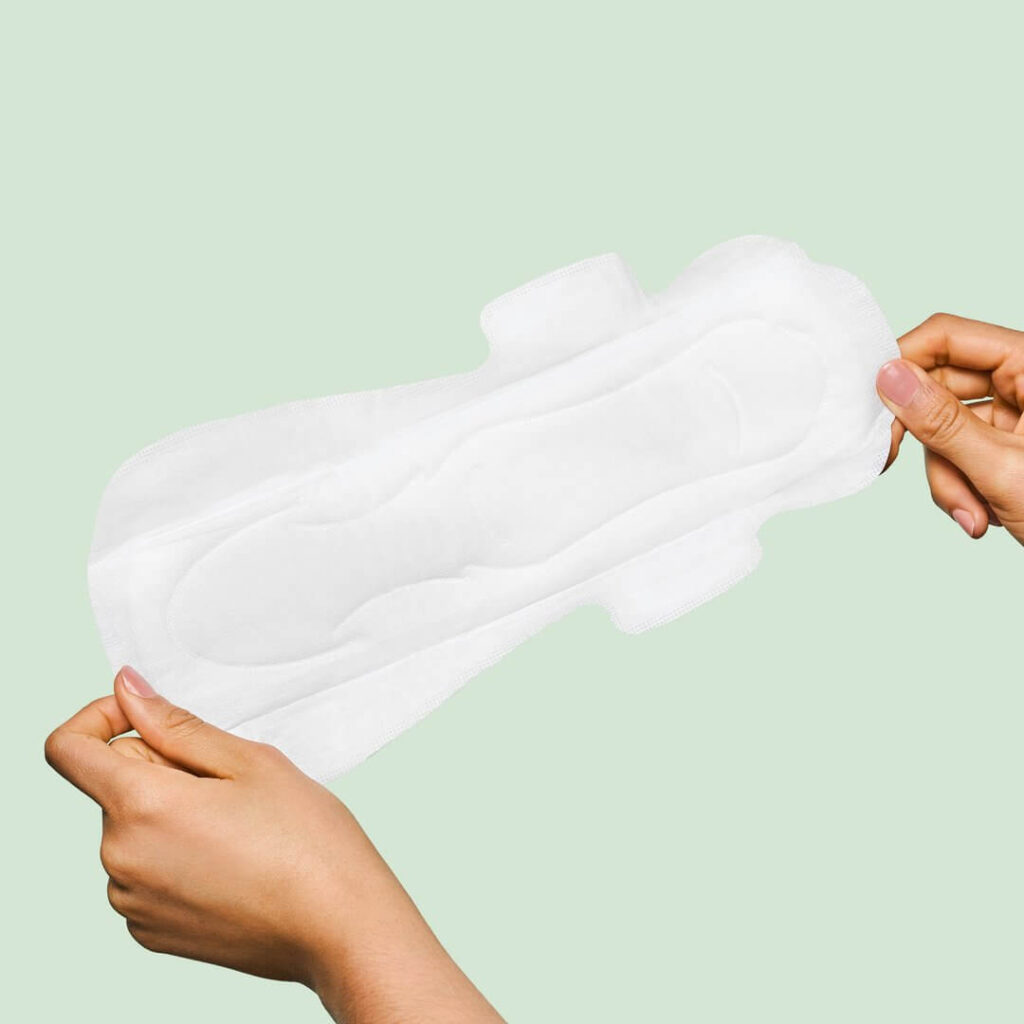 Rael was a brand we explored earlier, in the roundup for the best organic tampons. We love this brand because of their dedication to nature and maintaining integrity from seed to shelf, so to speak.
One thing worth mentioning, when it comes to seeking the best organic pads, is that comfort is key. Not all organic brands have nailed the comfort factor when it comes to the shape and style of pads, and this is largely due to a lot of patterns being patented, thus limiting the market.
Rael have outdone themselves in terms of comfort, this we can agree on. They've even taken it a step further to produce a range of overnight pads that are equally as organic, and have extended wings to keep you protected throughout your sleep. A lot of people struggle with heavy flow at night and it can become tedious having to get up in the dark just to change a pad or tampon.
Rael's organic pads are suitable for sensitive skin and will not evoke any kind of irritation around the base of your vagina.
L. Pads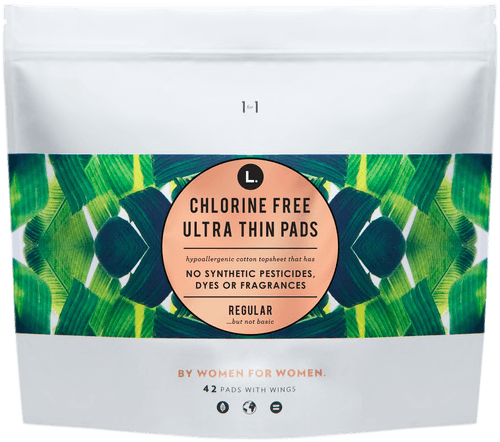 Like their tampons, L organic pads are made void of any ingredient that may pose threat to the tongue of the user, while attempting to read them out loud. L prides themselves on being toxin free, chemical free, fragrance free and irritation free.
The L. organic range also happens to be the thinnest organic pads on the market. They are extremely discreet, which is great for anyone who doesn't usually enjoy the bulky feeling that comes from conventional pads. They are also very easy to travel with; their slimline packaging slips right into any handbag or suitcase.
There is an extra long option for those who need more proaction overnight. This does not affect the price, which we appreciate about the brand. Women's Health magazine described L. pads as "game changing"; that's a green light if we ever did see one.
Seventh Generation Pads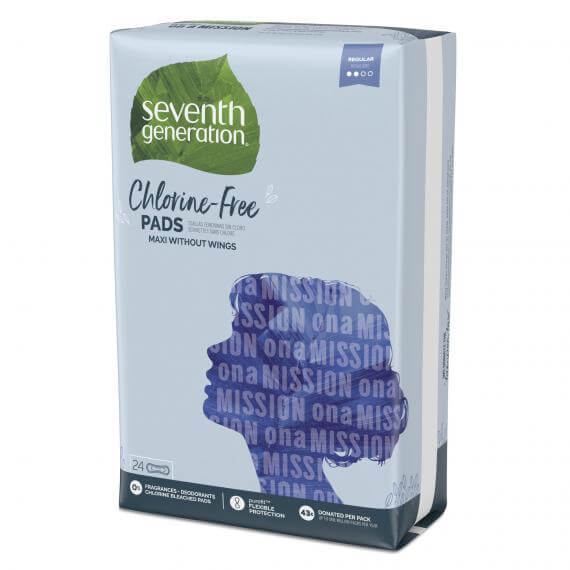 Seventh Generation's free and clear maxi pads are, in our opinion, the best entry level pads for anyone looking to dip their toe into the organic market.
They're affordable, and they get the job done. Seventh Gen have a comprehensive pad range in that they do offer their products wing-free if anyone should desire this. For some, pad wings offer discomfort, so having the option of going without is great — these are also most ideal for use under swimwear.
The reviews that Seventh Generation have received since the launch of their pads have exceeded expectations. Few people expected organic pads to function better than the generic name brands, and Seventh Generation played a catalyst in introducing the market to these healthier, safer alternatives.
Natracare Pads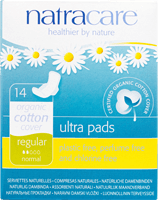 We've kept a close eye on Natracare since the very beginning, when they first introduced the world to the idea of a plastic free period. When one considers, statistically, how much waste is produced in one person's lifetime of using pads or tampons, a plastic-free alternative becomes the most logical progression.
Like their tampons, the Natracare pads are totally natural, free of fragrances, bleach and pesticides. They're gentle on the skin outside of the vagina, and won't cause irritation even if left unchanged for slightly too long. Their panty liners are effective and of high quality, too.
Natracare also does a fantastic batch of feminine hygiene wipes; also all natural and free of any perfumes or contaminants.
Conclusion
Making the switch from conventional hygiene products to natural ones is something we are all going to have to do in the coming years if we want a planet to live on for the foreseeable future. It's all about being kinder to your body, and caring about the environment in the process; being both better inside, and outside.
We're always going to push the no-waste narrative as much as we can; we're big fans of the menstrual cup and menstrual underwear now widely available around the world. We do, however, understand that not everyone is comfortable with the cup concept, or with the act of free bleeding, and so organic pads and tampons are a welcome compromise.
Our recommendation? Go organic, support small businesses that are trying to make a difference, and ditch applicator tampons where possible, even the biodegradable ones (let your fingers do the work instead).
Did You Enjoy This Article?
If you enjoyed this article, you might also like other related topics such as Menstrual Cups: Top 7 Brands, Period Panties, and Natural Hair Removal.