I think you'd agree with us when we say that foundation plays an important role in your overall makeup routine. But as many of us are trying to clean up our beauty regime, what are the best natural foundations that actually work while also boasting clean ingredients? In this post we will discuss why you should make the switch to organic foundation, what to look for in a clean foundation, and the best organic, natural, and non-toxic foundations on the market today.
Introduction to Foundation
Foundation is one of the must-have items in a makeup kit. In fact, it's one of the most essential products, as it's the base over which every other cosmetic is applied. It's common knowledge that foundation is used to improve your skin's appearance, but many users are unaware of its other immense benefits.
There are even more makeup lovers who are uninformed about the harm that they expose their skin and bodies to by using conventional foundations. Conventional foundations are those that are manufactured using artificial chemicals and other synthetic ingredients. Fortunately, awareness about the advantages of switching to clean makeup, including foundation, is steadily increasing. Clean makeup doesn't pose any harm to the skin, general health, and the environment.
The Top Benefits of Wearing Foundation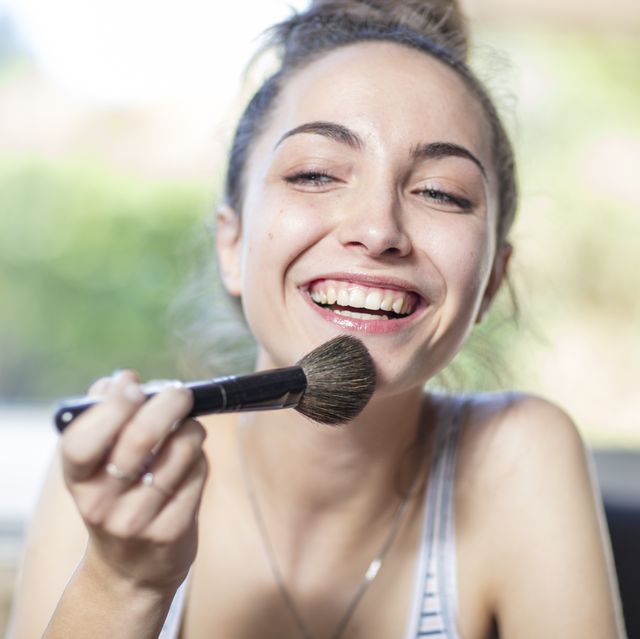 Foundation has a host of both cosmetic and health benefits including:
Cover Blemishes – The right shade and consistency of foundation can cover facial blemishes and scars.
Hiding Fine Lines and Wrinkles – It can fill in wrinkles and fine lines, diminishing their appearance. This also works on dark spots and dark under eye circles by making them less noticeable.
Even Out Skin Tone – An even skin tone can be achieved when one uses a foundation with a color and shade that's close to their natural complexion. Therefore, foundation can provide a uniform and flawless finish, concealing areas with different tones.
Protection from Pollutants – Foundations form a barrier on top of the skin, thereby protecting it from pollutants such as dust. A buildup of dirt and other environmental stressors on the face would otherwise result in free radical damage that accelerates aging.
Sun Blocking – Besides pollutants, sun exposure is another leading external cause of skin damage and premature aging. Nowadays, you can find sunscreen in many foundations. When you wear quality foundation, the foundation reflects harmful sun rays away from the skin. It is, however, advisable to still use sunscreen, especially with foundations that have a SPF of 15 as they only offer adequate protection in low-sunlight conditions.
The Problem with Conventional Makeup and Foundations
The downside to conventional makeup and foundations is that they are made up of a myriad of toxic ingredients. While they will look good on you, they could be causing stress to your skin as time goes by. Also, some of the constituent chemicals in conventional makeup and foundations have been proven to cause toxicity to the internal body organs, disrupting how the entire system works. Others have been shown to increase the risk of cancer. Examples of these chemicals are:
BHA (Butylated Hydroxyanisole) and BHT (Butylated Hydroxytoluene) – These are butylated compounds used as preservatives. On the surface, they may trigger skin allergies. When they are absorbed into the body, they mimic estrogen. This disrupts normal hormone function in both women and men, therefore, interfering with the endocrine system. BHA and BHT can also encourage the growth of cancerous tumors.
Ethanolamines – Diethanolamine (DEA), triethanolamine (TEA), and monoethanolamine (MEA) are ethanolamine compounds used as emulsifiers in liquid makeup. They're proven to increase the risk of developing cancer. DEA, TEA, and MEA are some of the chemicals in foundations that offer no benefits to the skin but are only used to make formulations and blend other ingredients. All the more reason to totally avoid them.
Lead – Lead finds its way into makeup mostly as a contaminant in color additives. A proven neurotoxin, this metal can cause infertility. It has also been linked to delayed puberty in girls and miscarriages.
Polyethylene Glycols – Commonly referred to as PEGs, these are petroleum-based compounds popular in cream foundations. They're used to thicken the formulations, making them easy to apply on the skin. The first concern about PEGs is that these chemicals make it easy for other ingredients to be absorbed into the skin. Secondly, PEGs are mostly contaminated with 1,4-dioxane and ethylene oxide. The latter is a known cancer-causing substance, while 1,4-dioxane is a potential carcinogen.
Siloxanes – These are silicon-based chemicals used as moisteners in skin products. Cyclotetrasiloxane is an endocrine disruptor, while cyclopentasiloxane promotes the growth of uterine tumors.
The above are just a handful of the harmful chemicals found in traditional foundations, but they're some of the most common culprits in terms of toxicity. By watching out for them, you can protect yourself from a number of negative effects.
An even better way of steering clear from all toxic synthetics is by going natural with your makeup. In the same way that organic food is much healthier for our bodies, so is organic foundation. With natural cosmetics, there will be more familiar terms on the ingredients list and often fewer long, confusing scientific names.
What is Organic Makeup?
Organic makeup are cosmetics made using naturally derived ingredients, with no use of artificial additives. Such makeup up is toxin-free. Products of this kind can be identified by labels that claim to be paraben-free, silicates-free, or even phthalates-free. Without these chemicals, such cosmetics pose no harm to the skin, body, and, in extension, the environment.
Why Should You Switch to Natural Foundation?
There are numerous reasons as to why you should use natural foundation, and here are three of them:
Healing Properties – Natural foundation is formulated using extracts from herbs and plants that are known for their healing and rejuvenating properties. It's, therefore, soothing to the skin, and can help calm irritations. In addition, organic ingredients are mild and safe to use on sensitive, damaged, and acne-prone skin types.
Environmental-Friendly – Many synthetics in traditional makeup end up in water bodies after being flushed down the home drainage systems. They not only pollute the water but also destroy aquatic life. Natural ingredients are taken from the environment, and are, therefore, not harmful to it when they end up back there after use.
Toxin-Free – With chemical foundation, you have to check for ingredients that may trigger irritation to sensitive skin, breakouts in oily skin, or further dryness in dry skin. Natural foundation contains none of those irritating and harsh compounds, making it safe to use on all skin types.
What to Look for in Organic Foundation
Swapping your old toxic foundation for an organic one is easy when you know what to look for. Here are factors to consider before purchasing your new natural makeup:
1. Ingredients
The clean beauty movement which advocates for organic makeup is everywhere and growing with each passing day. Manufacturers have gotten wind of the ready market, and they're filling shelves in stores with all manner of products labeled as organic, natural, or toxin-free. Sadly, some unscrupulous companies have taken advantage of the growing demand to deceive customers into buying cosmetics containing harmful chemicals by using these labels.
On the bright side, taking a look at the ingredient label can tell you everything you need to know about how natural a product is. If you're not sure about a brand, stick to the ones that already have a reputation for providing authentic natural products. You can also always check for the Environmental Working Group (EWG) mark that identifies non-toxic beauty products.
2. Coverage
Foundations offer either light, medium, or full coverage. What you select is a personal choice and will also depend on your skin type and how much you want to cover. For instance, full coverage foundations are a great option if you have blemishes, acne, or scars you would like to make less noticeable. Light coverage is suitable if you fancy a subtle finish.
3. Long-Lasting
The foundation is the base that holds the concealer, eye makeup, blush, and every other makeup product you apply. If it's long-lasting, it becomes easy to maintain your flawless look throughout the day. Using one that doesn't last long will force you to deal with a sweaty, blotchy face at different intervals of the day. Some of the most long-wearing foundations will have properties such as water and sweat-resistance, which enables them to remain in place even during hot days. Using a primer before applying any makeup will also help your foundation to stay all day long.
4. Non-Comedogenic
Comedogenic substances can block skin pores, resulting in blackheads. Besides causing breakouts, they also disrupt the normal functioning of the skin. They cut off the skin's ability to breathe, and limit its ability to absorb nourishing nutrients and moisture. That's why it's important to go for natural foundation which doesn't contain particles that can accumulate in the skin pores. Ingredients that should never appear in non-comedogenic products include phthalates, alcohols, and silicones. While coconut oil is natural, it's not the best ingredient to use on oily skin, as it can trigger acne.
5. Shade Range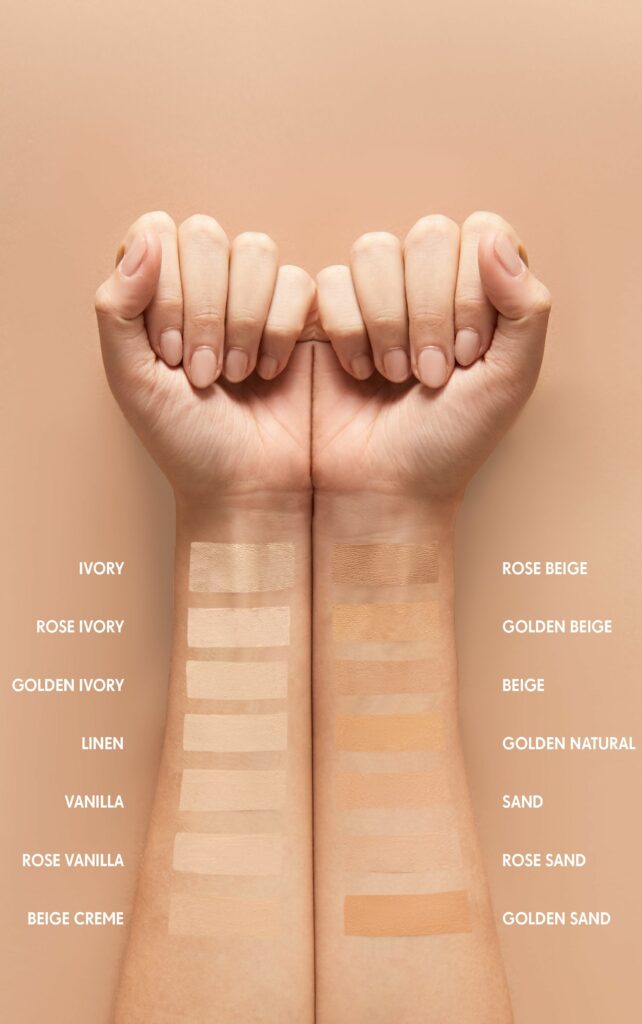 If you've used foundation for some time, what you may have realized is, just because it looks good on someone else, that doesn't necessarily mean it will also look good on you. We all have unique skin tones and undertones that determine the shade of each cosmetic we put on our skin. Hence, go for shades that complement your skin complexion to achieve a more natural look. You can even play around with different shades to get one that perfectly matches your color. Whatever you do, and no matter how good a product looks, it's not worth it if it fails to blend well with your skin.
6. Cost
Whichever foundation you select, ensure that you're getting value for your money. It's quite easy to come across cheap foundations that contain natural ingredients in insignificant amounts. The same can also be true for expensive brands. In short, the price tag should not be the only determining factor on whether a product is genuinely organic. Check its label, and if you're not fully convinced, look for online reviews. There are many brands producing genuine clean products across a range of prices, so there's something good for every budget. All you have to do is look carefully. But all in all, you should never compromise on the quality simply because a particular foundation is cheap.
What are the Different Types of Natural Foundation?
The various types of natural foundations available on the market include:
Liquid Foundation – This is the most common type used, thanks in part to its easy application. It glides on the skin for an even finish and is ideal for when you have lots of areas that you need to cover. For a natural finish, use a wet or dry sponge to apply. Using a brush gives more coverage. It's easy to mix two shades because of the consistency. Liquid foundations usually come in bottles or tubes.
Powder Foundation – Normally packed in compacts, powder foundation is perfect for on-the-go touch-ups. Since it has a dry formulation, it's ideal for oily skin. It offers a matte, lightweight finish.
Cream Foundation – This is your go-to foundation if you're looking for something denser than liquid foundation. Its heavy consistency makes it suitable for dry skin types. This also means that for full coverage, you only need to apply a small amount.
Cream to Powder Foundation – While similar to cream foundations in consistency, once applied, it settles on the skin like powder foundation. This blend makes it an excellent choice for combination skin.
Stick Foundation – Stick foundations provide more coverage than creams. As a result, they can be used as concealers as they cover most facial blemishes.
Best Organic, Natural, and Non-Toxic Foundations
Understandably, making the switch from traditional makeup to organic is not as easy as it sounds. At least not after years, or in some cases decades, of using a trusted brand that gives you all the beauty results you've ever wanted. Fortunately, you can make the transition a lot easier by identifying organic products that have been tested and proven. Natural cosmetics do not just ensure your body is less exposed to toxins; they also can give the same cosmetic effects as their chemical counterparts. So, you don't have to worry that you'll never get the same ideal effect once you begin using natural foundation. You'll achieve that, and so much more.
Here are some of the tested and proven organic foundations you can find in the U.S. There is something for every type of skin and preference.
Best Lightweight Foundation
Ann Marie Gianni Mineral Foundation
This foundation is made with pure earth-derived mica, iron oxide, and titanium dioxide minerals. It gives a lightweight coverage for perfect toning without neglecting the health of the skin. The powder mixes easily, giving you the freedom to blend it with facial oils or creams for a brilliant finish that suits your skin tone.
Kosas Tinted Face Oil
With this nourishing oil foundation, you might forget you're wearing anything on your face. It's feather-light, with a mix of mineral pigments and botanical oils that hide imperfections, minimize large pores, and even out the skin tone.
Best Natural Powder Foundation
Au Naturale Semi-Matte Powder Foundation
The Semi-Matte Powder foundation is formulated to give coverage without feeling heavy on the skin. It also doesn't dry the skin out. There are no synthetic preservatives, parabens, or toxins used. The ingredients found in this foundation include natural minerals such as titanium oxide, mica, and iron oxides. The Semi-Matte Powder foundation is available in 15 shades.
Zuii Organic Flora Ultra Powder Foundation
This powder foundation has a mix of herbal extracts, including chamomile, aloe vera, jasmine, and rose. These ingredients give it a wonderful scent and also contribute to skin hydration. Depending on how you apply it, the Flora Ultra Powder Foundation can provide all types of coverage. It also has the ability to diminish the appearance of wrinkles and fine lines.
Best Medium Coverage Foundation
Juice Beauty Phyto-Pigments Youth Compact Foundation
This is a balm-like foundation created with pigments of lotus and rose. Both ingredients blend in with the skin to give it a smooth, luminous, and hydrated appearance. The foundation is suitable for all skin types and available in five shades, including buff, rosy beige, sand, golden tan, and medium tawny. It comes in an airless compact which maintains the potency of the formula and offers a messy-free application experience.
Vapour Soft Focus Foundation
With this foundation, you get a luminous, flawless satin finish. The Soft Focus foundation needs to be used with primer to give it more texture and produce a medium coverage. This foundation has a scent derived from pure essential oils, which is much safer than the fragrance found in chemical foundations.
Best Natural Full Coverage Foundation
100% Pure Fruit Pigmented Cream Foundation, White Peach
This foundation does away with chemical dyes as it uses peach and apricot for pigmentation. Its creamy consistency blends into the skin, resulting in a uniform complexion free from blemishes. The ingredients used include pomegranate and avocado oil, which are rich in vitamins that promote firm and soft skin. The Fruit Pigmented Cream foundation has a long-lasting wear, thanks to avocado butter and rice powder in its formulation. It's suitable for dry, normal, and combination skin types.
Best Foundation with SPF
PÜR 4-in-1 Pressed Mineral Makeup Foundation with Skincare Ingredients
This foundation from PÜR is an all-in-one concealer that also doubles up as a broad spectrum SPF15 sunscreen and foundation. It contains waltheria extracts, that naturally brighten the skin, and shea butter alongside vitamin E, which conditions the skin to produce a dewy finish. Titanium dioxide is the active sunscreen ingredient, which can block around 93% of UVB rays. Besides offering protection from sun damage, this product is also suitable for vegans. That is because its ingredients do not include animal products, and it is not tested on animals.
Best Natural Foundation for Oily Skin
Gressa Skin Minimalist Corrective Serum Foundation
This serum is lightweight, and it contains a mix of botanical extracts such as horsetail, elderflower, neem, and sea buckthorn. These oils tend to separate, so it's advisable to give the bottle a good shake before application. The foundation has high pigmentation, which enables it to last for long periods of time. Another plus is the fact that just a few drops are enough to give full coverage, resulting in a flawless finish. It's available in eleven shades, making it suitable for a range of skin tones. The Minimalist Corrective Serum foundation is also free of synthetic ingredients.
Best Natural Foundation for Dry Skin
RMS Beauty "Un" Cover-Up Foundation
The "Un" Cover-Up foundation from RMS Beauty is ideal for dry skin. With its mainly oil-based ingredients, it has a light, creamy formula that allows it to conceal flaws and hydrate the skin. The natural ingredients in the foundation's formulation include cocoa butter, jojoba, and coconut oil. This is a mix that contains no nano-particles that can clog pores. Thanks to its organic composition of natural oils and herbs, the "Un" Cover-Up foundation heals and nourishes the skin for a radiant appearance. It's available in 16 shades, providing something from snow white to deep espresso chocolate skin and all tones in between.
Best Natural Foundation for Acne-Prone Skin
Sappho Essential Foundation
The Sappho Essential foundation contains jojoba oil, which is beneficial in balancing oil production in the skin. It also has anti-inflammatory properties, which helps decrease the chances of developing acne. The Sappho Essential foundation lasts all day and offers a buildable coverage while allowing the skin to breathe thanks to its dimethicone and silicone-free formulation. Shea butter and Aloe Vera juice give it soothing properties that those with breakouts will find beneficial.
Best Natural Foundation for Mature Skin
Ilia True Skin Serum Foundation
The main ingredients in this foundation are jojoba, aloe leaf, marula, and rosehip oil. Combined, these ingredients give the skin a youthful appearance. Rosehip oil is full of antioxidants, fatty acids, and vitamins, which gives it anti-aging, moisturizing, and healing properties. Marula oil is absorbed into the skin easily, making it the perfect hydrating agent for aging skin. The True Skin Serum foundation provides sheer to medium coverage.
Juice Beauty Phyto-Pigments Flawless Serum Foundation
This age-defying serum contains plant-derived phyto-pigments and is ideal for full coverage. It blends flawlessly on the skin, creating a youthful and radiant appearance. You can find it in 10 shades, including buff, cream, natural tan, medium tawny, and deep. It contains grapeseed and fruit stem cells that have an anti-aging effect on the skin. The foundation also has vitamin C and E, which fight against oxidative damage that encourages the formation of fine lines and wrinkles.
Best Natural Foundation Drugstore
Physicians Formula Organic Wear Silk Foundation Elixir
This foundation features organic aloe vera, jojoba oil, and botanical cactus flower, which lock in moisture in the skin resulting in a hydrated finish. The Organic Wear Silk Foundation Elixir is great for improving the skin texture and tone and offers a light to medium coverage.
Gabriel Cosmetics Foundation Liquid
This moisturizing foundation is excellent for dry skin and contains sesame seed oil, avocado fruit extract, shea butter, and sea fennel extract. Once applied, it gives a silky finish, thanks to its naturally sourced ingredients. And it comes in 14 different shades.
With such variety, it's easy to find the best organic foundation for your specific skin needs. As you can see from the above examples, these foundations are available in a variety of different formulations. That is because they each contain unique ingredients, and each of them is suitable for a variety of skin types and purposes.
Join the Natural Beauty Community
One of the easiest ways to find the best non-toxic foundation is by looking for products that have the EWG VERIFIED™ mark. Once you see products with the mark, swapping your synthetic foundation with a natural one won't be as overwhelming as it may seem at first. Cosmetics bearing the mark are free from ingredients with contamination, ecotoxicity, and health concerns. Products with the EWG VERIFIED™mark also offer full disclosure of all the ingredients that go into their formulation, including fragrances on their labels.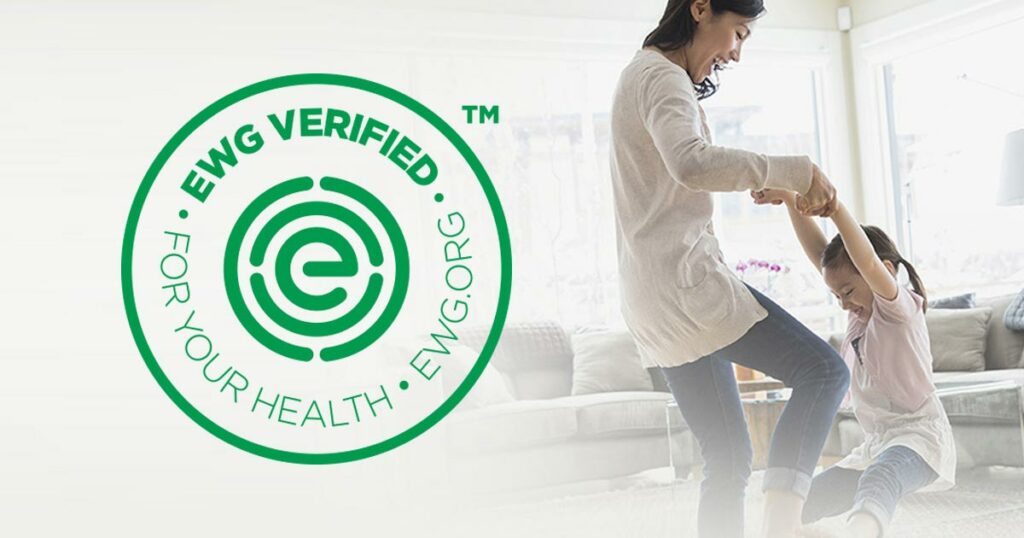 If you feel overwhelmed by all the natural options available, there's a growing natural beauty community worldwide from where you can seek recommendations. Look for a natural beauty community online, and you'll find evidence that natural products really do work, and you'll also learn about the skin benefits of organic beauty products, including foundations.
The Bottom Line
Transitioning to using natural foundation doesn't mean you have to learn all your makeup tips and tricks all over again. The same rules apply when it comes to choosing the right shades, blending with moisturizers, using primers, and many other beauty routines. And, you'll still need to wash off your makeup at the end of the day.
The only thing that changes is that you will be getting your dose of beauty from harmless, clean foundation. At the end of the day, you get to use your favorite products with peace of mind and an assurance that you're not exposing yourself to cancer, skin irritations, or internal organ toxicity. Beauty no longer has to come at the cost of your health, and this makes it all the more fun and amazing.
Did You Enjoy This Article?
If you enjoyed this article, you might also like our articles discussing makeup and skincare such as 13 Best Eyebrow Growth Serum, Frownies and Anti-Wrinkle Tape, and 13 Top Reusable Cotton Rounds and DIY Makeup Removing Pads.