With landfills piling up around the globe, we all need to make the move toward more ethical and sustainable cosmetic choices. Reusable cotton rounds may be the long term solution we've needed from the beginning — here's what you need to know!
In this article we discuss the following:
What are Reusable Cotton Rounds?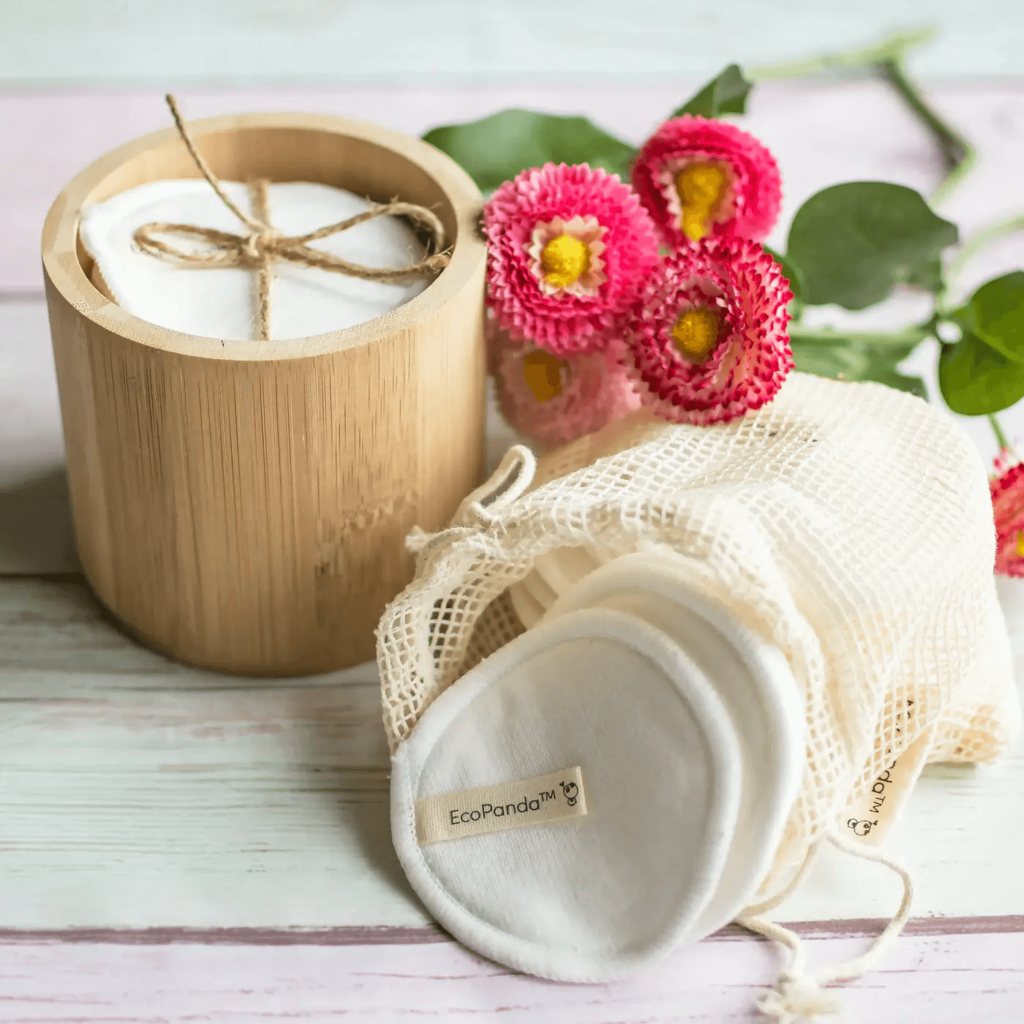 Cotton rounds are essentially just reusable pads that work the same way disposable cotton pads do. They can be used to clean makeup and other self-care products from the face and body.
Following usage, these cotton rounds do not need to be disposed of like regular ones do. They can simply be rinsed and dried, awaiting future use. Typically, these cotton pads come in packs of 10 upward, so that you always have a dry option on hand should the need for one arise.
Unlike single use cotton pads, these reusable versions can be used hundreds of times before they need to be replaced. Essentially, so long as the fabrics stay intact, the pad is good to go.
Reusable face pads are made from a variety of fabrics, which is usually left to the discretion of the manufacturing brand. Some pads are made with regular cotton, others with microfiber fleece or similar. There are even cotton rounds being made from forms of bamboo, pushing the eco-friendly narrative even further.
Most brands have really taken to the convenience factor, offering carrier pouches in which you can easily store and transport your pads. When investing in these devices, we recommend going with a set of pads that offers a carrier pouch with your purchase, as reusable pads need to be kept sanitary in order to minimize the spread of bacteria on the face.
These cotton rounds are here to stay, and they're not only replacing their disposable counterparts. Makeup wipes become an unnecessary expense when you have these reusable rounds at your disposal — pun intended!
There are also larger sized pads being sold as individual tools; these are typically intended for the removal of a full face of makeup. Similarly, the larger sized pads are also fantastic to use for removing face masks that have dried to a crisp.
Why Use Reusable Cotton Rounds?
If the planet is worth saving, then this should be reason enough to make the jump from disposable to reusable. This applies to makeup pads, but also to everything else that we consider single use when it comes to self care and cosmetics.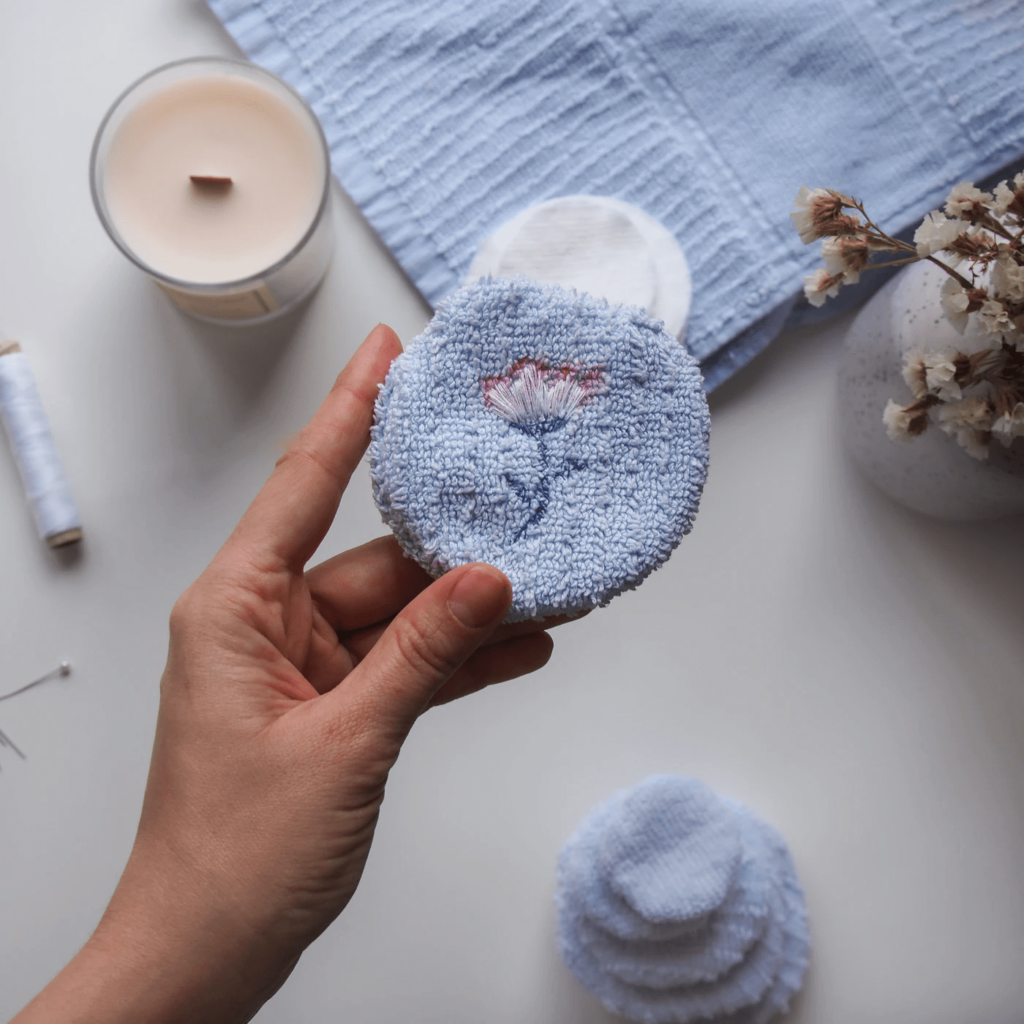 Disposable makeup wipes, cotton rounds, menstrual pads and tampons add millions of tons of waste to our landfills each year. Those that don't make it to the dumps will likely find their way into the rivers and oceans.
Disposable cotton rounds are thus the eco-friendly solution, offering the Earth a slight relief from waste of this nature. Those rounds made from materials such as bamboo or recycled fabrics have even less of a carbon footprint.
"Use it, wash it, dry it, use it again, and dump it (or better yet, recycle it) after many, many months or years. That's the formula our grandmas lived by. The irony is that they took care of our planet better than we do, even though they never suspected that things would get so bad in just a few generations. This is the long and short of why I use reusable cotton rounds and DIY makeup remover pads" says Silvia Borges, Owner and Chief Editor of EnviroMom.
The environment aside, reusable cotton rounds could save you hundreds of dollars a year, depending on how many of the disposable alternatives you tend to use. They are an economical solution in the long run.
More than this, once you invest in reusable cotton pads or reusable makeup remover pads you can rest assured that you always have one in the house when you need it. Gone are the days of reaching into your vanity cabinet only to find you forgot to add pads to your last shopping list.
As mentioned earlier, reusable cotton rounds are multitaskers. They take on all the jobs that cotton rounds usually would, including wound cleaning, and then can also be used in place of full sized makeup wipes.
Further, reusable cotton rounds crocheted with cotton yarn do not leave residual fine fibers behind the way disposable cotton rounds tend to according to Dana Nield from Fave Crafts.
Another point to consider is that your skin may just prefer the feeling of reusable pads. Disposable cotton pads are usually snow white in color, which requires them to be harshly bleached during the manufacturing process (like tampons).
This bleach can leach out of the pad and onto the skin during use, even in minuscule amounts. Studies surrounding the long term effects of this kind of chemical contact are lacking, but it's safe to assume that no contact is better than even a little.
We'll shortly get into our list of the top reusable cotton round options. As you explore the market, keep your unique skin type in mind. Some cotton rounds are more abrasive and exfoliating, while others are far more gentle.
Top Reusable Cotton Rounds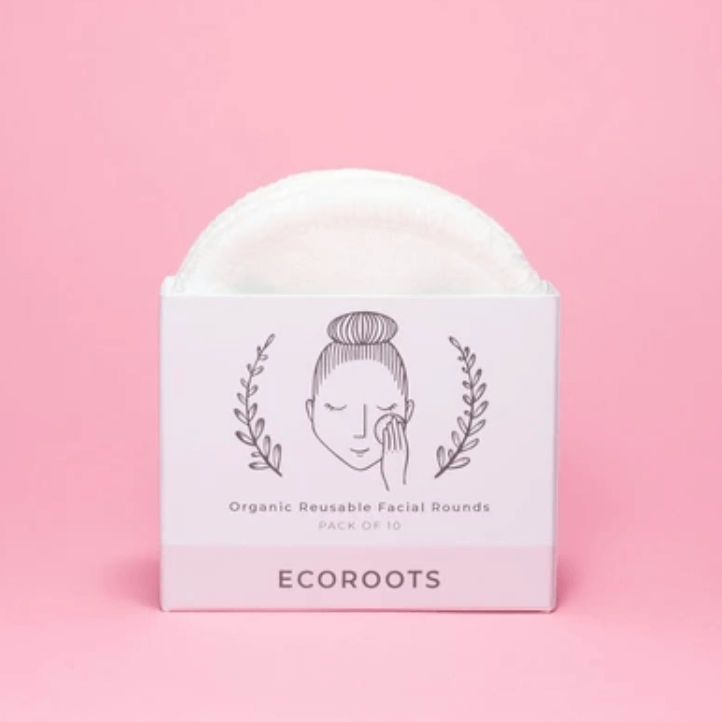 We love these cotton rounds by EcoRoots. They're made with entirely biodegradable materials, which means that when you eventually do dispose of them (in a few years), they'll disappear into the Earth as though they were never here.
The pads come in packs of 10. All you need is a bit of warm water in order to activate the cleaning abilities. We found these do a great job of applying product, as well as cleaning. Use them to coat your skin in toner or lotion.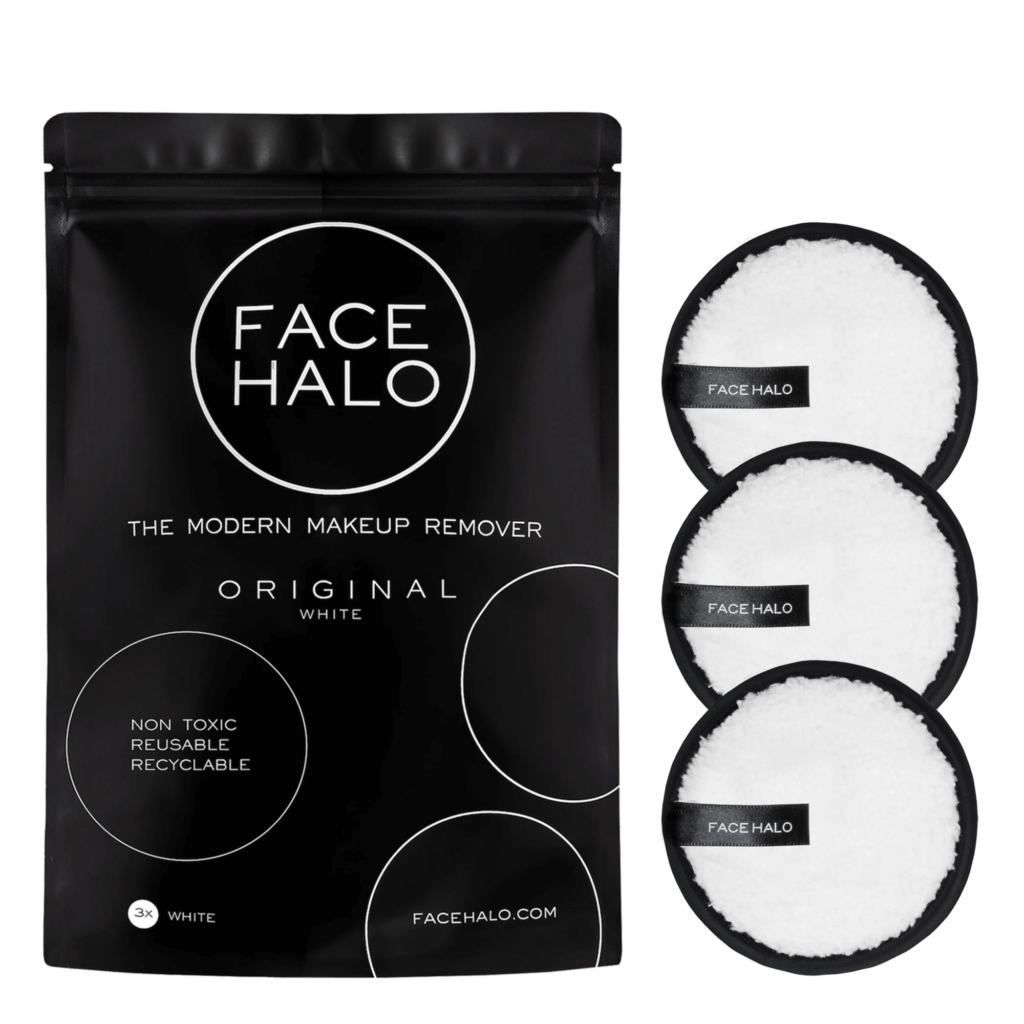 Each reusable pad by Face Halo is good for over 500 uses. They are double sided, and extra fluffy.
The pads require only water to work, and have received great reviews from customers thus far. They come in a pack of three, but because both sides can be used for the same purpose, it's essentially like getting six rounds.
These rounds do the job in a gentle way; no need to scrub until your skin is raw. They are particularly effective on waterproof makeup that tends to stick around long after facial cleanser has been washed away.
These rounds are significantly bigger than regular ones, spanning around palm-sized.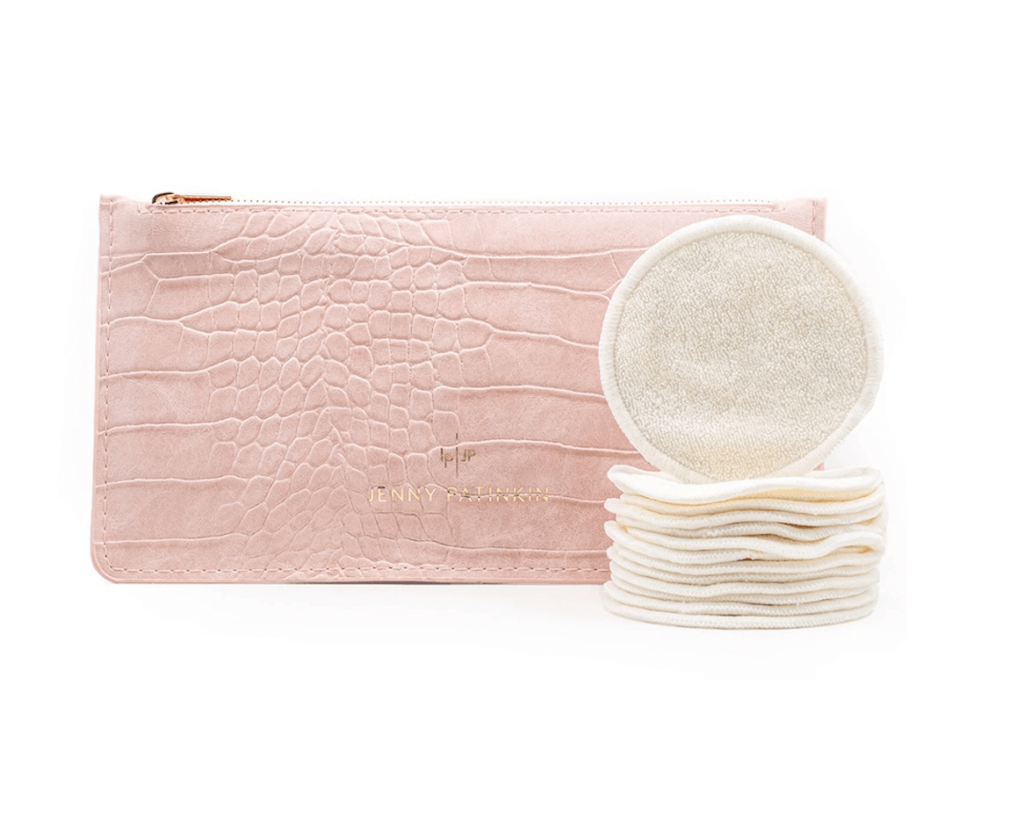 These rounds by Jenny Patinkin are the ultimate investment if you're looking to make the jump to reusable cotton pads.
They are hypoallergenic, antibacterial and antimicrobial. They are luxuriously soft, but simultaneously exfoliating. They really have outdone themselves in terms of design and functionality.
The rounds come in a gorgeous carrier case fadeout of vegan leather. In addition to this, you'll receive a handy laundry bag that allows you to throw the pads into your wash cycle without them getting lost.
Jenny Patinkin's rounds come in packs of 14 and retail at a much higher price compared to similar brands. Is the product worth the splurge? We say yes.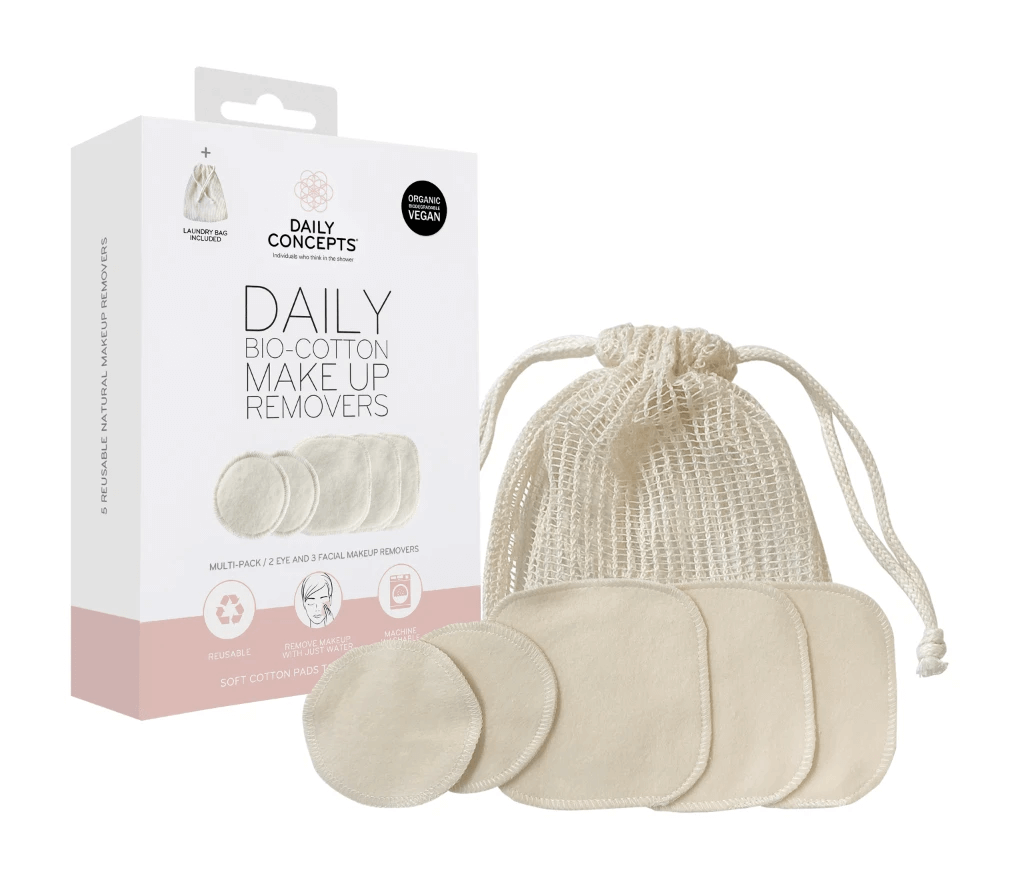 For just $12, you can purchase this little bag of magic to call your own. Multi-tasking takes on a whole new meaning with this bag of 5 cotton rounds by Daily Concepts.
The pads come in two sizes; one that is perfect for the eye area, and one that takes care of the rest of the face. We love the drawstring carrier bag that each customer gets with their purchase; it can be used in the washing machine, and for storage purposes.
These rounds can be used with makeup remover, or simply with water.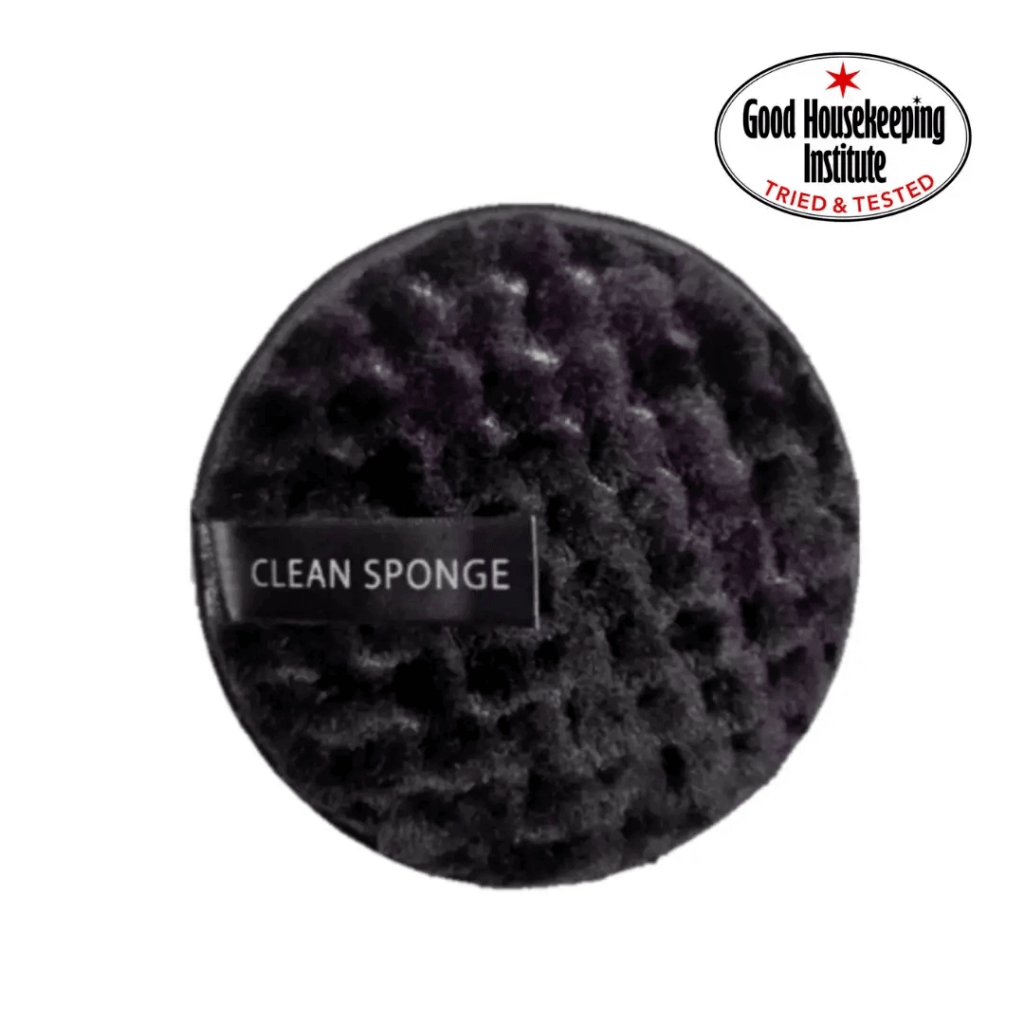 These rounds made by My Little Eco Shop received standing ovations when they first launched. Using just water, these small microfiber pads were able to remove every trace of makeup without needing to scrub.
We love that they clean so easily, and the fact that they dry in almost perfect shape after being washed. The brand in general deserves some praise, as they have been pushing consumers toward more eco friendly, sustainable beauty routines for quite some time.
Pads are sold individually, at just $3 a pop.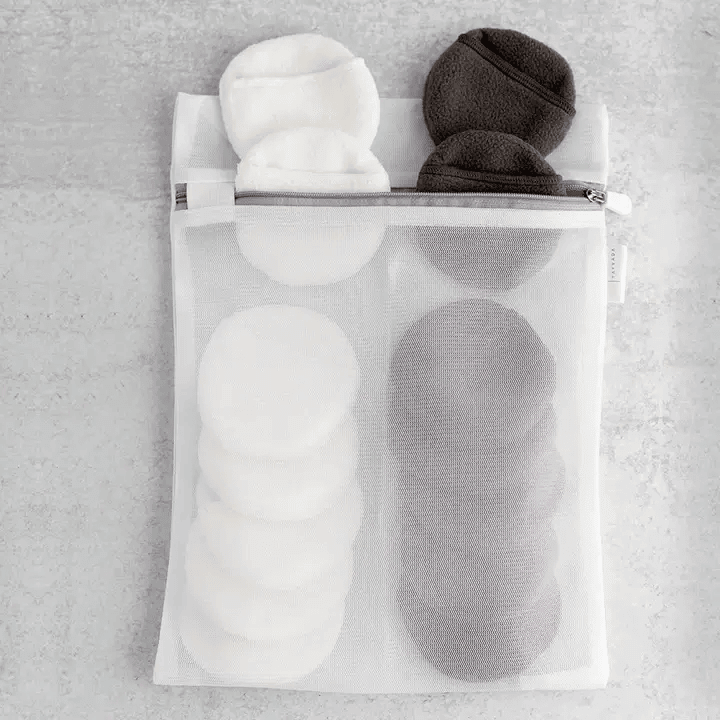 If variety is what you're after, then this set of pads by Tayvada is the one to watch!
You'll get 14 pads in total, as well as a nifty carrier bag with two very distinct compartments. Seven of them are made from charcoal, and the other half are made from white bamboo.
The charcoal rounds are best for dissolving makeup on the face, white the white rounds are great for applying serums and toners. The set retails for under $20, which makes it one of the best bangs for your buck.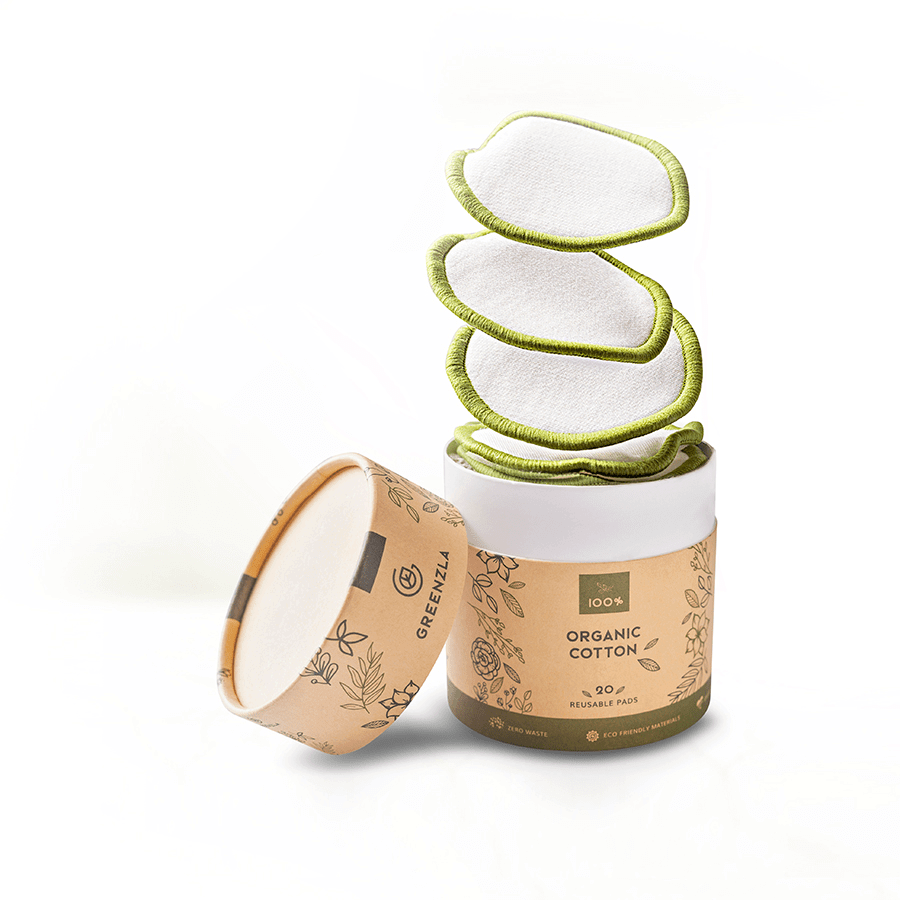 These organic cotton pads are made using bamboo. They are eco-friendly and zero waste, and will 100% disintegrate come time for disposal.
As far as quantity goes, you'll receive a whopping 20 rounds with your purchase of just $12. You'll also get a drawstring bag that you can throw into a washing machine.
If you're intending to purchase from Greenzla, we'd recommend having a look at their other range of products. They have some great reusable cutlery sets, as well as wonderful bamboo self-care tools.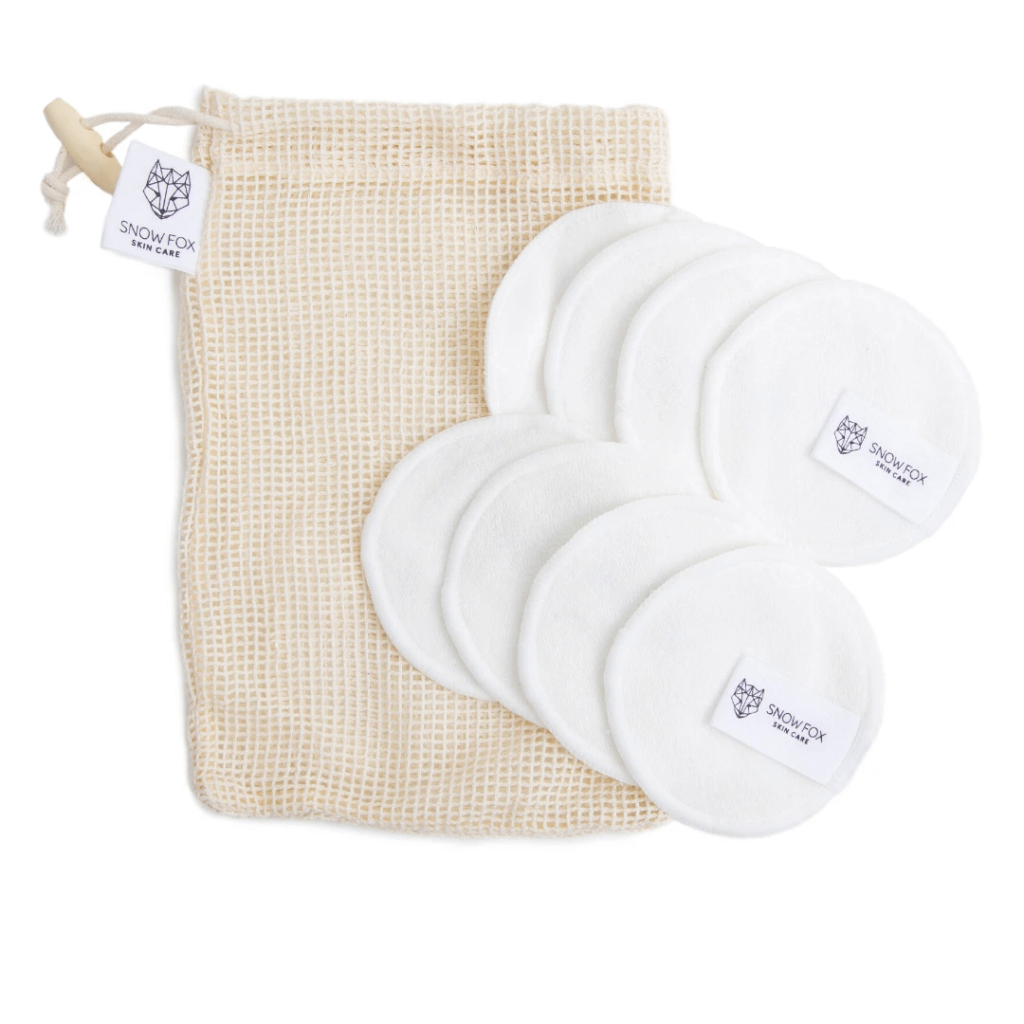 Snow Fox has combined the ability of organic cotton with that of bamboo. Each pad is double layered, and can be used for applying products or removing them.
These rounds last for months before needing to be replaced. You can expect to get 500 uses from each one. Each pack comes with 8 pads.
It is estimated that one pack of Snow Fox rounds replaces roughly 4000 single use pads that would usually be disposed of in landfills or oceans. The brand is passionate about bringing change to the planet, and to people's beauty routines.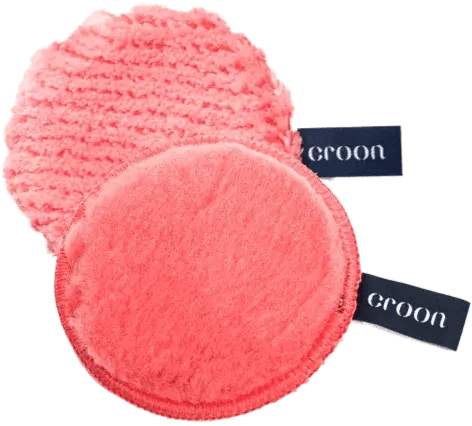 Save yourself 800 disposable makeup wipes when you purchase this starter kit by Croon for just $30.
The wipes are super soft and made from microfibers that gently cleanse and exfoliate by simply adding water. Croon claim that their makeup rounds also remove built up bacteria that may be contributing to the overall condition of your skin.
Your pack of cleansing fibers comes with a carrier pouch and a laundry bag that you can use to wash them. The pads have a lifespan of roughly 200 machine washes, though this form of washing is only necessary after a few days of buildup; rinsing between uses is just fine.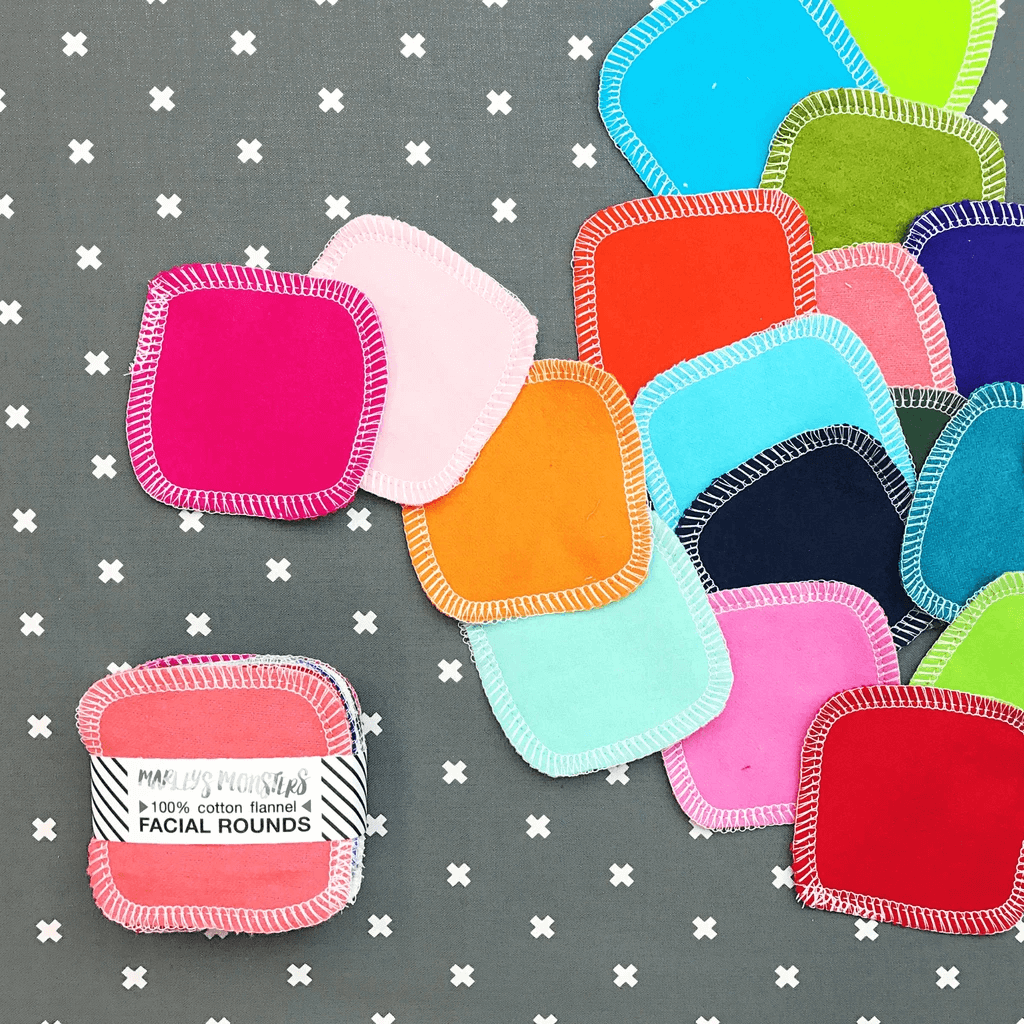 This pack of 20 rounds is made from 100% cotton flannel. They're called rainbow for a reason; the pack is a bright addition to any bathroom cabinet.
A lot of department stores worldwide are choosing to stock Marley's rounds, seeing unanimous approval from participating customers. As far as pricing goes, these are affordable when you consider that you're getting 20 pads per pack, and that each pack replaces thousands of regular packets of cotton pads or balls.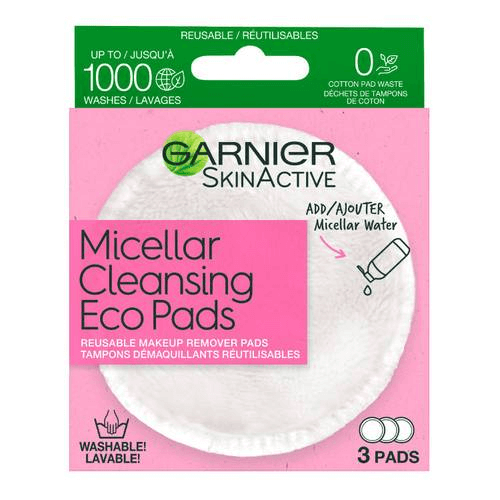 If you're looking for affordability, then Garnier is the solution. Similarly, if you're an existing fan of Garnier's Micellar water, then you'll love that these pads were made to be used with the solution.
They'll glide right over your skin, removing all dirt and impurities in the process. They're wonderful to use at the end of a long day, when grime and sweat have had some time to build up.
Each pack comes with three rounds. They last up to 1000 washes, and it costs just $8 for the set.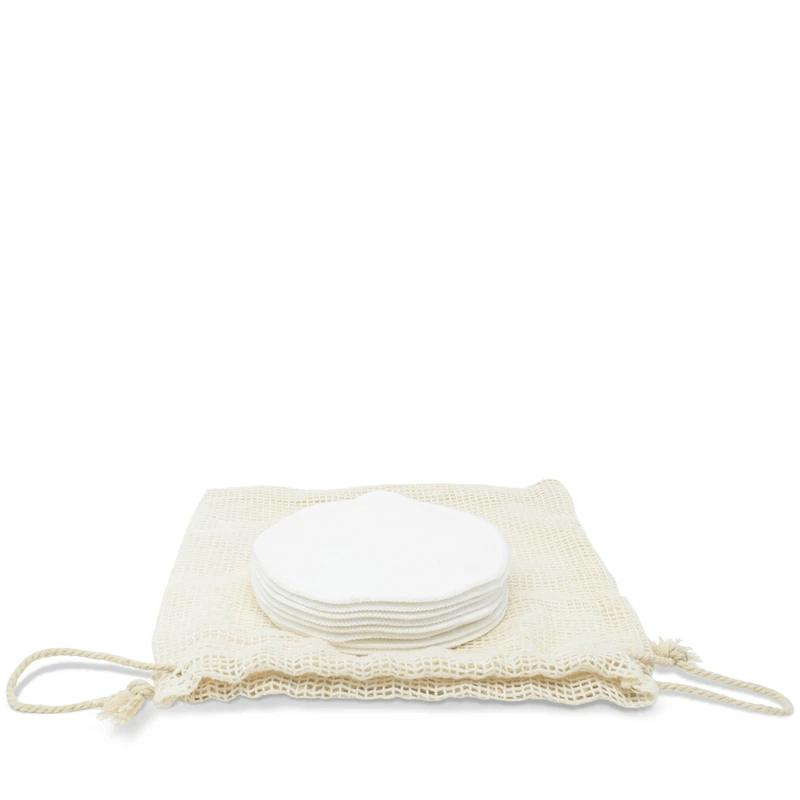 With the same affordability as the aforementioned product, these rounds by Facetheory pack quite the punch. You'll receive 8 rounds in your pack, along with a machine washing bag for convenience sake.
The rounds are vegan and totally cruelty free. The brand guarantees each pad for one full year provided to follow their care instructions. When it does come time to dispose of them, you can throw them into your garden and they will turn to compost.
Note that these pads are totally free of bleach, despite being crisp white like regular cotton rounds.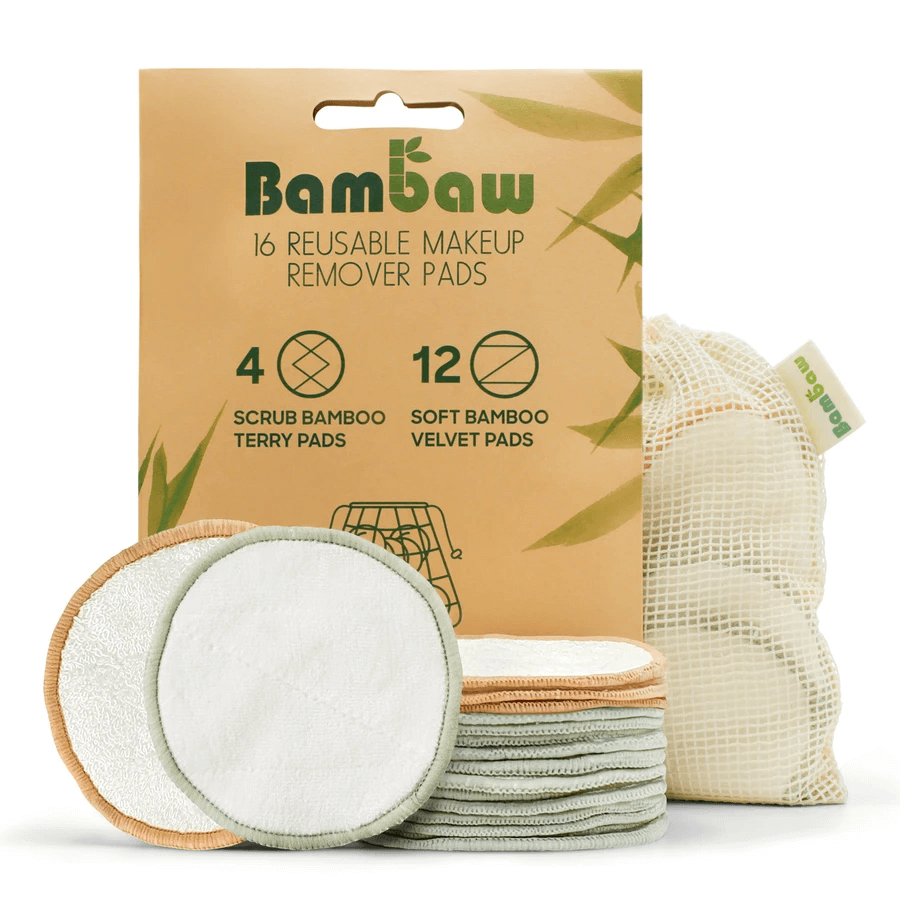 If you're into pads that can exfoliate as they get the job done, then these rounds by Bambaw are a brand to take a close look at.
They are soft and velvety, however they do remove dead skin as they glide over the surface of the face. Use the convenient carrier bag when you wash them in the laundry.
Each pack comes with 12 pads made from bamboo, and 4 pads made with softer velvet. You'll receive 16 rounds in total. Bambaw also makes reusable sanitary pads and straws.
DIY Reusable Makeup Remover Pads
You don't have to invest in store-bought cotton rounds if you've got a DIY gift of your own.
Making reusable makeup pads and cotton rounds at home is relatively simple. You don't need much to get the job done. Follow these simple methods to make pads and wipes of your own:
How to Make Reusable Makeup Remover Wipes
Here's what you'll need to get started with your DIY reusable makeup remover pads:
20 sheets of paper towel
2 tbsp of witch hazel
An old mason jar
3 tbsp olive oil
3 cups of distilled water
Lavender essential oil
Combine all of the ingredients in a jug, using a fork to whisk them together.
Cut the paper towel sheet into palm sized squares that will stack neatly into the jar. Fill the jar with them, and then gently pour the mixture over the sheets until they are submerged about a third of the jar down.
Close the lid and shake vigorously, so that all of the paper towels are covered with the solution. Use the DIY reusable makeup pads as needed.
How to Make Reusable Cotton Rounds
Making reusable cotton rounds is a little easier than the makeup remover wipes. All you really need for these is your choice of natural fiber, and about half a yard of it at that.
We recommend cotton flannel, as it is considered a natural fiber and is relatively easy to wash. We also recommend pre-washing your fabric prior to cutting it into rounds, so that the risk shrinkage is eliminated.
Next you'll need to cut your fabric into rounds. Use a drinking glass or mug to measure the perfect sized rounds, and cut around the circumference so that all of your pads are equal in size.
The last step is to sew two pads together. This is when the final stack is formed, and the pads become ultra absorbent.
To wash them, put them into a washing machine bag used for intimate items, and throw them into your regular load. With proper upkeep, these rounds will last for years.
Did You Enjoy This Article?
If you enjoyed this article, you might also like some of our other articles discussing makeup and skincare such as Natural Makeup Remover, 15 Best Natural Foundation Brands, and Best Natural Anti-Aging Skincare.