They say the eyes are the windows to the soul… but what's a window without a frame? Brow lamination is that frame, and it seems to be the new one-size-fits-all solution to shabby brows. Read on and we'll tell you everything we know!
In this article we discuss the following:
What is Brow Lamination?
The closest thing we have to a brow lamination definition is to think of the procedure as a sort of 'perm' for the eyebrows. This too serves as a decent brow lamination description, as it insinuates that something chemical is being done to achieve smooth, shiny eyebrows that last longer than just a day of makeup would.
Maria A. McDowell, founder of Easy Search People, is a big fan of the procedure, as she admits to having stubborn and scanty brows. "They've always been a great concern and made me insecure until I discovered brow lamination. Brow lamination smoothens my brows and makes them full. It also gives it a perfect angle that compliments my beauty. Although I know the perfect effects on my brows are temporary, it gives me great satisfaction and has helped me deal with my brow insecurities."
Maria adds that she did not experience any side effects since incorporating brow lamination into her self care routine, whether using a brow lamination kit or seeing a professional.
Brow Lamination Aftercare
Brow lamination involves lifting and straightening the hairs using a relatively gentle chemical solution, which makes the brows more malleable and easy to manipulate. Using a brush and other shaping tools, the brows will be sculpted into a formation that is best suited to the unique facial features of the individual.
A neutralizing solution is applied last, which essentially works to seal the formation into place. This is where the aftercare process kicks in, and if you don't adhere to it, the entire process will have been a waste of time and money.
Aftercare for brow lamination involves not getting the brow area wet for at least 24 hours. This will deactivate the formulas and render the brows right back to normal. One should also avoid touching the area at all for the same duration.
For 48 hours after the procedure, one is not permitted to come into contact with direct sunlight, saunas, steam rooms, sun beds, swimming pools or the ocean. Once this time window is up, then normal life can commence, and you can even scrub your face with cleanser and nothing will go wrong.
Brow Lamination vs Microblading
Brow lamination and microblading couldn't be more different. While the visual effects are very similar if you don't know the exact differences, the logistics of each vary quite drastically.
Microblading is a more permanent eyebrow solution whereby brows are tattooed into the skin. The effects last between 1-2 years before needing to be redone. The procedure is expensive and also painful.
Brow lamination is the more temporary version of microblading, if you want to look at it that way. It is a non-invasive alternative that offers similar effects, but lasts nowhere near as long. Brow lamination tends to fade out between 4 to 6 weeks after the procedure. Because of this, it's a much cheaper service and another upside is that it is not at all painful.
Brow Lamination Before and After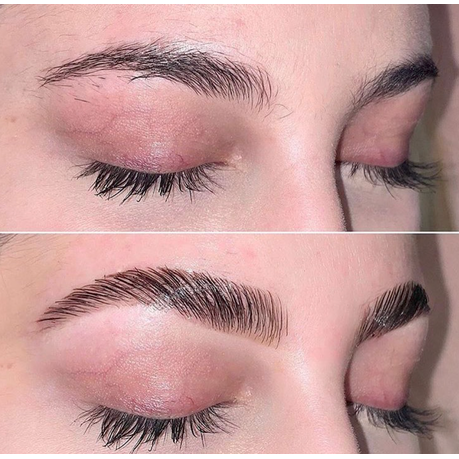 Five minutes searching online and you're bound to come across something about brow lamination gone wrong, somewhere in the world. Brow lamination may be a non-invasive, safe beauty ritual, but it does require some skill and general knowledge. One doesn't watch a few brow lamination videos on YouTube and become an overnight success — practice makes perfect.
Before and after photos can be misleading, especially if someone messed up their own brows in a DIY attempt and now wants others to fear the procedure, too. We like to look at the before and after images of trained professionals only, as well as before and after photos they are tagged in by previous customers.
But if you're seriously considering this procedure then who better to ask than three-time hairdresser of the year winner, Charlie Taylor? "Some people find brow lamination a great way to keep their brows looking neat and tidy, while others find it to be a bit too harsh or over the top.
Ultimately, it is up to the individual to decide whether or not brow lamination is right for them."
Charlie adds that if you're thinking of getting your brows lammed, you should go for it! "The procedure is semi-permanent, so if you get it done and don't like it, you'll have to wait a few weeks to lose the effect. But I'm pretty sure that once you've tried it, you'll love it!"
Brow Lamination Class
Somewhere near you there is very likely a brow lamination course going on. Since this is such a new addition to the aesthetic beauty industry, there are as many people teaching lamination, as there are performing lamination.
If you're interested in pursuing this as a possible career, or you simply want to perfect the art to be able to do your own brows for forever after, then a brow lamination training is highly recommended. Generally, you'll be taught how to perform both the brow lamination and tint — tinting is often included in the procedure as a lot of people don't have dark enough brows for the lamination to properly show up on the face.
Brow Lamination at Home
To laminate at home, or not to laminate at home — the big question in the world of aesthetics at the minute! We spoke with Fred Hoffman, founder of The True Wilderness, about what some concerns are amongst the general public when it comes to brow lamination products.
"Whether brow lamination is good or bad depends on who you ask. Many people love the look of fuller, more shaped brows, and find that lamination helps them achieve this. Others find that the treatment is too harsh for their delicate skin, and prefer to stick to more natural methods of achieving fuller brows," says Fred.
He adds that some of the reasons people may not like brow lamination include the fact that it can be quite harsh on the skin. "It involves using chemicals to straighten the hair, which can sometimes cause irritation. Additionally, if not done correctly, brow lamination can result in patchy, uneven brows. Ultimately, whether or not brow lamination is a good idea is up to the
individual."
Whether you decide to play around with this technique at home or not, it must be said that the best brow oil for brow lamination at home is that of good old castor oil — take note!
Brow Lamination Price
The brow lamination cost is always going to vary technician from technician; it depends on their skillset, speed and where/how they learned to perform this new procedure.
The products used for brow lamination are not particularly expensive, nor difficult to get a hold of, so the process typically falls between the $50 to $100 range (the latter being somewhat unreasonable, all things considered).
What tends to happen when booking a brow lamination appointment, however, is the upselling of other (somewhat necessary) additions that land up taking your budget and running off into the sunset with it.
Blonde brows? Add a tint for an extra $35. Flat eyelashes? Optimize the effects of the brow lamination by adding a lash lift while you're here; another $40 yes, but why not?
You see, the options are endless and there is so much that can be played with in this region of the face, it's difficult to just sit for a brow lamination when you can highlight so many other features at the same time.
Brow Lamination Near Me
Once you find a brow lamination specialist near you, book your appointment and arrive with an open mind, and full faith in the artistic hands of the person you have chosen. Don't be alarmed if you're asked to fill out a brow lamination consent form before the procedure; this is standard practice when working with chemicals so close to the eyes, and it protects the technician in the event of an adverse chemical reaction.
Our advice? Take your time sorting through a handful of specialists near you, who have very public portfolios online that showcase their work in a clear before and after manner. Specialists who are tagging real people in their portfolio work are generally more trustworthy than those who have nothing to show for their presumed "skills".
Brow Lamination in NYC
Weren't perfect brows invented in NYC? Of all the aesthetically conscious cities in the world, nowhere does brows like New York. We'd argue that, these days, it's quicker to get a brow lamination done than it is to grab a coffee in most tourist traps.
As you walk the streets of this treasure trove of a place, keep your eyes peeled for 'eyebrow lamination done here' signs, usually outside of nail salons and massage parlors. We're not saying not to try them out, but we're definitely saying ask for some before and after images first!
Alternatively, we've found platforms such as Instagram and Facebook to be one of the most effective ways to track down really fantastic brow technicians in NYC. To add to that, Craigslist is another good place to look!
Did You Enjoy This Article?
If you enjoyed this article, you might also like our articles discussing eyebrow and eyelash care such as: 20 Best Eyebrow Pencils and 13 Best Eyebrow Growth Serum.