We've curated a crash course in all there is to know about turmeric and skincare. Take what you need, leave what you don't, and invite this versatile healing root into your life for much to be gained!
In this article we discuss the following:
Turmeric and Skincare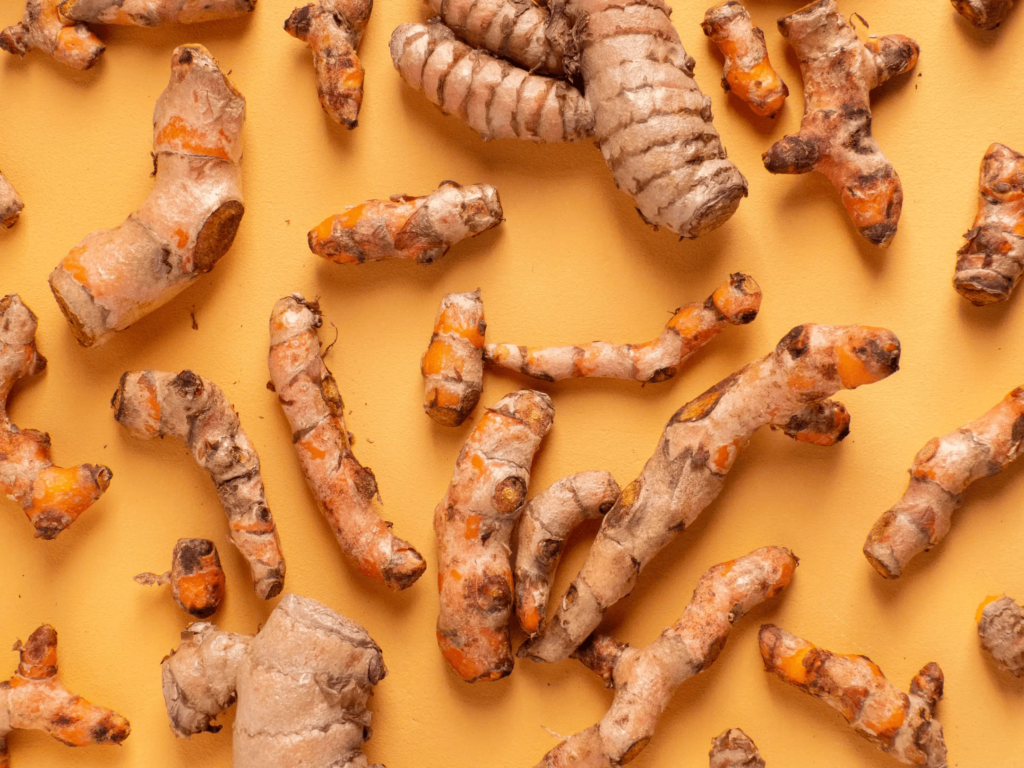 Is Turmeric Good for your Skin?
Turmeric happens to be great for your skin. What is turmeric good for, exactly? We're going to list any and everything, one after the other. Stick with us as we divulge absolutely all of the healing benefits, potential and cold hard facts about turmeric and what it can offer the human body.
Will Turmeric Stain My Face?
Many worry that using turmeric for face daily will simply result in stained turmeric yellow skin. On the contrary, pure, organic turmeric doesn't stain, and if your turmeric is doing so, it means that artificial dyes have been added to it.
This tends to happen with supermarket brand turmeric, which is why sourcing 100% pure, high quality turmeric is so incredibly important.
What Does Turmeric do to Your Skin?
The many turmeric topical benefits are best summarized by Dr. Bhavna Singh, co-founder of Pure Alchemy Beauty, who says "The health benefits of turmeric can be attributed to its main bioactive component: curcumin. The curcumin content in turmeric makes it one of the most powerful anti-inflammatory herbs for better health."
Dr. Singh goes on to state that "Turmeric is a great addition not only for overall better health, but it is fantastic for skin health! Turmeric can reduce redness, skin irritation and breakouts due to its reputation as one of the most powerful anti-inflammatory herbs in Ayurveda. Turmeric heals the skin to combat acne and blemishes through its antibacterial and anti-microbial properties. Turmeric paste for skin is an amazing skin brightening agent and can also help fade acne scars and marks."
Turmeric and Skin Cancer
Curcumin is the yellow pigment found in turmeric, and new studies are showing that it may stop melanoma skin cancer cells in their tracks, killing off any active cells in the process.
This is big news in terms of treatable turmeric skin conditions, as melanoma is the deadliest form of skin cancer and one of the most difficult to treat.
Turmeric for Skin Infection
Shadoh Punnapuzha, the founder and CEO of Taїla Skincare, has great praise for the turmeric root, stating that "This golden botanical has both anti-inflammatory and antibacterial properties which can heal blemishes and purify pores." Infections don't stand much of chance when faced with the power of this plant.
According to Punnapuzha, turmeric is also a revered ingredient used in Ayurveda, the oldest healthcare science that originated in India.
Turmeric for Skin Rashes
Another of turmeric skin problems includes that of rashes, and the treatment thereof. The aforementioned anti-inflammatory and antibacterial properties of turmeric work against the appearance or spread of rashes, regardless of what triggered them into being in the first place.
This is an age old rash treatment that was used by ancient civilizations long before we can even comprehend.
Turmeric for Eczema
Conditions such as eczema and psoriasis are fully treatable with turmeric as a skincare companion. But, if so, why aren't more people talking about this miracle root?
"My opinion as to why it's not used more often currently is that it's not mainstream yet and has major staining properties, so unless the demand is high enough the beauty industry won't actively seek it out.", says Holly Berrigan, a student of sustainable agriculture at UMass Stockbridge.
Berrigan explains that growing turmeric is not harmful to the environment, and predicts that as the demand for the healing benefits of this plant continues to grow, we'll start seeing it in more and more products that target serious conditions including that of eczema.
Turmeric for Scars
Turmeric is known to reduce or prevent scarring, which is good news for anyone suffering from active acne. Regular topical application of turmeric onto the affected skin will delay or prevent any scarring from setting in on the face, as the compound of the root works to rejuvenate the cells before they can come into a permanent state of damage.
Turmeric for Face
The glow that turmeric can offer facial skin is something that skincare enthusiasts are seeking out all over the world.
Ambika Devi, from Lifestyle and Fitness, is obsessed with this yellow root, and is quite familiar with turmeric in moisture blends such as almond and olive oils. Turmeric in these forms gives a healthy nourished glow to the skin, adds a brightness, and can even help to reduce scars. The color is literally like liquid sunshine!
How to use Turmeric on Face for Glowing Skin
The best way to achieve that turmeric skin glow is simply by mixing pure, organic turmeric into any carrier oil that you feel comfortable coating onto your skin at least once a day. This could be olive oil, vitamin E oil, or even coconut oil.
You'll wash it off after a few minutes of absorption time, so it matters not what carrier you use. The goal is for the turmeric to make easily pliable contact with the skin of the face.
Turmeric for Acne
All anti-inflammatory and antibacterial plants and roots can have a positive effect on the devastating skin condition we know to be acne. "Turmeric has anti-inflammatory properties to calm down the skin and help with acne and scarring. It helps reduce redness and leaves a nourished glow.", says Arjita Shrimali, founder of South Asian Wedding Marketplace.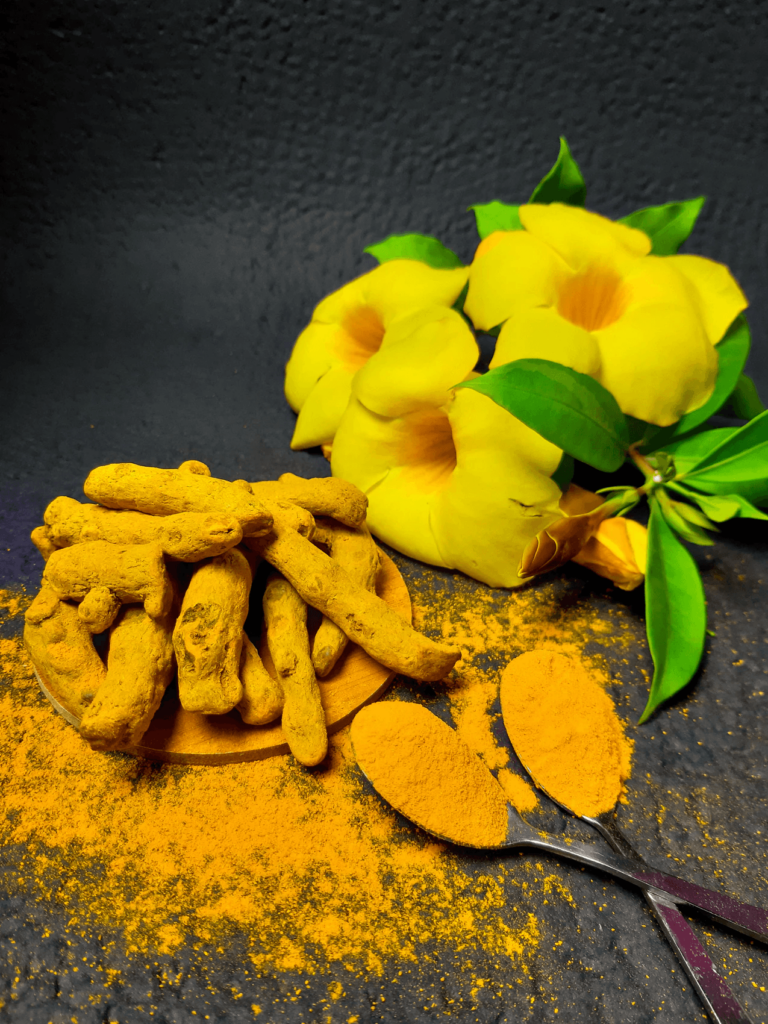 Shrimali explains that in South Asian weddings, especially Indian weddings, there is a whole
pre-wedding ceremony, "the Haldi", dedicated to turmeric and skincare where family and friends cover the bride and groom in a turmeric paste to cleanse their skin in preparation for the big day. While a natural glow is the main goal, acne is definitely a no-no for any bride or groom on their wedding day, so the turmeric helps to keep this at bay, too.
Is Turmeric Good for Acne?
Applying turmeric initial breakout may help to calm the severity of the break so much so that it is almost totally vanished overnight.
Active acne can be treated gently and consistently with turmeric, because this plant is not an aggregator but rather a soother and bacterial-remover. Turmeric is great for all acne related conditions, even that of blackheads or severe cystic cases.
Turmeric for Hyperpigmentation
Regular use of turmeric on the skin is showing to be quite beneficial to individuals who suffer from hyperpigmentation and generally uneven skin tone. It seems that turmeric is a natural pigmentation balancer, so any conditions where blemishes or dark spots have appeared can very easily be corrected with long term, dedicated use.
Turmeric for Dark Spots
Some refer to hyperpigmentation as "dark spots", and turmeric is able to balance these as well. After roughly 4 to 6 weeks of use, most people with these conditions see very distinct results that would be best described as pigment fading.
Turmeric for Skin Lightening
The key compound in turmeric is curcumin, which is a natural skin lightening agent. This is why turmeric can so effectively be used for the targeting of hyperpigmentation and dark spots on the face.
Turmeric for Skin Lightening Reviews
Many claim to see results in skin lightening after just three weeks of consistent use of turmeric. The key is possibly in how the turmeric is mixed before it is applied onto the face. For example, turmeric and lemon for skin whitening seems to be a crowd favorite, and the one that receives the most renowned reviews.
Turmeric for Wrinkles
This sector is still in the early stages of being explored and confirmed, but there is evidence to suggest that turmeric is a natural skin tightener, and may work to reduce or prevent sagging when used religiously.
The antioxidants found in turmeric are beneficial to any damage that is sitting in the skin's epidermis layer, which is where wrinkling tends to start occurring.
Other Beauty Benefits of Turmeric
The power of turmeric in terms of beauty and the physical body is like an avalanche that we have not quite yet grasped the magnitude of. There are some, however, who have been on this journey for quite some time, particularly those individuals who are familiar with the practice of Ayurveda.
"Turmeric has been a hero herb in Ayurveda, the world's oldest health and wellness system, for over 5,000 years. Often referred to in Ayurveda as "The Golden Spice" or "Golden Goddess," turmeric has served humankind in a myriad of ways and is revered as one of the most versatile spices to support overall well-being.", explains Priya Shah, the co-founder of Köppen Ayurveda.
She goes on to state that it is only very recently that the West has adopted age-old Ayurvedic practices that make use of turmeric for skincare, and the many benefits it offers in this regard.
Turmeric as Hair Growth Inhibitor
There are natural compounds found in turmeric that appear to stop or slow the hair growth on the human body. The compounds work in this way, but they do not kill or harm the hair follicles, which is an important distinction to make.
How Long Does Turmeric Take to Remove Hair
Using a homemade turmeric paste daily on one's skin is likely to see natural hair removal results in just 7 to 10 days.
Circular motion and rubbing of the turmeric into the skin is vital, but don't be abrasive about it. Let the plant do the work, you are merely trying to get it to be better absorbed by each pore, and not physically pull hair out with force.
Turmeric for Inflammation
The anti-inflammatory nature of turmeric is arguably its most important feature. Turmeric can be applied topically onto any area of inflamed or irritated skin for the purpose of soothing and rejuvenating it back to a balanced state.
Turmeric Rub for Inflammation
The application of dry or powdered turmeric won't really work for the purpose of soothing inflammation. The root needs to be wet with some kind of lubricant, which makes the plant more easily absorbed and thus more effective.
A turmeric rub is a great form of treatment for the purpose of correcting inflamed skin.
Turmeric for Hair Growth
Interestingly, it seems turmeric can be used for both hair removal and hair growth, as needed. Adding turmeric to your shampoo can work against the thinning of hair, and contribute to the reduction of hair loss due to breakage.
Hair becomes thicker, nourished and holds a vibrant glow when regularly exposed to the wonders of turmeric.
Turmeric for Weight Loss
The powerful curcumin compound may hold some keys to weight loss, as it is believed to actually suppress fat tissue growth when consumed orally. More than this, turmeric works to regulate sugar levels, while also preventing insulin resistance. As a result, it is highly unlikely for excess fat to be retained within the body.
Can Turmeric Help You Lose Weight?
Given the above abilities of this plant when digested by the human body, it seems totally plausible that turmeric would be an ally to anyone embarking on a weight loss journey.
The best way to see if turmeric works for your body, would be to simply try it for a period of a few months, and see what changes occur as a result.
What are the Side Effects of Turmeric?
Turmeric doesn't usually cause any side effects worth mentioning when applied topically, but those who consume turmeric orally on a regular basis may find that the root does cause some digestive upset such as a running stomach, nausea or dizziness.
This is usually because these individuals consume other drugs that interact with the turmeric in their system. What drugs interact with turmeric? Namely, Cimetidine, Esomeprazole, Lansoprazole, Omeprazole, Famotidine and Ranitidine. When it comes to what medications should not be taken with turmeric, these are the ones!
10 Serious Side Effects of Turmeric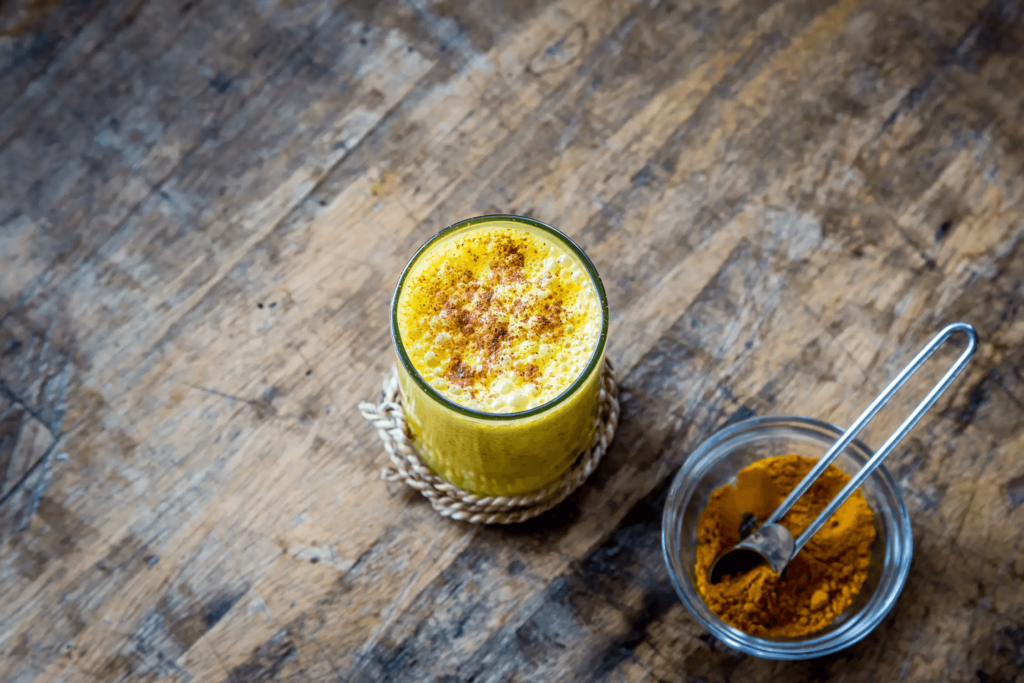 Rumor has it that there are magnesium and turmeric side effects when consumed together. There seems to be no truth to this speculation. On the contrary, magnesium and turmeric are actually quite powerful health aids when consumed in unison.
So what are the negative side effects of turmeric? Here are 10 potential effects that, although rare, can occasionally arise:
Dizziness
Nausea or vomiting
Constipation
Stomach cramps
Yellow stool
Upset stomach
Acid reflux
Dyspepsia
Kidney stones
Abnormal heart rhythm (very rare)
Turmeric Uses
Turmeric Tea
If you're wondering how to use turmeric for health, turmeric tea is one of the most convenient and beneficial ways of delivering this nutrient dense compound into the body.
Fresh turmeric tea is like medicine, and turmeric tea bags are being more widely sold by brands who are quickly discovering a major demand for these products.
Turmeric Tea Benefits
Drinking these teas come with most of the aforementioned turmeric benefits, with the addition of the following:
Boost in immune function
Potential prevention and treatment of cancer
Reduces risk of cardiovascular conditions
May delay or prevent the onset of Alzheimer's
Manages IBS symptoms
May reduce symptoms of arthritis
Turmeric Tea Recipe
There are many ways to enjoy a cup of turmeric tea. This is left to the discretion of the palate of the drinker, and so long as the turmeric itself is being digested, it matters not what you combine the root with to enjoy your hot cuppa.
Personally, we love a steaming hot cup of fresh turmeric tea with a lot of honey and a lot of lemon. The sweet and the sour nature of these components perfectly compliment the turmeric root, making for a latte-like treat of a beverage that you can quite literally drink all day long.
Turmeric Tea Recipe for Inflammation
The best way to take turmeric for inflammation is in tea form, especially if you suspect you may have internal inflammation going on in unison with external inflammation.
Turmeric tea in general will get right to work on soothing any inflammation in the body, but one can always benefit from the addition of cinnamon, maple syrup, lemon, cayenne pepper and ginger root, which all also possess natural anti-inflammatory properties.
How Often Should You Drink Turmeric Tea?
This depends on what you are trying to achieve from the tea itself. Generally, turmeric tea is safe to drink thrice daily so long as it contains no more than 400 to 600mg of turmeric per serving (powdered form).
Turmeric Powder
What is Turmeric Powder Used for?
Turmeric powder is used for everything from cooking to cosmetics. It is the most convenient form of turmeric for both topical and oral use, and has been at the forefront of Ayurvedic healing for some few centuries.
Benefits of Turmeric Powder
All of the listed benefits of turmeric are contained with turmeric powder, however they may be in a much lesser potency than we are fully aware. According to Dr. Marc Robinson, founder of Active Atoms, "Turmeric powder is much cheaper to produce, but only contains about 2-5% curcuminoids, which is nowhere near enough to expect significant health benefits."
This is an interesting argument to consider when seeking the maximum benefit from turmeric as a treatment option. Soneca Guadara is a lifestyle expert, and favors fresh turmeric; "If you don't have fresh turmeric, powder and even the pills are great. I sometimes add fresh turmeric to my tea as well. However you can get it, it is a major win."
Turmeric Powder for Face
Dr. Robinson talks of the notion of using turmeric powder on the face, explaining that it might feel intuitive to apply turmeric powder mixtures directly to the skin, but that he actually recommends ingesting high-potency turmeric extract supplements, instead.
The difference in potency is simply so vast that one supersedes the other in study and result, every time.
Turmeric Supplement
According to Dr. Robinson, "Most of the scientific studies examining the benefits of turmeric for skin health actually examine turmeric extract, typically standardized to 95% curcuminoids. That's a big jump from just 2-5% curcuminoids found in the powdered form."
This supports the many turmeric herbal supplement benefits that we read about online, and somewhat dissolves the need for turmeric powder at all.
Turmeric Face Mask
Turmeric Face Mask Benefits
Wearing a turmeric mask overnight gives you skin time to absorb all that it needs from the nutrient dense root. The benefits range from that of blackhead treatment, to reduction of scars, and even skin lightening.
Turmeric Face Mask to Lighten Skin
For the purpose of lightening skin, turmeric is best mixed with fresh lemon juice. Lemon contains natural bleaching agents that can lighten pigmentation over time. Think about what happens when one puts lemon on light hair and sits in the sun for two hours — bleached streaks!
Turmeric Mask for Hyperpigmentation
The best face mask for discoloration would be a mix of turmeric, chickpea flour, lemon juice and almond oil. To loosen the paste, one can add milk if necessary, though this is not crucial to the success of the mask.
This mask will work against any deep blemishes and dark marks that live on the skin as a result of hyperpigmentation.
Turmeric and Yogurt Mask
Yogurt contains lactic acid, which works to dissolve dead skin cells and in turn, moisturizes, heals and offers anti-aging benefits to all skin types. Combining yoghurt with turmeric makes for a multi-tasking face mask that can bring much benefit to any face when used on a regular basis.
Turmeric and Honey Mask
A mask made of a blend of turmeric and honey is the best turmeric mask for blackheads and the treatment thereof.
Blackheads and honey are not friends, because raw honey is naturally exfoliating, and will lift each blackhead up and out of the skin, paving way for the antibacterial properties to set in and keep the area clear.
Turmeric and Milk Face Mask
This one is for natural glow and treatment of uneven skin tone. If you want your skin to appear brighter and more revived, mix honey, turmeric and milk into a paste-like mask that can be applied all over the face.
Benefits of Turmeric with Milk
Milk seems to amplify the natural healing benefits of turmeric, making the effects more prominent when the mask is eventually washed off.
More than this, many people enjoy the oral benefits of drinking milk with turmeric mixed into it, as it makes the compounds more easily digestible and downright delicious. Turmeric milk is said to fuel the brain, deliver antioxidants throughout the body and even regulate blood sugar levels.
Turmeric and Apple Cider Vinegar Mask
Apple cider vinegar is surprisingly complimentary to turmeric, and works to pull any contaminants from the pores of the face, opening them wide up to receive the healing properties that the turmeric has to offer.
Use small amounts of the vinegar to form a paste-like mask that is mostly composed of the turmeric root. This should not be a runny mask, but rather one that can be easily applied using your finger tips.
Turmeric and Yogurt Face Mask Review
Chanchal is the owner and content creator for My Window Lane, and has been using turmeric and yoghurt in unison as a mask for the treatment of dark circles under the eyes.
If this is something you struggle with, Chanchal suggests mixing 1 tablespoon of beaten yogurt with 1 teaspoon of wild turmeric. Apply it just before bed, and let it dry under your eye for around 15-20 minutes. Wash off with cool water & moisturize with aloe vera gel. It's highly unlikely that you'll wake with the dark circle problem again thereafter.
Oatmeal and Turmeric Face Mask
This is more of a face scrub than a mask, and Hannah Lobb, the Social Media and Marketing Manager for Our Botanicals, has perfected this oatmeal and turmeric recipe for the purpose of attaining the anti-inflammatory and antibacterial properties.
She instructs us to take 1 tablespoon of ground oats, 2 capsules Tranquility Labs Turmeric Capsules, and 1 teaspoon of raw honey and combine all ingredients in a small glass bowl, mixing well. It should form a soft, thick paste, though you can add small amounts of warm water if needed.
Then, apply the paste to a clean face, rubbing in circles for exfoliation. You may use just your fingers, or apply using a washcloth or face sponge. Rinse well, and follow with a moisturizer of your choice.
Rice Flour and Turmeric Face Mask
Rice flour contains some key ingredients that act as anti-inflammatory and antioxidant agents when placed onto the skin. This may result in reduction of existing UV damage, prevention of aging, and over improvement of skin condition.
Combine with turmeric for an active mask with numerous healing benefits.
Sour Cream and Turmeric Face Mask
Many use sour cream on their skin because of the levels of lactic acid found within. This is a compound that naturally removes dead skin cells, making well for cellular regeneration in the process. When combined with turmeric as a mask, the two work together to deliver the full spectrum of skincare benefits to the user.
Turmeric and Baking Soda Face Mask
If your skin is prone to redness or rashes, combine turmeric with baking soda for a more aggressive but highly effective mask experience. Baking soda contains anti-inflammatory and antiseptic properties, which perfectly complement the existing similar properties of the turmeric root.
This mask is also great for bug bites or any adverse reactions to other beauty products.
Turmeric Vitamin
Turmeric Vitamin Benefits
Tuula Vartiainen is a nutrition and lifestyle coach, and has explored the effects of turmeric on the body when taken both topically and orally. She notes that when taken orally, such as in vitamin form, it helps to fight inflammation from inside our bodies, thus she recommends adding it to your daily diet. Just remember to add some black pepper too for better absorption.
Turmeric Cream
Slowly but surely, our much loved self care products will embrace turmeric root more and more. A good body cream made with active turmeric is a great source of daily contact with the topical benefits of this plant.
Adding turmeric to moisturizer is quite easy to do yourself; no need to splurge on exclusive new brands
Turmeric Face Wash
Turmeric face washes are not all that common to the market just yet, but we see this changing quite drastically in the coming year or so.
If you're called to use turmeric in your cleansing routing, consider adding some organic turmeric powder to your existing face wash.
Turmeric Soap
Turmeric soap is equally as rare an encounter as face wash at this point in time. You're most likely to find it being sold at artisanal markets or in smaller curio shops.
Turmeric soap is a great at home DIY project, if you have the time and the means. Read on and we'll get to some of our favorite at home DIY turmeric recipes for you to try.
Turmeric Soap Benefits
Turmeric soap is naturally soothing and antiseptic. You'll be making daily contact with the compounds of the turmeric plant, allowing them to gently seep into the pores of your body and nourish every inch very gradually.
Turmeric soap is particularly great for people who suffer from highly reactive or sensitive skin.
Turmeric Oil
Atta Ur Rehman is the content manager for Physicians Thrive. They learned everything they know about turmeric from their grandma, who held the secrets of this plant long before it was ever a commodity.
Rehman is an advocate for turmeric oils of any kind: "Raw turmeric is beneficial but to enhance its effects, turmeric can be used in combination with organic things like apple cider vinegar, honey, and aloe, etc, for skin application purposes. If these sound like a lot of work, you can always buy turmeric essential oil for easy application and faster results."
Turmeric Oil for Acne
Rehman goes on to note the power turmeric has when it comes to the healing of both acne and acne scarring, stating that "Whether they are marks of your hormonal changes that appeared throughout your youth years, or acne scars late in life, turmeric can assist in fading them away from your life forever. Not just the scars, but due to their anti-inflammatory and antibacterial properties, turmeric can help eliminate acne."
Turmeric Water
What is the health benefits of turmeric? Turmeric also happens to be full of endotoxins, which work to boost immunity and lower the risk of contracting colds and flu. Consuming turmeric in water daily can help to keep these debilitating conditions from finding refuge in your body.
Drinking Turmeric Water for Fair Skin
Turmeric doesn't have to be used topically in order to bring positive benefit to the skin. Drinking turmeric water daily will deliver the same beneficial properties to the body, including your biggest organ — the skin.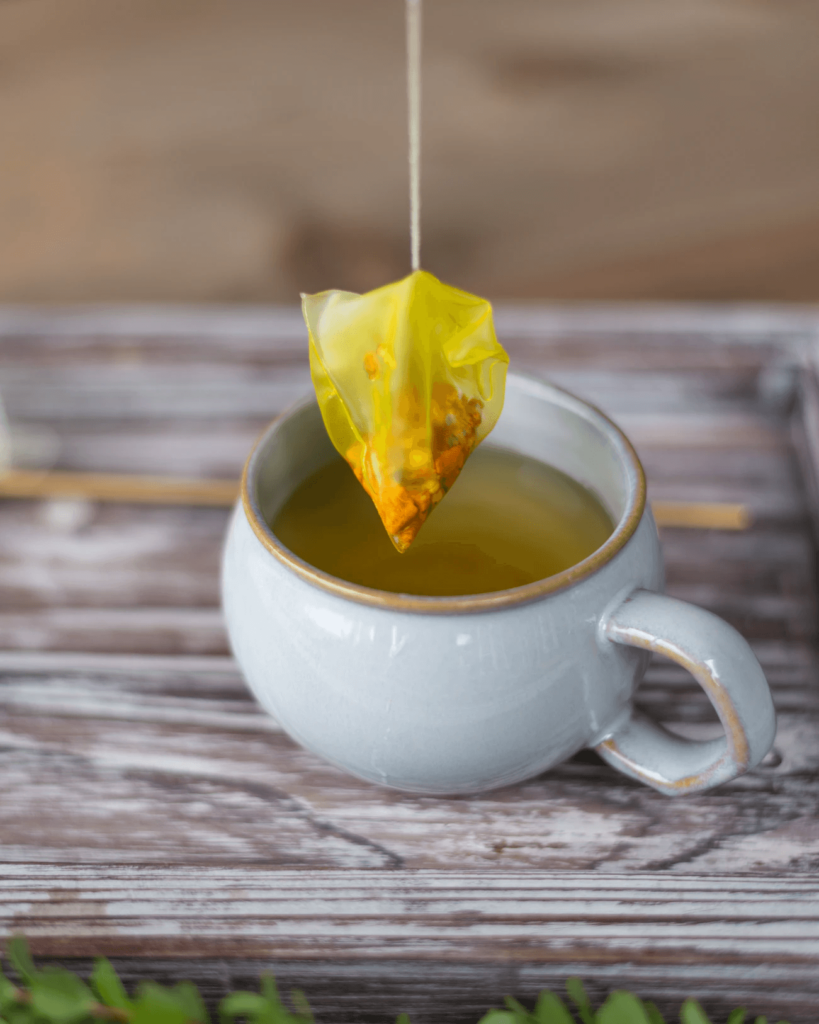 How to Take Turmeric
How Much Turmeric Can You Take in a Day?
A safe turmeric dosage is considered to be between 500–2,000 mg per day at most. The higher end of this spectrum is not recommended for long term usage, so take care when self prescribing your newfound health and wellness supplement.
3 months is considered short term when using turmeric as a supplement, any longer than this would be considered long term and dosage would need to be adjusted accordingly.
Is it Safe to Take Turmeric Every Day?
Yes, turmeric is safe to take daily and holds no high risk side effects that one needs to worry about. How is turmeric best absorbed? The body seems to prefer turmeric that has been heated.
If you prefer to eat your turmeric, consider cooking with it or adding it to a latte. Alternatively, increase the amount of black pepper in your diet whilst taking turmeric as this also increases absorption.
Turmeric Before and After
Looking at before and after imagery when it comes to turmeric is tricky because this is not a product of definite or guaranteed outcome. For some, turmeric may offer visible differences to skin within just a few days, for others, it may take months.
The internet seems to be flooded with happy users of turmeric showing their turmeric mask before and after pictures. Please note that we have no way of knowing how long any of these individuals stuck with their turmeric routines prior to seeing results. Take your own turmeric journey day by day, and try not to place any unrealistic expectations on your skin.
Turmeric Root vs Powder Health Benefits
Turmeric in root form is considered to be more preferable and more potent, as turmeric powders tend to be more processed. Powder forms of turmeric often hold added pigment to give them a richer, more attractive tone, which is generally not how real, organic turmeric roots look once ground up.
From a health benefit point of view, turmeric roots should be used before turmeric powder where possible. One can also take the time to ground their own roots into powder, if possible.
What Does Turmeric Go with?
Turmeric and Lemon for Skin Whitening
Lemon and turmeric make for the perfect duo for those in search of effective skin lightening. Lemon is a natural bleaching agent for both skin and hair, and turmeric has the ability to modify melanin levels for more even, consistent tones.
Turmeric and Coconut Oil for Skin
Coconut oil makes for a great carrier agent for the properties of turmeric, be they for both oral or topical use. Coconut oil, like turmeric, has antifungal properties, and is also a fabulous skin moisturizer.
Turmeric and coconut oil, as a mix, does not need to be washed off post application, but can merely be wiped away after having been given a few minutes absorption time.
Turmeric and Milk
Turmeric mixed into milk is often known as "golden milk", and is a kind of healthy latte that is used to take inflammation or joint pain that is residing within the physical body.
According to Dr. Linda Khoshaba, founder of Natural Endocrinologist Specialists, "Some dermatologists have said turmeric can prevent redness, irritation, hair loss, and cardiovascular disease, all of which may be a by-product of inflammation".
Heating the milk prior to mixing in the turmeric is the key to unlocking a myriad of health benefits contained within the turmeric itself.
Turmeric and Yogurt for Skin
As we know, yoghurt is particularly great to combine with turmeric for the purpose of targeting dark circles under the eyes.
Food wise, yoghurt is a great carrier dish for those who want to eat turmeric daily but aren't all that fond of the taste. Add some honey and chia seeds and you've got picture perfect health in a bowl.
Turmeric and Baking Soda for Skin
Baking soda contains anti-inflammatory and antiseptic properties, so combining it with turmeric is ideal for anyone who is combating a rash, general redness, allergic reactions or bites from insects.
Best Turmeric Products
Best Turmeric Face Wash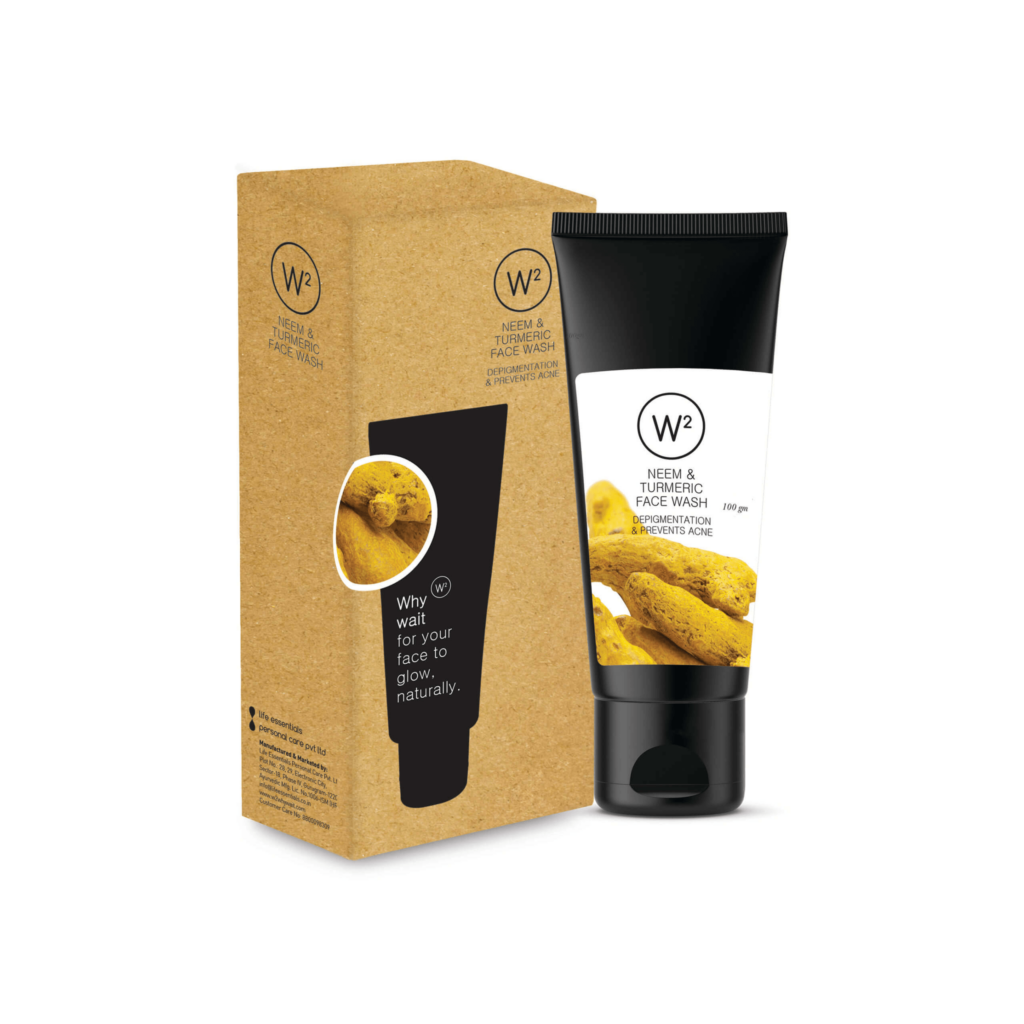 We've not been majorly blown away by one single turmeric infused face wash on the market, but this neem and turmeric duo by Why Wait is one to watch.
The formula targets acne and pigmentation, which is going to up a lot of people's self esteem in years to come. It's made in India, and remains relatively inexpensive given how effective it is.
Best Turmeric Mask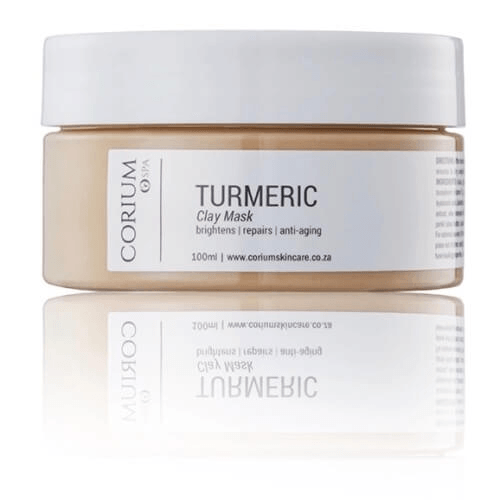 A mask for brightening, cellular repair and anti-aging, this product by Corium deserves a lot more attention that it is currently getting. Combined with the forces of vitamins C and E, this turmeric mask is lightweight, effective and deeply cleansing.
You'll need to ship it from South Africa, so we recommend stocking up on two or three at a time to save the logistical hassle when you run out.
Best Turmeric Supplement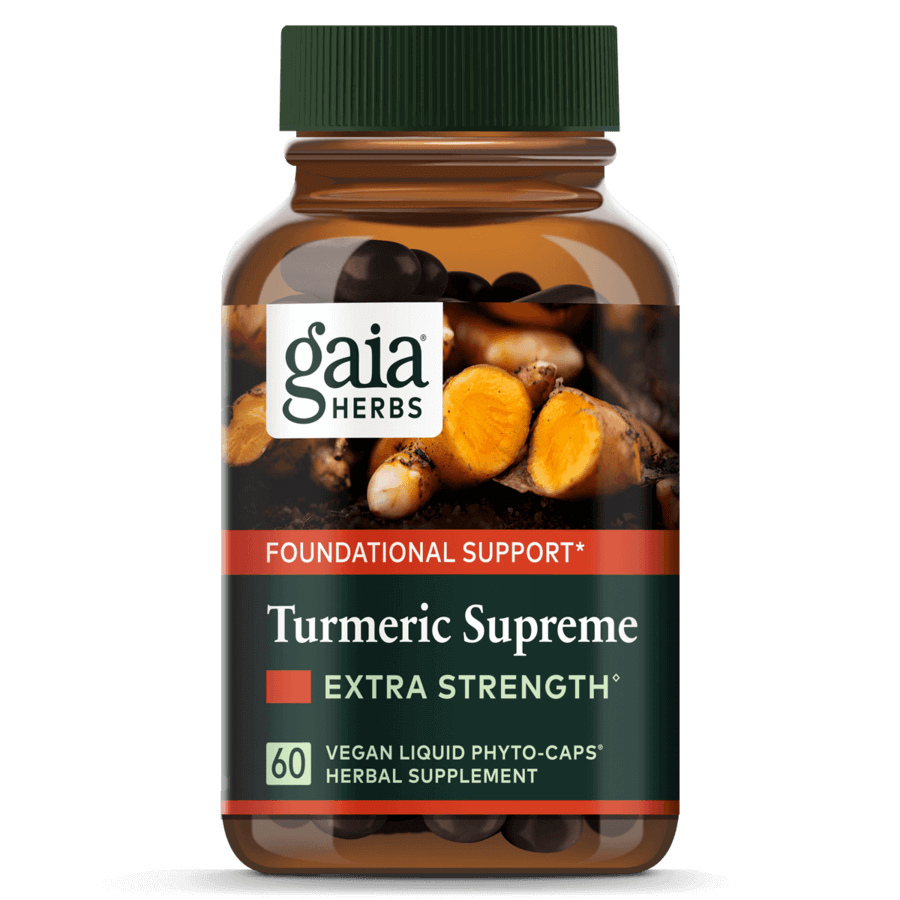 Gaia Herbs are always our go-to for quality vegan capsule supplements, and this one happens to be their number one best seller.
Turmeric is a major part of their brand identity, and they've long known the benefits of what a daily supplement of turmeric can do for the human body. Each capsule is already combined with black pepper to amplify absorption once in the gut — thanks, Gaia!
Turmeric for Skin Care Brands
McCormick Turmeric for Face
McCormick is the 6th most sustainable corporation in the world, and is possibly the biggest supplier of herbs and spices across North America.
If your turmeric is going to be store bought at a commercial supermarket, you want to look out for the McCormick label. The brand goes to the effort of testing all turmeric they bring in from different parts of the world for lead and other potentially harmful minerals.
Gaia Turmeric Supreme
In the aforementioned section, Gaia was our choice of brand for turmeric supplements to be taken daily. We love the ethics around Gaia's entire operation, and have great confidence in their ability to deliver quality turmeric consistently, even when demands fluctuate.
This is a superior brand for turmeric for both skincare and self care.
As a brand, first aid beauty is committed to being cruelty free, clean, and always dermatologically tested. They sell some great, ready made turmeric masks with a myriad of other active ingredients, suitable for all skin types, even the most sensitive.
Homemade Turmeric Products
DIY Turmeric Mask
Admittedly, a turmeric mask is not something that needs to be purchased for tens of dollars from a brand you know little about. Anyone with access to fresh, pure turmeric can make a mask from the comfort of their own home; and an effective one at that.
We encourage you to take the time to source organic, pure turmeric where possible, as this will make for the most beneficial mask for your skin. Failure to do so may result in the staining of your skin yellow, as well as the staining of surfaces.
Turmeric Mask Ingredients
For your homemade turmeric face mask you'll need the following ingredients:
1 teaspoon organic turmeric powder or "ground turmeric"
1 1/2 teaspoons of organic honey (Manuka if available)
1 teaspoon of organic apple cider vinegar
1 teaspoon organic yoghurt or coconut yoghurt
How to Make Turmeric Face Mask
This is a simple turmeric face mask recipe. All you need to do is combine the listed ingredients in a small bowl, mixing thoroughly until they form a thick, paste-like substance.
Wash your face properly, and start applying the paste across the surface of your skin. Once covered, allow the mask to rest for about 15 minutes and then rinse gently with warm water.
DIY Turmeric Face Cream
Unfortunately, the bright orange nature of turmeric does not make it ideal for use as a face cream per say. This is almost always going to be some form of a mask that needs to be washed off before you leave the house, as the pigment is simply impractical for day to day life.
If you're open to it, you can always add a bit of turmeric powder to your overnight creams and sleep with them on. This way, you'll be able to wash them off come morning time and go about your day as usual.
DIY Turmeric Spot Treatment
Turmeric makes for a great spot treatment, and this is very easy to DIY.
Mix a teaspoon of shea butter into a teaspoon of fresh aloe vera gel. Whip them together until light and fluffy. Then, add 3 drops of tea tree essential oil, and a generous pinch of turmeric powder.
Mix well, and then apply the spot treatment directly onto the affected area. You can store this mixture in an old chapstick container and use it whenever spots arise.
DIY Turmeric Brightening Scrub
A turmeric scrub can be as effective as a face mask, only it's more ideal for parts of the body where masks can't really be applied.
Ingredients:
1/4 cup of coconut oil
1 cup of white sugar
3 tablespoons ground turmeric
10 drops of lavender essential oil
Method:
Melt the coconut oil and then combine it with the rest of the listed ingredients. Be sure not to use overly heated coconut oil as it will melt the sugar and you'll use the "scrub" aspect of the mixture.
Transfer to a mason jar and use as a body scrub ad needed, rubbing in circular motions for that gentle exfoliation effect.
Did You Enjoy This Article?
If you enjoyed this article, you might also like our other skincare articles such as Squalane Oil, Top 5 Vitamins for Acne, Essential Oils for Skin, and Top 17 Vitamin C Serum.