Cannabidiol, or CBD, has exploded into the market in the last few years with CBD products almost everywhere you look. That said, CBD products still make up a relatively niche market — not everyone knows about CBD products, and most people still think they're confined to oils and edibles. These products are certainly popular and make up a huge chunk of the CBD products that are out there, but there are tons of other uses for it such as CBD hair products.
Manufacturers are now looking for ways that CBD can create better haircare products. From shampoos and conditioners to oils, there are lots of ways to incorporate CBD into your existing routine. This active compound can benefit your hair in a lot of ways and may just be the secret ingredient to the smoothest, softest hair you've ever had!
Think of this as your ultimate and updated guide to CBD hair care products. Here's what we'll be covering in the rest of the article:
What are CBD Hair Products?
We should start by discussing the elephant in the room: isn't CBD connected to marijuana? Yes, but CBD is just one of the many active compounds in the cannabis plant. It's THC that works to give marijuana its psychoactive effect. On the other hand, CBD is responsible for all the associated health benefits: think reduced inflammation, decreased pain, and lowered anxiety.
It's these health benefits that manufacturers lean on when it comes to CBD hair products. A 2014 study by researchers from the University of Seville found that CBD contains lots of fatty acids, which are great for the skin and scalp. In an article with the Evening Standard, salon owner Hari Salem points out this compound helps increase blood circulation (therefore helping promote and maintain healthy hair growth) while balancing sebum production.
Further, as the company Oley Hemp explains, CBD extracted from hemp is rich in magnesium, calcium, phosphorus, vitamin E and potassium. These components improve the general condition and health of the scalp and hair. Because CBD is a natural anti-inflammatory, it helps to fight various scalp diseases such as follucilitis or psoriasis. It also regulates sebum production. Another important advantage is that CBD treats both dry scalp and irritated and scaly scalp. Due to its beneficial composition, CBD is suitable for people with sensitive scalps and for people with oily, dry or normal hair.
However, CBD haircare isn't just relegated to salon treatments: you can buy CBD shampoos and conditioners for daily use, as well as CBD and hemp oils for those who want to add a more concentrated treatment to their existing hair care routine.
EmperorOne CBD further explains that "high quality CBD hair products strengthen every single strand of hair, lock in moisture and sustain hydration. These products also help hair resist damage while working as an anti-oxidant and maintaining the integrity of your scalp. Many scientists in the CBD world believe that CBD shampoos can even stimulate hair growth! For those with oily hair, avoid CBD moisturizing shampoo or hair care products as you would any other moisturizing hair product."
It's also important to distinguish between CBD and hemp hair products. It's all a matter of biology. Hemp oil technically has CBD as well, but when people refer to CBD they tend to refer to the compound that's taken from the leaves and flowers of the cannabis plant. In contrast, the seeds of the cannabis sativa plant are used to make hemp oil. It's easier to extract hemp seed oil than it is to extract CBD from the plant, which is why hemp oil is cheaper and more commonly used. Hemp oil also has a higher amount of CBDs than THCs, which is precisely why it's so common in lots of lifestyle products.
Should You Use CBD Hair Products?
With all these health benefits, you might be excited to add CBD haircare products to your online shopping cart. But before you do so, it's important to figure out the pros and cons of CBD for hair. Below are a few pointers to keep in mind for deciding whether CBD hair products are right for you.
What are Your Haircare Concerns?
First and foremost, you have to decide what hair care concerns you're targeting. If you're okay with your current haircare products and aren't in the rush to try something new, perhaps it's worth finishing what you already have before buying a new bottle (we all have to do our part to care about environmental sustainability, after all)! However, those who have hair fall concerns or are dealing with dry scalps may wish to consider going out and getting a new bottle of shampoo or conditioner for their hair concerns. We'll discuss CBD oil hair products for hair loss and hair growth later on.
Is CBD Good for Your Hair?
Before we tackle this question, it's important to keep in mind that CBD isn't necessarily a fool-proof cure to your haircare woes. Thankfully, the rich fatty-acid levels in CBD mean that this product is great for all kinds of hair. CBD haircare has just entered the market, so it's not as well-studied as other things like CBD skincare. That said, anecdotal evidence does show that CBD shampoos and conditioners can help soothe inflamed scalps and keep your hair hydrated.
While CBD's anti-inflammatory properties are often what come to mind when discussing hair care, those with oily scalps also stand to benefit from this compound. We briefly touched on CBD's sebum-blocking properties earlier on in the article, but it's worth mentioning once more. By working with your body's endocannabinoid system, CBD is able to help increase or decrease sebum production in your body depending on what it needs. This natural process also means that you aren't dealing with any of the harsh chemicals and synthetics that many drug store brands often use to treat oily hair.
Are You Comfortable Using It?
This may seem like an incidental point, but it's still worth considering as CBD is still making its way into everyday life. A 2019 study published in Scientific Reports found that cannabinoid levels could still be detected in the hair participants who used hemp oil. The paper ends by stating cosmetic hemp oil use should thus be a consideration in criminology and public health. While such cosmetic products are safe and legal to use, there are some who would rather refrain from using it — and that's totally fine, too.
It's also important to note that since CBD oil is so new, we're still trying to figure out optimum dosage levels. That means that the product you end up using might also depend on what ingredients manufacturers use alongside CBD or hemp oil. This is also where the power of brands comes in; since CBD is a relatively new haircare ingredient, going according to the brands you already support can be a good gauge of efficacy.
Types of CBD Hair Products
Knowing what kinds of products are available can help you narrow down your decision. While there are CBD nutritional supplements that can also aid with hair care problems, we'll be discussing topical products that you can easily bring into your daily routine.
CBD Shampoo
Shampoo is one of the first products that comes to mind when thinking of CBD haircare. Most shampoo options pair CBD with active botanicals and other essential nutrients to give your hair the care it needs. Those with scalp problems, whether irritated or oily, should opt for CBD shampoo as you'll be applying and massaging the formula directly on your scalp.
Hemp Shampoo
Just like lavender shampoo, peppermint shampoo, and the like, hemp shampoo falls under the category of hair care products infused with natural oils. There are some options that infuse their formula with hemp oil but sans the parabens and sulfates, making it suitable for daily use.
CBD Conditioner
You can use CBD conditioner with its partner shampoo, but it also works well on its own to provide hydration to your locks. This makes it an especially good option for those who have dry hair, since you'll be applying it to the middle and end lengths of your hair. Using CBD conditioner over time can improve your hair's overall health and make it shinier and softer.
Hemp Conditioner
Hemp conditioner likewise keeps your hair moisturized and silky. While lots of conditioners often weigh your hair down and make it greasy, the naturally moisturizing properties of hemp help create lighter formulas that work for day-to-day application. As with CBD conditioner, you can use hemp conditioner with your current shampoo. Hemp oil is so nourishing that it's often found in many conditioner formulations, even those that don't feature it as the main ingredient.
Hemp Oil for Hair
While shampoo and conditioner are hair care basics, treatment oils are great investments for those who want to give their tresses a little more care (or just want to add to their existing self-care regimen)! To that end, hemp oil can be massaged into your scalp twice or thrice a week to promote hair growth. It also goes without saying that a good scalp massage can improve blood circulation in that area!
CBD for Hair Loss
Can CBD oil help with hair loss and male pattern baldness? Research published in the journal Molecules points out that cannabinoids contain fatty acids and minerals that could aid with hair growth and make CBD oil for male pattern baldness a viable solution. Again, it's important to remember that most of what we know about CBD and hair loss is made up of anecdotal claims. That said, CBD oil on scalp and CBD oil hair loss solutions are certainly worth trying out if you're looking for a solution to your hair loss woes!
CBD for Dandruff
Can CBD help those with dandruff? The Journal of Clinical Investigative Dermatology links dandruff and sebaceous dermatitis as part of the same disease that makes your skin inflamed and irritated; dandruff is just restricted to your scalp. By treating inflammation, CBD products may help treat dandruff.
CBD for Hair Growth
Does CBD help with hair growth? These claims are supported by the fatty acid levels found in CBD, which again can be linked to healthy hair growth. Of course, hair growth can also be an incidental side effect of your hair becoming more nourished and hydrated thanks to CBD. Since healthier hair is less prone to breakage, it's more likely to keep growing longer.
The Best CBD Hair Products
Now that you're armed with all the information about what CBD haircare is and what it can do for you, the next thing is to choose what products you're willing to invest in. You'll soon realize that there's a huge market out there and having so many options available to you can make it hard to reach a decision. Here is a quick round up of the best products available on the market to make your shopping decision a bit easier.
Best CBD Shampoo
EMERA Nourishing CBD Shampoo
This pick is definitely the CBD daily shampoo you need, and comes from the trusted line of Emera hair care. CBD is the active ingredient within this shampoo, but it's also supplemented by the nourishing effects of hemp oil. When combined, what you get is an absolute powerhouse product that works for all hair types. Those with curly hair can also benefit from the fact that this shampoo doesn't contain any harsh chemicals. Instead, it's packed with other great ingredients such as green tea, peppermint, and chamomile extracts.
CBD for Life Pure CBD Shampoo
For those who want to ensure the products they use are cruelty-free, this is the option for you: it's free of GMOs, parabens, sulfates, phthalates, formaldehydes, and artificial colouring. Although CBD For Life's formulation doesn't have hemp oil, it supplements its CBD extract with avocado and lemongrass oils. It also has the added benefit of jojoba oil, which is in itself used in lots of other shampoo and conditioner formulations to keep hair hydrated.
CBD Daily Shampoo
If judged by the name, there's no fuss or bells and whistles when it comes to this product. The addition of peppermint oil also helps rejuvenate the scalp while also making every wash a refreshing one. CBD Daily shampoo also adds a healthy dose of argan oil, which is a top-to-toe wonder product that's used by cultures all over the world. This is a great product to use if you're looking to try CBD shampoo or CBD shampoo and conditioner for the first time, especially as it's more economical than many other brands in the market.
CBD Skincare Co. CBD-Infused Shampoo
This shampoo is well-loved for its ability to gently exfoliate your scalp. Exfoliation is a must for keeping your skin in its top form, but exfoliating your scalp isn't always the first thing that many of us think of. Such gentle exfoliation is thanks to ingredients like sugarcane and lemon; the latter is known for its brightening properties and can often be found in revitalizing shampoos on its own. Of course, don't be dissuaded by this CBD shampoo's exfoliating properties, as it's totally safe to use every day. This is definitely one of the best CBD oil shampoo options that money can buy.
Prose Customizable Shampoo
One of the most stressful things about trying a new product, whether shampoo or otherwise, is that you don't know how it will react to your body. Prose helps bypass this problem by offering a customized formulation just for you! All you need to do is go on their site and list out your hair concerns. It's important to point out that not all formulations contain CBD, but those who indicate dry scalps are more likely to have it in their formulation.
Cibaderm CBD Shampoo
CBD hair treatments are a mile a million, but this one leads to results you can feel within your first wash alone. Because this shampoo doesn't have any irritating ingredients, you get a cooling sensation that also leaves your hair feeling luxuriously clean after rinsing. This shampoo harnesses the power of natural botanical extracts minus the chemical gunk to deliver results that speak for themselves.
Best Hemp Shampoo
Wonder Seed Hemp Shampoo
Do you want to prefer the smell of sweet orange or green tea? These are the two trademark scents of Wonder Seed's formulation, and either of these are guaranteed to leave you with a smile on your face every time you step in the shower. Furthermore, this hemp oil hair formulation is mixed with coconut oil, cocoa butter, and aloe vera — all of which are hydrating ingredients that you probably already use in your daily skincare and haircare routine. This is a great brand to try for the best hemp oil shampoo and conditioner.
HempMeds Purifying Shampoo
True to its name, this is the shampoo to use if you want to purify your tresses and not bog them down. HempMeds takes a clinical approach to their shampoo line, relying on lab-tested oils to make their formulation as effective as possible. Of course, it also helps that this purifying shampoo has other antioxidants such as green tea and goji berry to help nourish your hair even more. This is great brand for hemp hair products.
Sativa Hemp Hair Shampoo
Although hemp hair product is from Australia, it's rejuvenating properties are well worth the added import price on the tag. Their shampoo is plant-based and vegan, which means you're getting the best of nature with every wash. It's jam-packed with native Australian botanicals that definitely put it at an advantage to other competitors. Their energizing formula also has a bit of caffeine in it making it the perfect way to wake your locks up!
Love, Beauty and Planet Soothe & Nourish Shampoo
Love, Beauty, and Planet has made a name for itself thanks to its focus on holistic sustainability: everything, from the bottle cap to the essential oils, is as environmentally-friendly as can be. Their shampoo focuses on cleansing the scalp, while the nana leaf extract gives the formulation its calming scent. All in all, it proves that the best hemp shampoo can be good for you and the environment, too. Chances are you've already used one of their other shampoos and conditioners, so why not give this one a try?
Shea Moisture Lush Length Shampoo
This is the shampoo you should go for if you're looking for serious hydration. Shea butter is an absolute godsend for keeping dry skin in check, and because of that it's become a staple in haircare products too. When mixed with the nourishing effects of hemp oil, you get a formulation that's truly hard to beat. You'll definitely notice the effects after a couple of washes.
HEMPZ Original Herbal Shampoo
Hempz shampoo and conditioners are great for those who want to maintain daily care of their extremely damaged hair. The formulation relies on 100% certified organic hemp oil for moisture, as well as mild cleansers to keep your hair safe day in and day out. This is the epitome of powerful moisturization in one bottle.
Best CBD Conditioner
DS Laboratories Revita.CBD Conditioner
This conditioner means business. To start, it uses broad spectrum CBD — this means that everything is taken from the cannabis plant during extraction, sans the THC. Broad spectrum CBD is therefore even more jam-packed with nutrients than your average extract. DS Laboratories also maintains that you can apply their formulation from root to tip, allowing every inch of your hair to get the nutrition it deserves.
Morrocco Method CBD Conditioner
Morrocco Method's conditioner is another must-try for more conscious consumers. It's vegan, paleo, gluten-free, and sulfate-free — all wins! Regular use of this conditioner helps shield hair from the dryness and frizziness that comes with environmental exposure. This conditioner also promises to protect your hair from the free radicals caused by pollution.
Take Home Color Just Chill CBD Conditioner
This conditioner boasts a whopping 21 amino acids, all of which bond together with your hair to help strengthen and protect it. As the brand's name suggests, this conditioner is also totally safe for those with colour-treated hair. That means that if you've been itching to dye your hair a different hue over quarantine, you can now do so! This conditioner has your back, whether you want to dye your hair a dark natural shade or go all-out with bright greens and pinks.
Magik Beauty CBD Conditioner
This is another conditioner that's perfectly safe to work with dyed hair. The super ingredient biotin makes another appearance here, which means that this conditioner will definitely strengthen each and every hair follicle you have. Magik Beauty also states that this product promises to help stimulate new hair growth. Magik Beauty's conditioner is a great all-around product for those who haven't tried CBD conditioner just yet. The results you get with every wash will ensure that CBD conditioners become part of your regular routine!
Naysa CBD Replenishing Conditioner
If you love your current conditioner because of its keratin-filled formulation, this is the one for you. Not only does Naysa's formulation boast 100 mg of CBD per bottle, it's also infused with hair-loving keratin that's easily absorbed and naturally moisturizes your hair. Because of this conditioner's powerhouse formulation, Naysa admits that you can easily swap this conditioner in as your new daily pick.
Best Hemp Conditioner
Love, Beauty and Planet Soothe & Nourish Conditioner
We can't mention Love, Beauty, and Planet's hemp shampoo without its matching conditioner! As with the shampoo, this formulation doesn't have silicones or parabens that build up in your hair. It's natural formulation makes it an easy compliment to any shampoo you already have (just in case you don't want to purchase the set just yet). This conditioner also boasts a fast-rinsing formula that ensures you aren't wasting too much water with every shower.
R+Co Super Garden CBD Conditioner
Although it's called CBD conditioner, a close look at the ingredients shows that they derive the ingredient from hemp seed. This conditioner's silky cream formulation doesn't weigh hair down, but actually makes it bouncier with every wash thanks to the addition of Moringa oil. R+Co's trademark "Dark Waves" scent is a sensual blend of cardamom, pineapple, tangerine, lavender, blonde wood, and bamboo; you'll definitely feel like you're at a spa whenever you smooth this on.
HerStyler Hemp Conditioner
This is the conditioner to reach for if you're looking for some intense moisture. While hemp oil is great for hydration on its own, HerStyler's conditioner also has the added benefits of vitamin E — a known moisturizer that you probably already have in your skincare routine! There's also the addition of sage oil, that works to soften frizzy hair. The end result is hair that's enviably sleek and totally healthy. Um, yes please!
Aussie Calm the Frizz Conditioner
Aussie's range of haircare products are loved all across the globe thanks to their all-natural approach and cheeky branding. Australian hemp seed extract is the prime ingredient in this formulation, which means you're getting the best of this ingredient with their conditioner. Customers rave about this conditioner's ability to tame even the most unruly hair, which means that your bad hair days have truly met their match. That means this conditioner is great for you too, curly-haired folks!
Mill Creek Botanicals Hemp Conditioner
Mill Creek Botanicals makes sure that all their conditioners are pH-balanced, sulfate-free, and paraben-free. A closer look at the ingredients list shows that there are a bunch of other nourishing additions to this conditioner such as aloe vera, vitamin B5, and biotin. While leaving conditioner in your hair for 1-3 minutes is standard procedure, the directions say that you can leave it for up to 10 minutes if your hair is in need of some serious hydration.
Best Hemp Oil for Hair
Area 369 Hair Serum with Hemp Oil
Area 369's serum promises to protect your hair from UV rays, pollution, and humidity. According to a 5-star review from a very happy customer, a little goes a long way with this powerful formulation. It's also ridiculously easy to use, as you just smooth it onto your hair after each shower and wait for it to dry! If you're someone who blow dries your hair on a regular basis, protecting your tresses with this serum helps you achieve the style you want without damaging your locks.
Wellness Premium Organic Hemp Seed Oil Hair Serum
As the name suggests, this product's formulation is incredibly straightforward. For those who are looking for an added boost of moisture and protection, this serum is for you. There's no need to worry about greasy hair either, as its lightweight formula is easily absorbed into your hair. Wellness Premium also works with cold-pressed hemp seed oil, which is an extraction process that ensures all the minerals in the oil are preserved.
Hemphilia Hemp & CBD Hair Serum
Hemphilia mixes their hemp extract with other natural oils such as rosemary, thyme, and linseed. This means that you get the most nourishment with every pump. Oh, and did we say that it's organic? Yep, this is another environmentally-conscious option that's sure to leave your hair as healthy as it can be. Their illuminating formula also gives your hair maximum shine, making it the perfect option for hair finishing.
Giovanni's Hemp Hydrating Serum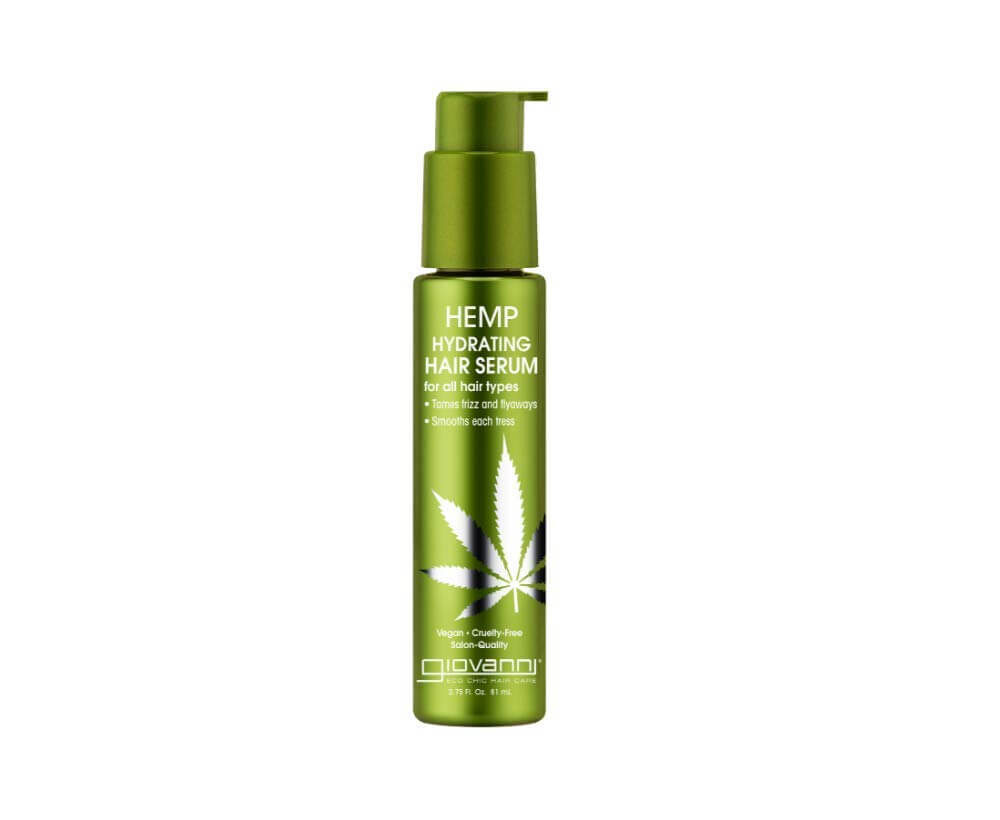 This serum benefits from Giovanni's trademark Dual Moisture formula that blends hemp seed oil with aloe vera to bring life even to the most damaged and coarse hair. The product is Leaping Bunny certified, which means it isn't tested on animals; the package is fully recyclable, too! The addition of turmeric and botanical extracts also helps prevent hair from breakage and frizziness. If you live in particularly hot areas, this is one serum that you'll reach for again and again.
Best CBD Products for Hair Loss
Dr. Hempster Anti-Hair Loss Shampoo
The name speaks for itself: this is the option to go for if you have hair loss concerns, and it demystifies the process of how to use CBD oil for hair loss. Aside from hemp that moisturizes hair, this formulation helps stimulate hair growth thanks to biotin. There's also argan oil in the mix to keep your hair in tip-top shape. If this formula works for you, Dr. Hempster has a full range of haircare and other lifestyle products that you can try. Remember how we mentioned that hemp oil is easy to extract? This is why Dr. Hempster's formula is a great affordable pick.
Eco Styler Cannabis Sativa Oil Leave-In Conditioner
As mentioned previously, one of the secret culprits to hair loss is damaged hair. Brittle hair is more likely to fall off whenever you comb and style it, which is what leads to hair loss over time. Thankfully, Eco Styler's leave-in conditioner is a catch-all cure that will definitely bring some life back to your hair. This is also one of the most economical purchases you can make, as the huge tub is good for multiple uses, and then some. Goodbye weak strands, and hello thick tresses.
Best CBD Products for Dandruff
Nomad Transcend Serum
Yes, CBD dandruff treatment exists! This sleek bottle certainly packs a punch and is the place to start if you want a product to start incorporating into your routine right now. Aside from CBD oil for your scalp, this serum contains white tea extract, chamomile, and rose water that soothes irritation. There's also some lactic acid that boosts cell turnover, but this serum is best known for its anti-inflammation properties. There's no silicone in its formulation either, so it won't bog your hair down.
Cannaderm Capillus Anti-Dandruff Shampoo
Capillus has created an intensive formulation that banks on CBD's anti-inflammation properties to help treat dandruff and serve as a great CBD scalp treatment. This shampoo also contains climbazole, which is a topical antifungal that's been proven to help conditions such as dandruff and eczema. Despite its heavy-hitting formulation, this hemp dandruff shampoo remains gentle on the scalp and also works to reduce your hair's overall sebum production.
Kenevircim Natural Hemp Oil Rescue & Restore Shampoo
This shampoo has been dermatologically tested to help with dandruff, regardless of your hair type. When it comes to the best hemp oil for hair growth, you'll want a formulation that's as natural as possible. Since this shampoo boasts anti-hair loss and anti-dandruff properties, this is the perfect pick for those who are dealing with particularly troublesome hair. It's also SLS and alcohol free, which means it's suitable for people with sensitive scalps. All in all, this might be the product that saves you from your troubled hair history.
Best CBD Products for Hair Growth
DaViece CBD Hair Growth Conditioner
Shampoos are supposed to cleanse your hair, while conditioners moisturize it and give it that much-needed revitalization. That's exactly what you get with this conditioner: there's 50mg of CBD in every bottle, but the formula also boasts the inclusion of anagin. What's anagin? It's an active ingredient extracted from organic pea sprouts that's chock-full of proteins and fibres. This ingredient works with your dermal papilla cells which are basically in charge of stimulating hair growth.
Pure Hemp CBD Hair Growth Shampoo
This shampoo not only hydrates your hair to protect it from breakage, but it also thoroughly cleans your scalp and removes any toxins that may have built up over time. When it comes to how to use CBD oil for hair growth, this shampoo is as easy to use as can be. If you live in a city or an area with pollution, this is the shampoo you need to rid your hair of all that gunk and keep it lush and buoyant. Pure Hemp promises visible results after consistent use, so what's not to love?
Difeel Hemp 99% Natural Hemp Hair Oil
Difeel Hemp's hair oil is praised for its pro-growth formula. It mixes hemp oil with castor, coconut, olive, and lavender oils to encourage healthy hair growth over time. Your hair will also grow stronger and thicker as you continue to use this oil; however, as it's quite potent, you only have to use it twice or thrice a week to achieve your desired results. The tiny squirt cap also ensures that you're getting just the right amount of product every time.
Good2Gro Hair Growth Elixir
Here's another potent product that will definitely give your hair a new lease on life with just a few uses. Good2Gro notes that their product works best for promoting healthy hair production by helping rebuild collagen and elastin in your locks. This product is also safe to use for colour treated and relaxed hair.
The Bottom Line
If you're thinking about trying a new CBD hair care product, here's your sign. There's a product for practically every hair type and hair concern. CBD and hemp have proven that they're great ingredients for daily use. Lots of the products mentioned above are also certified organic and cruelty-free, which means you can make the switch without any guilt! That fact alone should give you a bit more incentive to get out and support brands that are making great products that don't make a dent in our environment.
At the end of the day, switching up your haircare products requires a bit of trial and error on your part. Arming yourself with the information from this article should help you reach an informed decision whether CBD haircare products might work for you as well as what products you should buy. There's nothing wrong with spicing up your haircare routine as a form of self-care — and who knows, you might find your new favourite product along the way!
Did You Enjoy This Article?
If you enjoyed this article, you might also like our articles discussing skincare and beauty such as 21 Best Facial Toner, 13 Best Eyelash Growth Serum, and Honey for Face.