When it comes to clean beauty, it's no surprise to many that natural toothpaste isn't really much of a priority. We wouldn't be surprised either if other products like makeup, shampoo, lip stick, and other skincare items are more of a priority when you're considering essential clean beauty purchases. However, natural toothpaste is just as important, especially considering how essential it is to keep your teeth clean and healthy while lessening your environmental footprint at the same time!
Natural toothpaste has been around even longer than regular, store-bought toothpaste has been available to millions of consumers, and we've taken the liberty of compiling everything you need to know about natural toothpaste before you can decide on the right brand for you. After all, not only does your toothpaste tube need to be compatible with how sensitive your teeth may be, but it has to succeed in being all-natural with nourishing ingredients to boot! Let's get a move on and dive into everything you need to know below.
We will be covering the following topics:
What is Natural Toothpaste?
The first question that may be on your mind is the most basic: what is natural toothpaste? And, you may also be wondering, what makes it so different from other ordinary toothpaste brands you've probably been paying attention to at the grocery since you first learned how to brush your teeth?
Essentially, natural toothpaste functions the same way regular toothpaste does, but it is made up of completely natural and/or organic ingredients. This means that these products usually expire before regular toothpaste does, and may lather a lot less while you brush your teeth. Because all of the ingredients are natural, however, you are less likely to be subjected to negative side effects brought about by artificial ingredients, but your teeth should remain just as squeaky clean and healthy!
"Starting to incorporate more natural products into your daily routine can be a very rewarding experience. They are safer for your body and more gentle as well. Natural toothpaste is a wonderful and easy-to-make substitute for products that are often full of chemicals and can have high levels of toxicity" says Dr. Carrie Lam, MD, FAAMFM, ABAARM.
A Brief History of Toothpaste
Natural toothpaste has been around far longer than the first dentist came into the world. In fact, it was invented before the first toothbrush was used by ancient Egyptians! According to the Colgate website, historians believe that by 5,000 B.C. Egyptians were already using a certain kind of natural paste in order to keep their teeth clean.
Other civilizations soon followed, but some used different natural ingredients while making toothpaste. The Chinese used ingredients such as salt, ginseng, and herbal mint, which are not unlike many kinds of toothpaste that are used today.
What if you wanted natural toothpaste with a bit of texture to it? As an ordinary citizen residing in ancient Greece or Rome, you probably had access to natural toothpaste that contained oyster shells and crushed bones. Just like other widely distributed products we can see today, natural toothpaste very much evolved according to where it was created and adjusted to the needs of the earliest consumers who used it.
Eventually, toothpaste began to be manufactured for global public distribution, which meant a drastic change in the kind of ingredients used in making toothpaste. Back in the 1800's, most toothpaste formulas weren't actually liquid-like, but contained a powdered mix. There was even a period where toothpaste contained chalk, and although it provided the abrasiveness that people needed at the time to scrub stains off their teeth, it's no surprise to us that the safety of using a chalk-based toothpaste was definitely pretty questionable!
The toothpaste we are familiar with today likely came from a formula that was developed after 1945, which formula initially contained soap. A bit of formulaic evolution came about again, and factories started adding other ingredients to replace soap, which include, but weren't limited to, fluoride to prevent tooth decay and sodium lauryl sulphate. And, just like that, the toothpaste formula we are familiar with and use to this day was created.
Reasons to Use Natural Toothpaste
If you're reading this and are new to using natural toothpaste or have only recently heard of it, you're probably wondering why it should be used in the first place. After all, most of us grew up consuming store-bought toothpaste and brands recommended to us at the dentist's office. So, why bother with switching to a more natural alternative?
To answer this common question, check out the following summary of the reasons why natural toothpaste is a great alternative to the brand you've likely been using since childhood.
Natural Toothpaste Can Be Made Easily at Home
Because of the culture of consumerism we live in, most of us have forgotten the numerous benefits to homemade alternatives that don't take long to make.
We give ourselves lots of excuses to avoid making our own healthy, natural products at home. This often has to do with the fact that we claim we're too busy, or that buying something off the rack at the grocery store is much easier. However, it's common for us to vastly undermine just how quick and easy it is to make our own natural toothpaste right at home. Not only will it help teach you a new skill while making sure your teeth stay clean, but it will also help you cut down the total on your grocery bill!
If you have a few minutes to spare on an evening or weekend, you'll be able to benefit from your own homemade natural toothpaste in no time. Later in the article, we discuss a natural toothpaste recipe you can try at home. But first, let's discuss some of the other benefits of natural toothpaste.
Natural Toothpaste Contains Ingredients with Health Benefits
Using natural toothpaste gives you access to a variety of ingredients that come with their own unique health benefits for your teeth and body in general.
For example, some toothpaste brands contain propolis, a natural ingredient in honey which, according to Toms of Maine, can help keep your teeth strong and healthy without any additional additives.
Another interesting ingredient you could possibly find in a tube of natural toothpaste is licorice root extract. Apart from being the tasty snack you probably know and love, licorice contains antimicrobial properties which can also keep your mouth germ-free the natural way!
Buying Natural Toothpaste Helps the Environment
Most of the time, reputable companies that sell natural products are transparent about where these products are sourced and the steps they take to lessen their carbon footprint while delivering their products to your shelves. You can usually verify this by reviewing their packaging or company website.
If you see this information while looking for natural toothpaste brands, there's a good chance that you found a reputable brand that practices what they preach. It's hard to say the same about larger corporations behind the more common, grocery-bought toothpaste brands, and it's a lot better to trust companies that are more transparent with their consumers.
Still feeling doubtful? Look for natural toothpaste brands who make sure they reply to questions posted online by consumers and help them understand what exactly they decided to purchase. After all, it's within your rights as a consumer to understand the ingredients in the products you are buying, and most natural toothpaste brands will happily oblige if you simply inquire with them!
Natural Toothpaste Helps You Address Your Dental Issues
If you're reading this and have specific dental needs that need to be addressed, such as sensitive teeth and gums, or need to ensure extra cleanliness in connection with wearing braces, then it's perfectly fine to be a little skeptical if you think that natural toothpaste brands can't provide a product that suits your special needs. After all, they aren't as heavily advertised as more mainstream brands, which tend to clearly communicate to their consumers about specific ingredients used in their products that are meant to target common dental problems.
However, it's important to note that some natural toothpaste brands do cater to your specific dental needs while sourcing everything they need from renewable sources! There are various natural toothpaste brands that cater to sensitive teeth, whitening, plaque accumulation, prebiotic dental needs, and much more.
The key to finding the right brand of natural toothpaste is knowing what you need and finding a brand that promises to address that need. It helps to research and cross-reference their ingredients list to make sure they're legitimate. As much as we recommend making the switch to natural ingredients, you still have to make sure that these ingredients will address your needs.
Natural Toothpaste is More Child-Friendly
When you were a child, did you ever accidentally swallow toothpaste? Or maybe even on purpose? It's pretty tempting for kids to do, considering that most, if not all, conventional toothpaste brands we know come in delicious minty flavors that are tempting for kids to eat instead of spit out after brushing.
When you're teaching your child to brush their teeth properly, don't be too concerned if they swallow toothpaste by accident, especially if you're using a tube of natural toothpaste. Of course, you should still advise your child to not swallow toothpaste, but the important thing here is that there is much less risk to their health if they do accidentally swallow some natural toothpaste. Most natural toothpaste ingredients are entirely edible and won't cause allergic reactions.
Chemicals in Ordinary Toothpaste to Avoid
Without a doubt, some toothpaste brands you buy in the grocery store do contain questionable ingredients that could pose harm to you and your body down the line. Some of these ingredients are backed by studies, but some aren't. Just to be safe, we do suggest avoiding these ingredients entirely while shopping for toothpaste or just switching to natural toothpaste straight away.
Here are some chemicals and other ingredients to avoid while shopping for your next tube of toothpaste:
Artificial Colouring
A lot of mainstream toothpaste brands tend to add artificial colouring in their mixtures to make their toothpaste seem more attractive to consumers. However, there is no actual benefit to using artificial colouring, so why bother with it at all? The FDA also only lists seven kinds of artificial colouring that are safe to use, so might as well avoid the other variants altogether.
Artificial Sweeteners
As much as we don't want to admit it, the truth is that sometimes we purchase a tube of toothpaste just because we love how it tastes. However, be wary of artificial sweeteners in your toothpaste. Certain sweeteners may give rise to health complications with prolonged use. Earth 911 lists sorbitol and saccharin as two artificial sweeteners to avoid, as they have links to diarrhoea in children and lymphoma in rodents. Be wary of toothpaste brands which contain these two ingredients.
Triclosan
This is an ingredient still present in many mainstream toothpaste brands today, despite a previous ban by the FDA on its use in toothpaste and soap. Although not tested on humans yet, triclosan has been linked to tumor-development in mice, a decrease in thyroid hormones, and increase in potential antibiotic resistance.
Sodium Lauryl Sulphate
This is one of the first ingredients used in modern toothpaste and is used commonly in many kinds of toothpaste. Accordingly, make sure to check if it's present in the toothpaste you plan to buy. This ingredient is quite harsh and was traditionally used in floor cleaners. As a result, it could be too strong for particularly sensitive mouths or teeth. Make sure to ask your dentist if this specific ingredient is right for you and switch to gentler, more natural ingredients if recommended.
Fluoride
The dangers of fluoride in toothpaste is a common concern among people who have decided to make the switch to natural toothpaste. It's an especially risky ingredient when ingested, which makes it a common danger to small children. According to Medical News Today, one of the many risks you could suffer due to fluoride exposure is mild dental fluorosis. This is especially common in children who have a high exposure to fluoride, most likely from accidentally swallowing it. Tiny white streaks or specks of enamel along a child's tooth could be a result of fluoride exposure, and must be monitored accordingly.
DIY Natural Toothpaste
Creating your own homemade toothpaste in the comforts of your own home is a lot easier than you think! Here is a homemade toothpaste recipe from Wellness Mama that can help you make your own natural toothpaste mix in just a few minutes! Say goodbye to another item off your shopping list.
Ingredients:
Stevia powder or brown sugar
Peppermint essential oil or myrrh essential oil
Cinnamon essential oil oil
Baking soda
Coconut oil
Method:
In a pan, melt the coconut oil over heat to slightly soften it.
Combine the following ingredients into the mixture:

½ cup of coconut oil
2 packets of stevia powder or brown sugar
2-3 tablespoons of baking soda
15-20 drops of peppermint essential oil or myrrh essential oil
10 drops of cinnamon essential oil

Stir with a fork if the mixture is only semi-melted. If the entire mixture is melted, you can use a spoon to stir in the mix. Make sure you stir the whole mixture several times to ensure that all the ingredients mix well together.
Pour the entire mixture into a small jar.
Let it cool completely.
It's important to note that if you're living with other people it's a good idea to pour the mixture into separate jars with labels so all of you won't have to share one toothpaste mix!
Best Natural Toothpaste Brands
Now that you understand everything that you need to know about natural toothpaste, it's time to compare and contrast some of the best brands! These brands are not only completely natural, but they also contain ingredients that specifically target certain dental needs that you might have. Here are some of the best natural toothpaste brands w in a handy list–perfect to take with you when you go shopping!
Tom's of Maine Enamel Strength Natural Toothpaste
This is one of the first and most trusted natural toothpaste brands on the market, so you really can't go wrong with Tom's of Maine! It particularly focuses on enhancing enamel strength and is also free of artificial sweeteners and colouring.
Auromere Ayurvedic Herbal Toothpaste
If you're interested in keeping your toothpaste completely natural and fluoride-free, Auromere Ayurvedic Herbal Toothpaste is perfect for you! According to Dr. Gerry Curatola, its natural ingredients will help your teeth naturally fight cavities. How's that for a natural smile?
Davids Peppermint Natural Toothpaste
Not all natural toothpastes also identify as 100% vegan, but Davids Peppermint Natural Toothpaste surely does! This product is also officially free of sulfates, sodium lauryl sulphate, and is considered ethically-made. Cheers to sustainability!
Jason Powersmile Anti-Cavity & Whitening Gel
Did you know that bamboo powder can effectively whiten your teeth? Neither did we, but now we do! This particular kind of toothpaste from Jason also doesn't contain gluten, sodium lauryl sulphate, parabens, or any artificial sweeteners.
Hello Fluoride Free Antiplaque and Whitening Toothpaste
The first step to whitening your teeth is to make sure you remove the plaque! This brand of toothpaste provides antiplaque protection and also uses coconut oil which helps keep your gums strong and healthy the natural way. You can also avoid the dangers of fluoride with this flouride-free toothpaste.
Weleda Plant-Rich Toothpaste 3-Piece Set
This set is perfect for brushing your teeth three times a day! Not only are these tubes sourced from natural ingredients, but they help address a number of concerns such as tooth sensitivity and yellowing stains on your teeth.
Burt's Bees Purely White Toothpaste
Not only is this iconic lip balm brand great at making their flagship products, but they've got natural toothpaste on their product lineup as well! It's readily available for purchase in most convenient stores and is free of sulfates, parabens, artificial colouring, and artificial sweeteners as well.
Dr. Bronner's Peppermint All-One Toothpaste
This brand specializes in creating natural soap as well, so it's no surprise to us that they're high on our list of the best natural toothpaste brands, too! It's made of 70% organic ingredients (which means most of its ingredients are natural) and it's completely fluoride-free! Count artificial colouring and sweeteners off its list of ingredients as well.
"After tinkering with DIY recipes and testing out a few different brands, we've settled on Dr. Bronner's All-One Peppermint Toothpaste. It's 70% organic, fluoride- and carrageenan-free, and has a texture and flavor our whole family enjoys." says Lo Bannerman a nutritionist, meditation leader, and mama.
Tom's of Maine Prebiotic Toothpaste
It's not every day that we see a natural toothpaste that helps the good bacteria in your mouth fight off the bad bacteria that can make its way into your mouth. But that is exactly what this variant of Tom's toothpaste offers! It works in the same way as a bottle of yakult (a Japanese sweetened probiotic milk beverage fermented with healthy bacteria), and all you need to do is brush your teeth to get those good prebiotic effects.
Schmidt's Wondermint Toothpaste
Get yourself a tube of natural toothpaste that not only tastes minty fresh, but also contains a smorgasbord of healthy, natural ingredients! It's formulated with vitamin E, organic aloe leaf juice, magnolia bark extract, and superfood extracts, among other excellent ingredients.
You can find this toothpaste in many grocery stores and pharmacies, and you can also check for an online discount on TopVouchersCode.
SprinJene Natural® Cavity Protection Toothpaste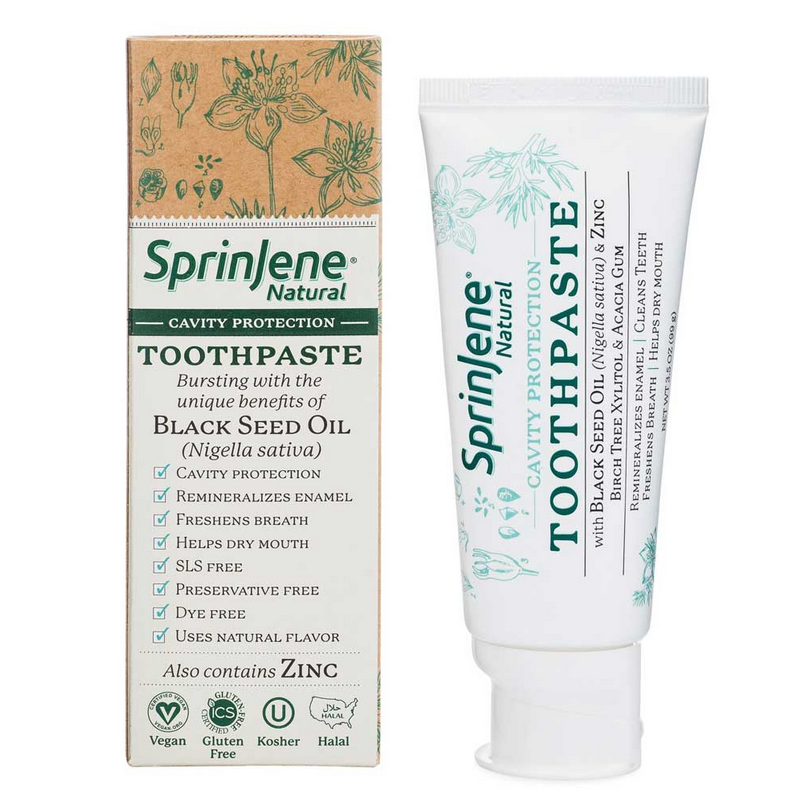 SprinJene was developed by PhD scientist, Sayed Ibrahim, with a long-standing career in oral care products. He believed the world deserved a better toothpaste that was also natural. One that doesn't use harsh chemicals or abrasives. One that cleans and whitens yet also protects your enamel.
Their premium toothpaste is handcrafted from scratch and is also cruelty-free, vegan, kosher halal and gluten-free. The key ingredient is black seed oil. Black seed oil has been documented in numerous scientific papers for its anti-inflammation and anti-bacterial benefits that help to maintain healthy gums.
The Bottom Line
And there you have it! This is everything you need to know about natural toothpaste and how to get started using it, whether you are on the hunt to purchase the right brand or plan to make your own toothpaste at home. We hope this guide has been helpful to you!
Did You Enjoy This Article?
If you enjoyed this article, you might also like our articles discussing the best natural products for the teeth and lips such as Organic, Vegan and Natural Lip Balm, Natural Teeth Whitening, Natural Chapstick, Natural Lip Gloss, and Organic and Natural Lipsticks.