Want the truth about air purifiers? We've got it all. From do they really work, to what brands are the best, read on to learn all there is to know about this transformative technology and what industry professionals have to say, too!
In this article we discuss the following:
Are Air Purifiers Worth it?
Filtering your air is never going to be a bad thing. Whether highly effective or mildly effective, this is still a positive action to take for any space no matter which way you swing it, especially when you factor in air-quality statistics.
According to Jamie Snell from Eco Crates of America, indoor air quality is 2-5 times worse than the air we breathe outside. "Many factors contribute to this statistic, including the materials used to build and furnish the home, harmful ingredients commonly found in personal care and cleaning products, and the carbon dioxide we exhale," says Jamie.
She adds that during most winters and summers, it is common to keep windows closed for energy conservation. "Unfortunately, doing so restricts the exchange of bad air for good from outside. Without sufficient exchange of this air, the elements listed above accumulate, decreasing the air quality in our homes. In addition, these toxins and pollutants compound with each additional person residing in the home."
Do Air Purifiers Really Work?
To answer the question of are air purifiers effective or not, Jamie describes life in her household. "In my home, we are a family of five and have four air purifiers running at various times in different rooms. When colds occur, the purifiers move to the bedsides of anyone under the weather to help reduce symptoms and length of colds. In my opinion, all homeowners would benefit from owning at least one air purifier for every two residents in each home."
Air purifiers are a valuable resource for removing toxins from the house and improving indoor air quality. While individuals who suffer from allergies would be the most obvious to benefit from using air purifiers, we all deserve to breathe clean, fresh air.
How to Tell if Air Purifier is Working
For the most part, so long as your purifying unit is blowing air out of the designated extractor fan, it's a sure sign that the unit is in good working order. Air purifiers pull in unclean air, filter it and then blow it back out in a transformed state.
According to Matt Hayas, Director of Product & Innovation for Ambius, most air purifying units are designed to protect against 99.9999% of airborne pathogens such as allergens, toxic gasses, viruses, bacteria and more. "By removing these contaminants, specialized air decontamination units can prevent cross-contamination and help boost well-being. Exposure to airborne pathogens can lead to respiratory illness, mental fatigue, headaches and many other negative health problems," he says.
Do Air Purifiers Reduce Dust
Yes, air purifiers reduce dust, but not all of them have this ability. Only high-efficiency particulate air filters (also known as HEPA filters) are able to remove 99.97% of dust particles from the air that we breathe, so long as they are 3 microns in diameter. This is according to the Environmental Protection Agency (EPA).
Do Air Purifiers Make the Air Dry
No, air purifiers are not going to dry out the air that you breathe. These devices are not designed to pull moisture from the air that they are filtering, only to pull toxins and micro-particles.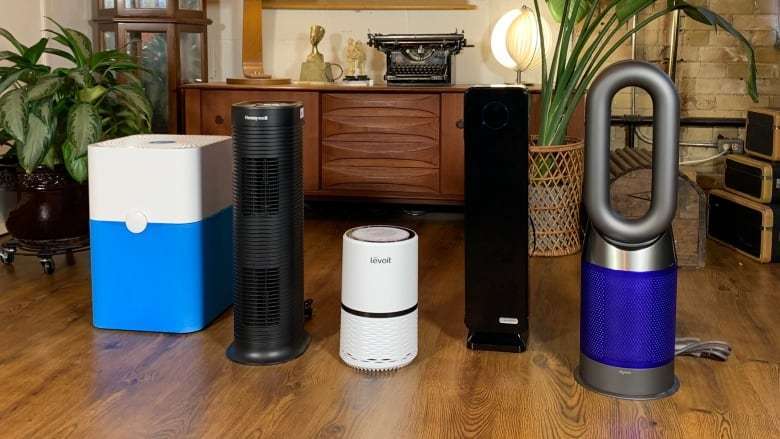 Are Air Purifiers Quiet?
This depends on the brand and unit in question. While some purifiers are wonderfully silent, there are others whose internal fans can create quite the buzz. A quieter unit may cost you more, but if you're wanting to sleep with it on then it's probably a worthwhile investment.
Is it Ok to Leave Air Purifier On All Night?
All night, all day, all year… air purifiers are only effective so long as they are switched on and active. They are perfectly safe to keep on through the night as you sleep, and if you do desire the unit to be off at certain times to conserve electricity then this would be to your personal discretion.
What are the Benefits of an Air Purifier?
As with anything, there are air purifier pros and cons, though with air purifiers the latter are actually in short supply. There aren't actually a whole lot of cons associated with having an air purifier running in your home or workspace. The most obvious downside would be the constant use of electricity that the units demand, as well as the fact that you cannot have your windows open and be running an air purifier at the same time.
Other cons include the fact that if you fail to replace the filters regularly, they can actually make the air quality much worse. Then there is the obvious buzzing sound that will come from the fan inside of the unit as it runs day in and day out; this is something just about everyone gets used to as white noise within the first week or so, but it's still something to consider.
Air Purifier for Allergies
For insight on this we spoke with Ryan Collier, HVAC expert and company director of Heat Pump Source, who said that air purifiers work by trapping airborne particles like dust, pollen, and pet dander. "This not only improves the air quality, but it can also help to reduce allergy symptoms and asthma attacks. Additionally, air purifiers can help to remove harmful bacteria and viruses from the air, providing an extra level of protection for your family.
Air Purifier for CoVID
As we know, air purifiers pull pathogens and other airborne contaminants from the air, so using an air purifier to protect your household from the covid threat isn't all that illogical. Covid is a pathogenic virus.
While there is no evidence to suggest that an air purifier could fully protect anyone from catching the covid virus, it doesn't hurt to employ the benefits of one for a general protection of the immune system.
Air Purifier for Sore Throat
If you're looking for an air purifier to help prevent sore throats, particularly at the onset of the winter season, then a HEPA certified unit would be the way to go. They have the ability to pull harmful bacteria from the air, including those that can onset upper respiratory infections and symptoms.
Benefits of Air Purifier for Baby
Many parenting-care books will recommend having an air purifier in any nursery, and we'd have to say that we concur! Air purifiers in your baby's space can be extremely beneficial to the health and wellbeing of your little one.
They can help your baby breathe easier and, as a result, sleep better. If your home has pets, it can help prevent the onset of early allergies to pet hair. Also, nurseries are usually freshly painted before the arrival of the newborn. This means that the toxic fumes from the new paint can linger in the space, as well as on surfaces, so you'll do well to get a system in place that can purify some of these threats!
Air Purifier Reviews
To review or not to review… this is a difficult one when it comes to air purifiers. Usually the people who leave reviews are those who typically experience struggles related to impure air (such as allergies or difficulty breathing), and thus they notice the difference more significantly to those without said struggles.
Air purifier reviews are a great way to discern which unit is best for you, especially if you're looking to use the device for the purpose of alleviating things like allergies, or the presence of smoke in the home.
Best Air Purifier
Whether you're looking for an air purifier black, or an air purifier white — we're far enough along in technological advancement that there's bound to be a brand to match your exact desired look! Here are the best air purifiers currently on the market, for a variety of different categories:
Best Air Purifier for Allergies
BISSELL air320 Smart Air Purifier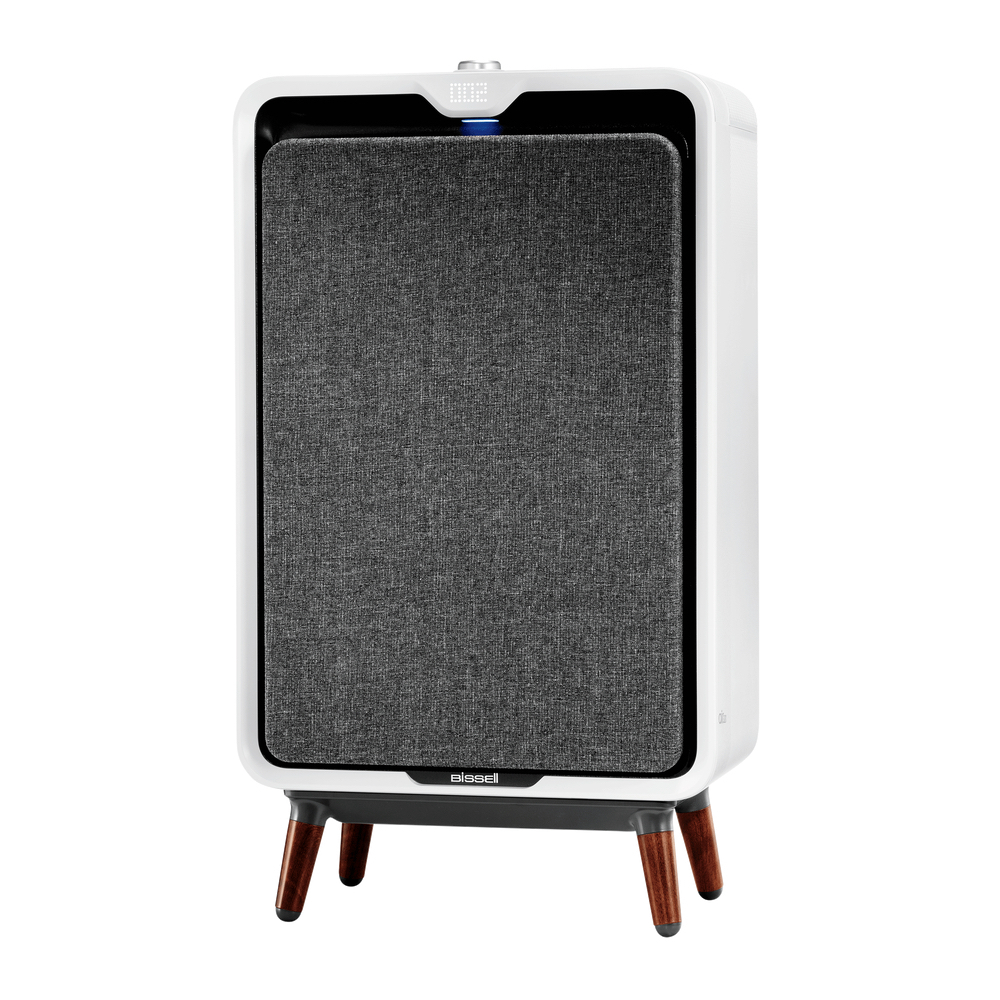 Let's face it, most air purifying units can be a real eyesore, but we've got to hand it to Bissell for their rendition of a stylish, classic system that fits seamlessly into just about every type of interior.
The Smart Air unit is HEPA approved, meaning it is medical grade and making it one of the best purifiers for allergies, particularly those that are triggered by the presence of pets in the home. It's made with a three-layered filtration system with the ability to catch just about all pollen, dander and smoke. The only downside to the Bissell unit would be that the internal fan isn't completely silent; but this is easy enough to overlook due to its effectiveness.
Best Air Purifier for Pets
Lasko Pure Platinum Air Purifier with HEPA-Type Filtration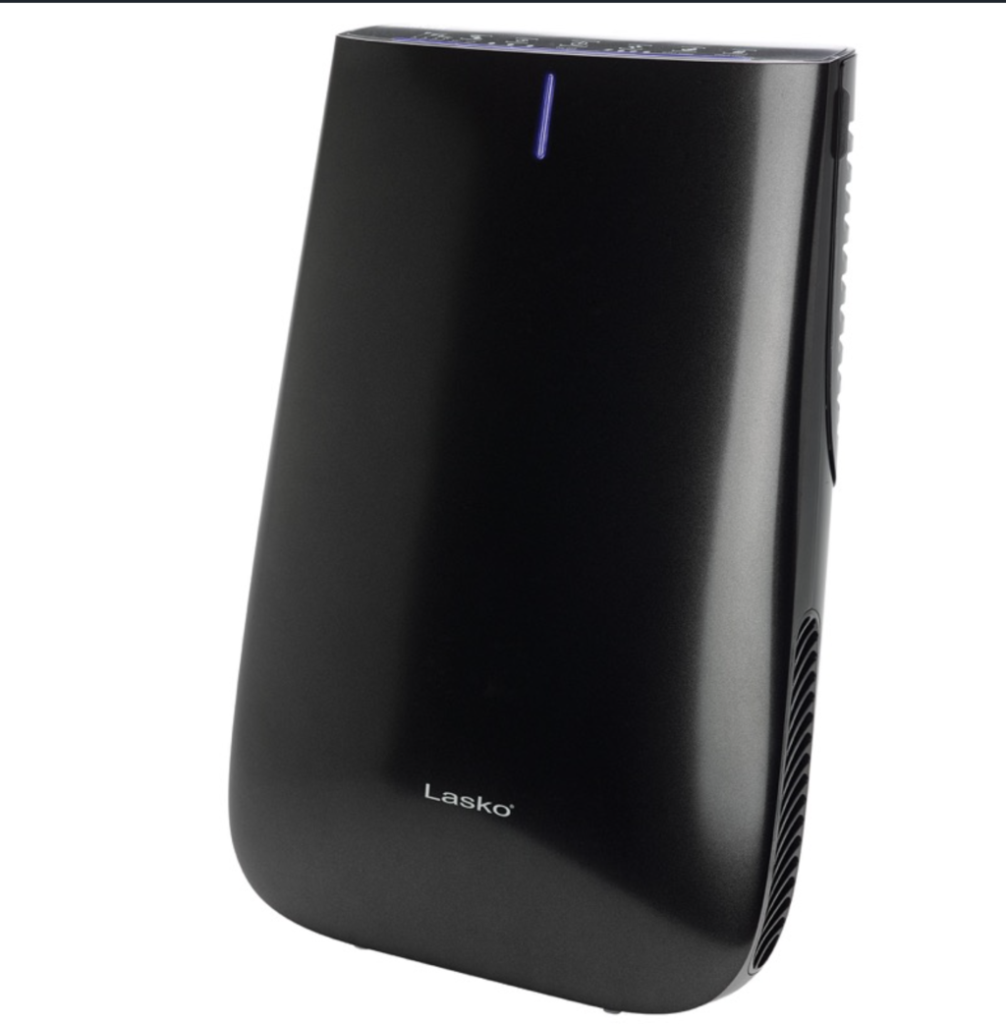 Widely known for being one of the best purifying units for pet dander and allergy-causing contaminants, we also cannot get enough of this sleek Lasko design! Made to purify up to 200 square feet of space, the unit features a 7 hour timer and 3 efficient speeds.
You only need to replace Lasko filters every 4 months, which is generous considering their pulling strength. The unit also claims to help reduce the risk of exposure to mold, bacteria and viruses.
Best Air Purifier for Smoke
Coway Airmega AP-1512HH True HEPA Air Purifier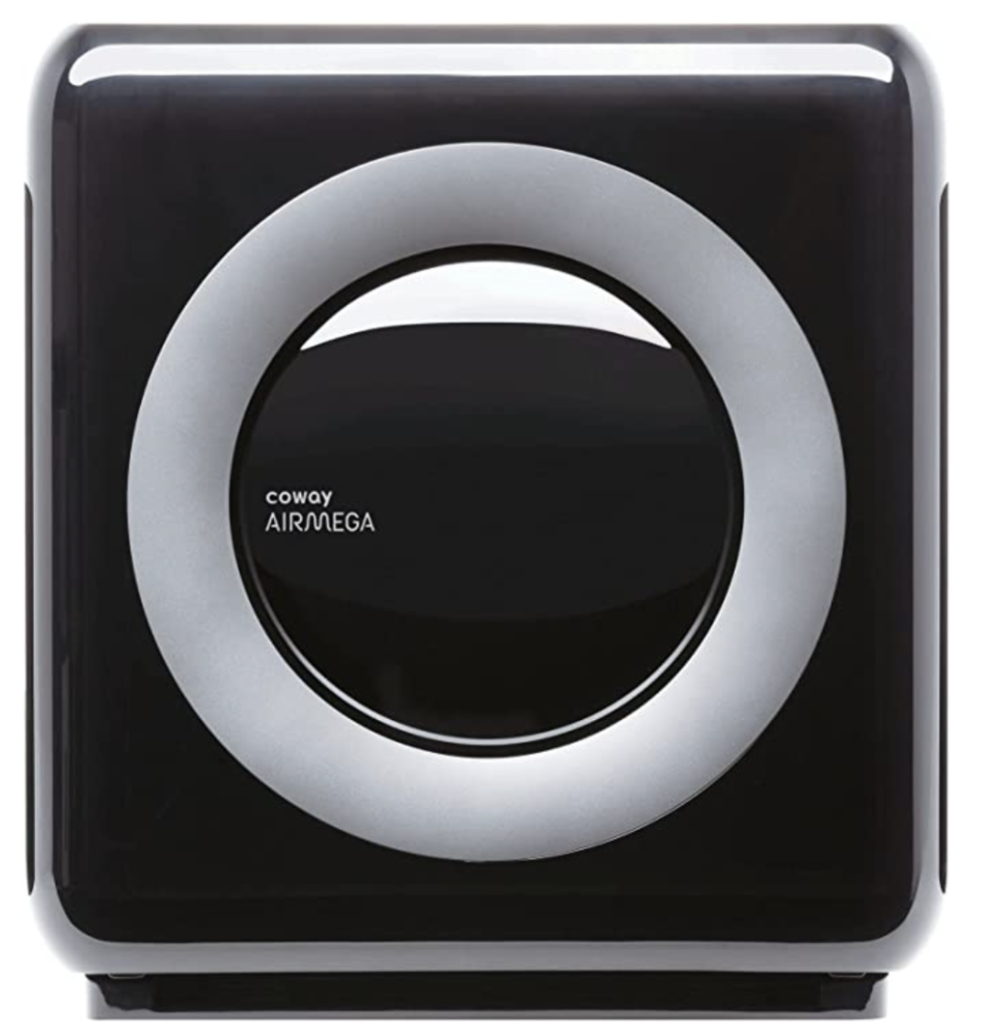 The Coway Airmega is one of the top air purifiers, and was recommended to us by Luka Juretiic from Buzz Logic. "The best thing about the Coway has got to be its longevity and that its price is incredibly affordable, standing at just around the $200 mark. It still, to this day, remains one of the most powerful purifiers and has stood the test of time," said Luka.
A simple search for air purifier for smoke reddit, leads us to many who back Luka's claims, owing their smoke-free homes to this futuristic looking block-device.
Best Room Air Purifier
Munchkin Air Purifier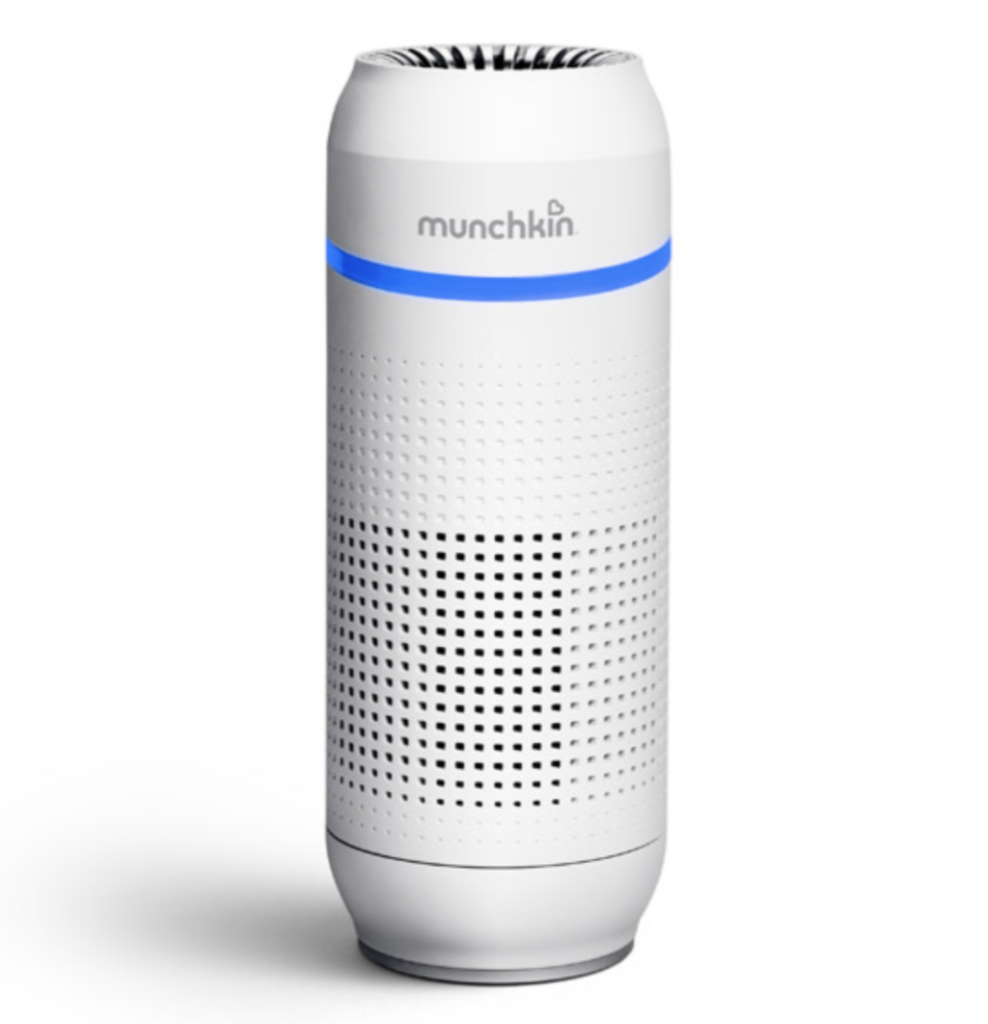 Ilene Beth from Azalea Cottage gave us some indoor air insight, stating that "many people are not aware that the air indoors can be far more polluted than the outdoors. For this reason, it is imperative that the indoor air gets cleaned on a continual basis. Individuals with allergies from environmental issues can experience a higher quality of life when the air that they are breathing in, is clean. There are many pollutants that people are familiar with but there are many that people would possibly not think of or beware of."
For this reason, our pick for the best room purifier is this cordless air purifier by Munchkin. The rechargeable battery lasts up to 10 hours! Note that the filter used in the Munchkin unit is available only from the manufacturer in question.
Best Air Purifier for Dust
Blueair Blue Pure 211+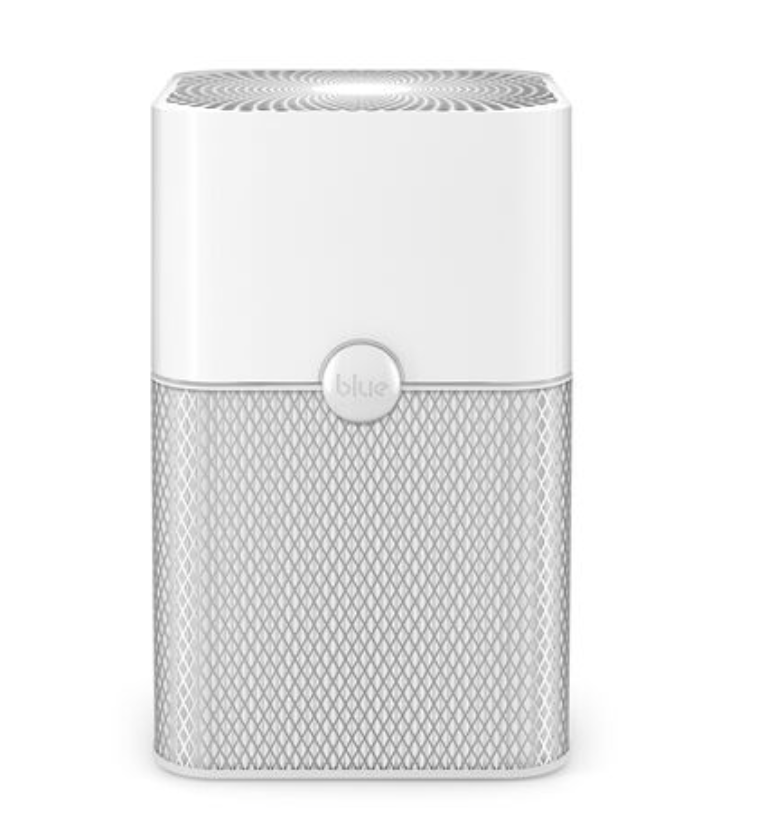 We open this section with some insight from air quality expert, Michael Rubino: "On average, we breathe 20,000 breaths a day. Where are most of those inhalations made? More than likely, it's indoors, like our homes. Now consider what's actually in that air. If it's packed full of microscopic contaminants like mold spores, mycotoxins, viruses, and bacteria, that can directly impact the health of those exposed. These particles are zipping right into the body every time a breath is taken."
If this doesn't make you think of dust right away, we don't know what will! Those 20,000 daily breaths are packed with dust particles that we pay little to no attention to, until our health comes into question and we are backed into a corner.
The Blueair purifier is a well-priced unit that knows dust better than most. Featuring HEPA technology and three interchangeable filters, the Blueair runs quietly and offers a 2 year warranty right off the bat. Did we mention it comes in your choice of pink, blue, yellow or grey?
Best Air Purifier for Mold
Alen BreatheSmart FLEX True HEPA Air Purifier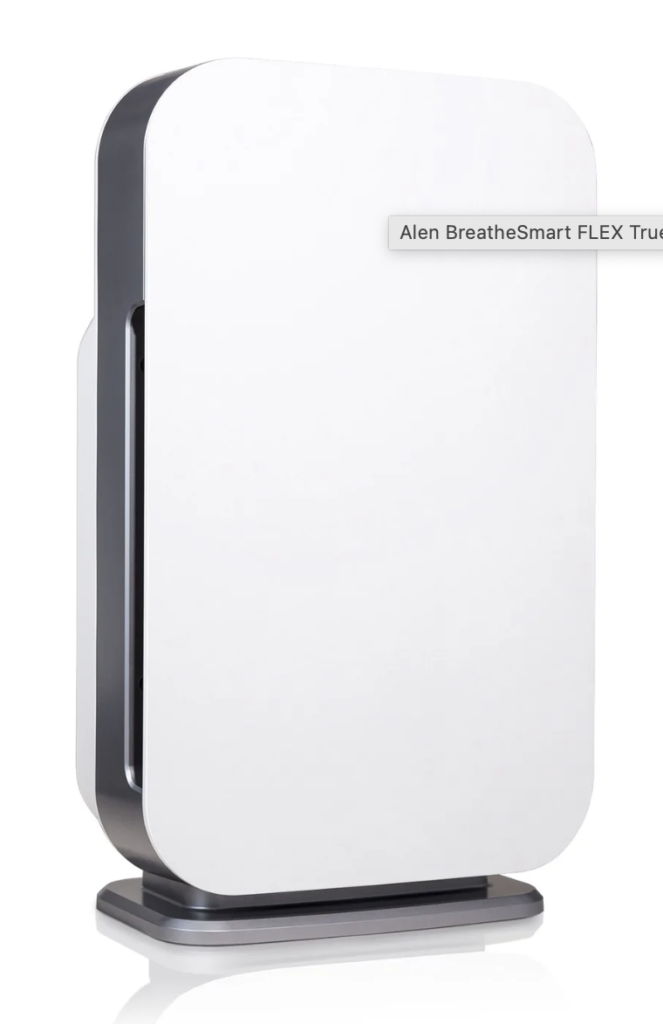 Mold is an interesting factor when it comes to health and safety in the home. According to Laurice Constantine, "Air filtration can actually aid in the removal of dangerous indoor particles, including mold. Air purifiers can revitalize stale air, lowering the risk of health problems brought on by indoor contaminants, which can cause respiratory infections, neurological disorders, or exacerbate asthmatic symptoms. Good air purifiers remove various indoor air pollutants, preserving our health."
This is where we shine a spotlight onto the Alen BreatheSmart purifying unit. A device made with mold, germs and odors in mind, this HEPA approved unit is a powerhouse and comes in a range of 6 dynamic colors.
Best Rated Air Purifier
Honeywell HEPA InSight HPA5300B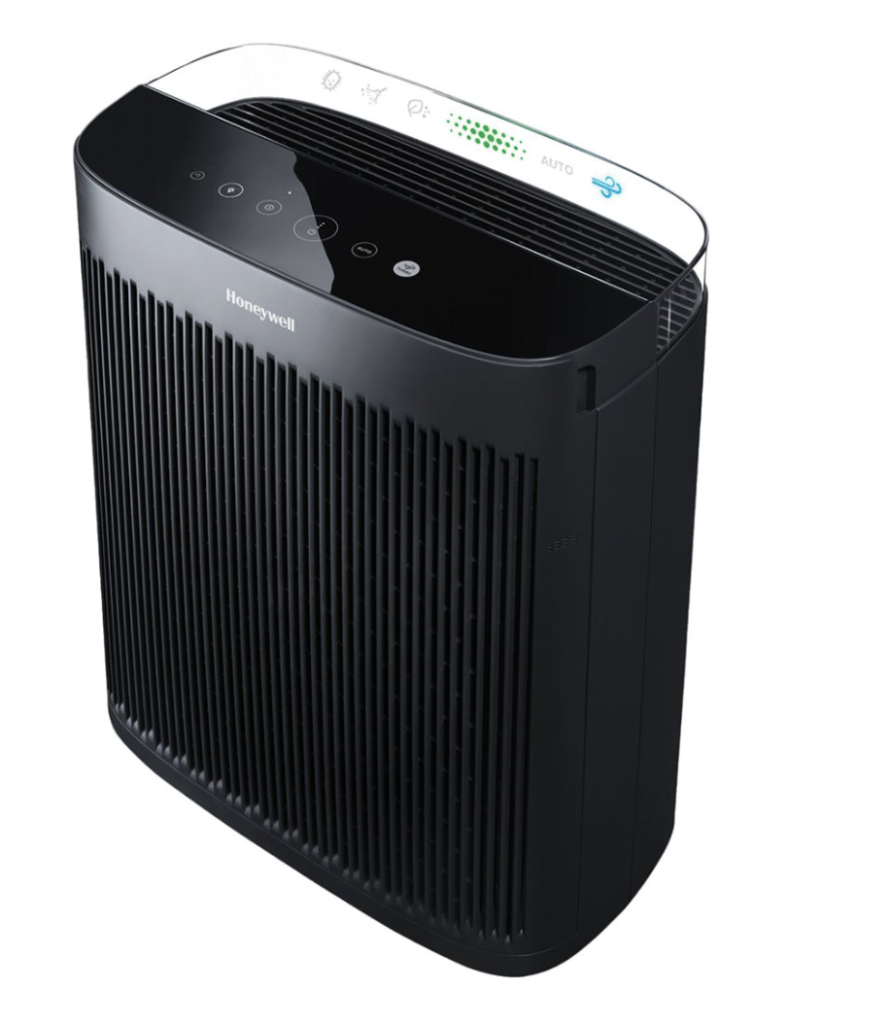 Laurice went on to explain how "some air purifiers that generate ozone can be dangerous. Specific side effects could include a higher risk of respiratory infections, as well as throat irritation, coughing, chest pain, and shortness of breath. Your respiratory system may become harmed if you are exposed to more ozone. Utilizing air purifiers with HEPA and activated carbon filters is generally safe."
This is essentially why most of the best rated air purifiers are always HEPA certified. Purification-enthusiasts have long loved the Honeywell unit, mostly for its impressive functioning, but also for its impressive price point!
Best Affordable Air Purifier
Wynd Plus Air Purifier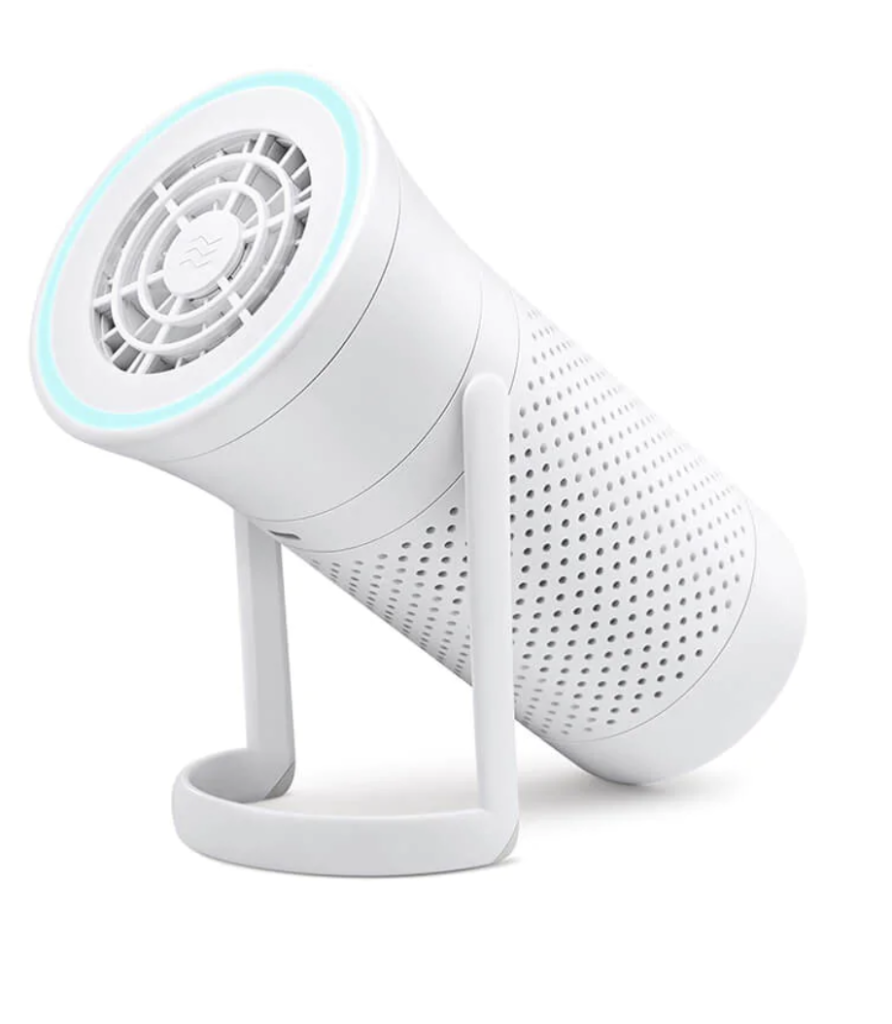 Speaking of affordability, how does a smart air purifier that won't break the bank sound? The Wynd collection offers a number of unmissable air purifier deals, and their personal unit is the perfect portable air purifier to take with you through life.
Basically, this unit works by casting a bubble of purified air around you no matter where you may roam. They call it "Powerful cleaning in the palm of your hand". It may be unconventional, but it is effective and wonderfully affordable compared to more complex units on the market.
Best Air Purifiers for Asthma
Airfree P40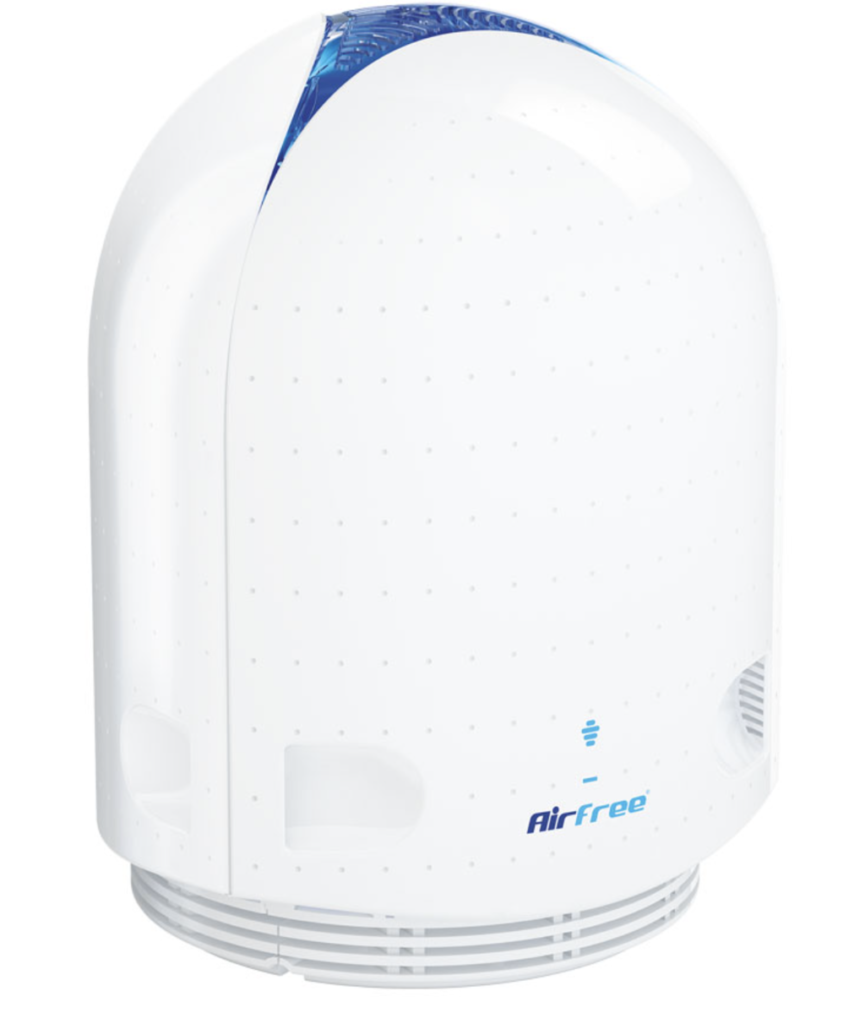 Widely regarded as one of the best purification units for controlling asthma, the Airfree P40 is a simple unit that is most ideal for small to medium sized rooms. It is completely silent, so it won't wake your little ones if they are trying to get some sleep. The system works to rid the air of 99.99% of bacteria, fungi, viruses, pollen, pet allergens, dust mite allergens and other organic air pollutants that cause allergy attacks and asthma.
Best Air Purifier on Amazon
Levoit Air Purifier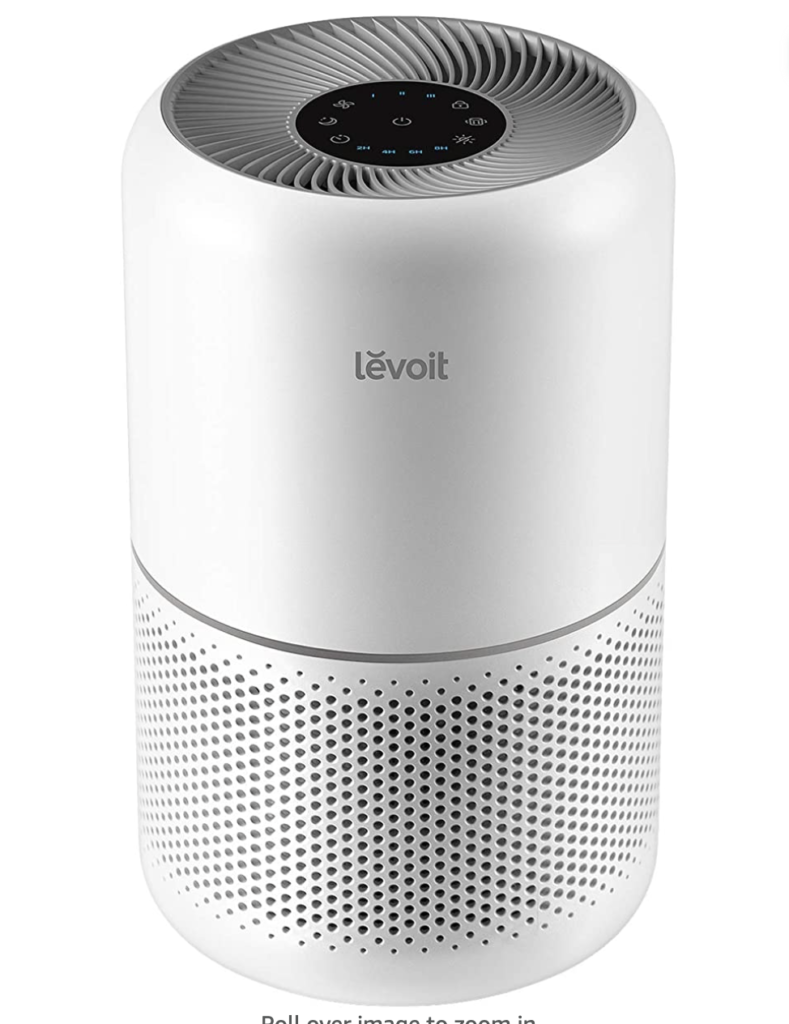 To put things into perspective, the Levoit Air Purifier on Amazon has maintained a 4.5 star rating across over 74,000 reviews. That's a major feat if you understand how the transparency of this e-commerce platform works.
The system is completely ozone free, which adds to the widespread popularity. It is HEPA equipped and packs quite the punch, especially when tackling airborne contaminants and other allergy causing particles.
Best Ozone Air Purifier
Oransi Max HEPA Air Purifier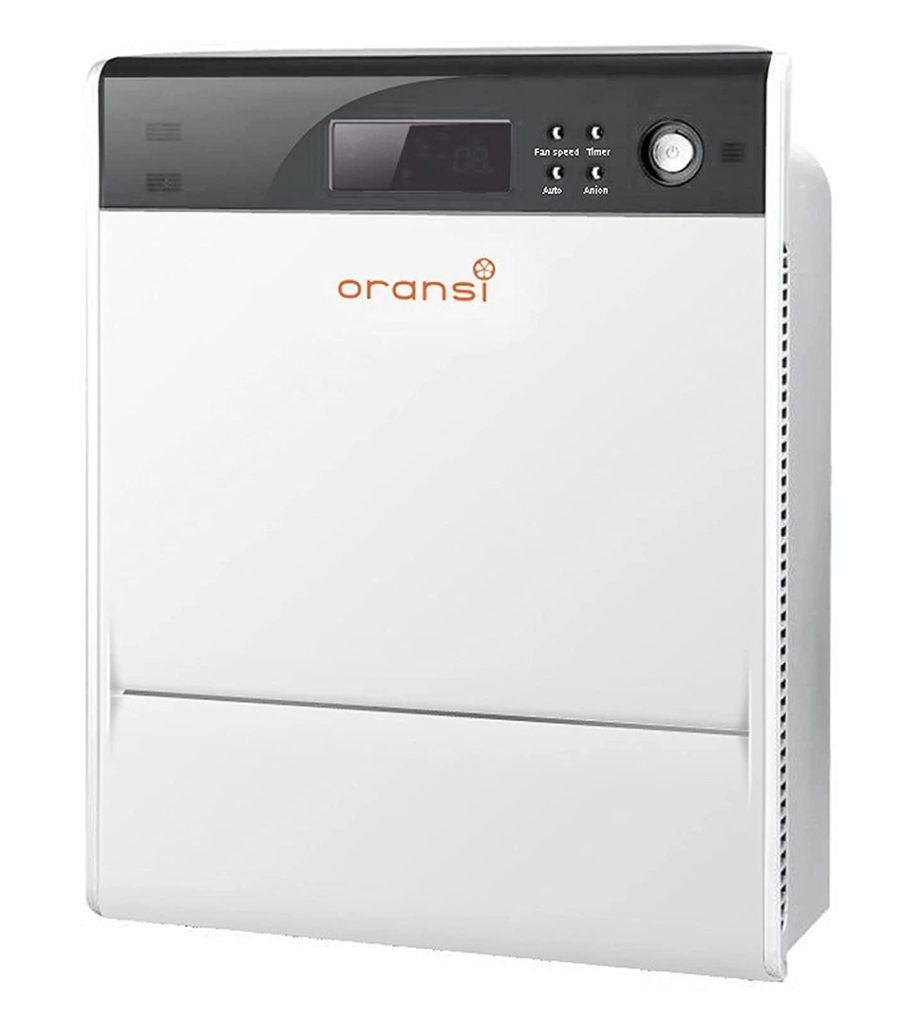 As Laurice Constantine pointed out to us earlier, the reality is that "some air purifiers that generate ozone can be dangerous." Amongst numerous side effects, your respiratory system may become permanently harmed if you are exposed to more ozone than necessary.
This is why HEPA air purifiers are more sought after than those with carbon or alternative filters. Featuring a Japanese-made, high-efficiency motor, the system was designed to keep people safe in the home, even during a pandemic. Allergens, dander and smoke don't stand a chance against this filtration system, and even mold is eliminated within hours.
Best Tabletop Air Purifier
IQAir Atem Desk Personal Air Purifier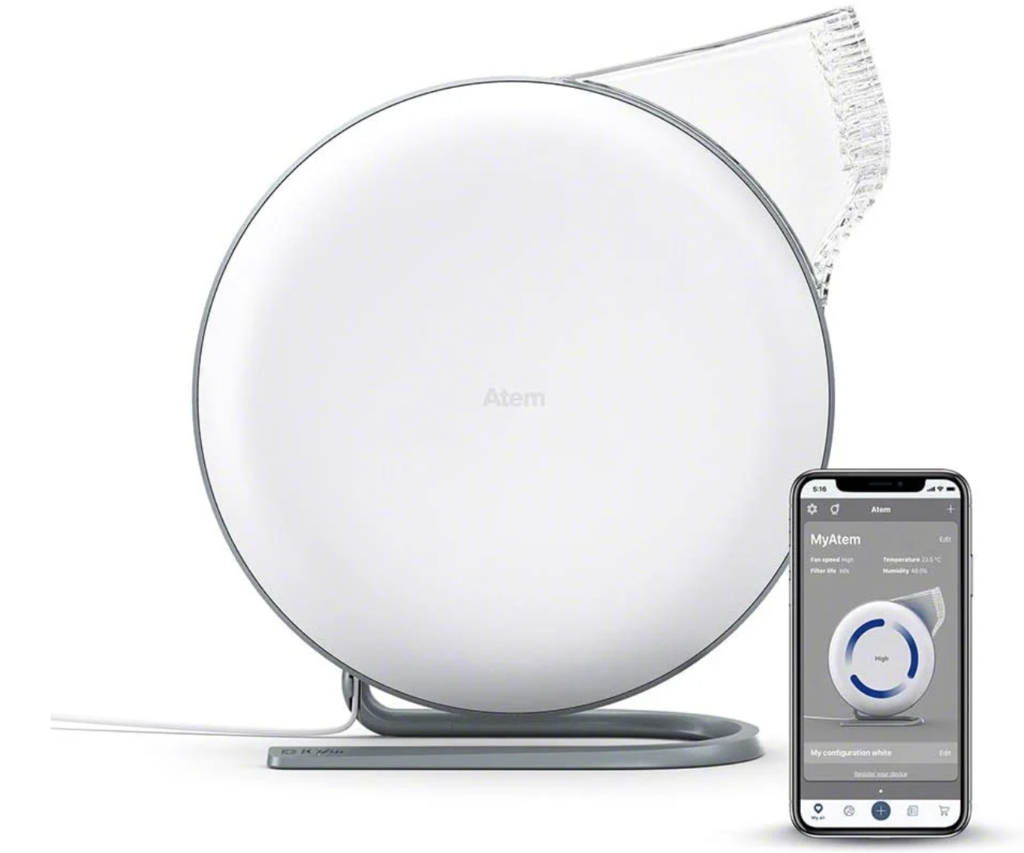 Considered to be one of the more revolutionary small air purifiers around, the IQAir unit is made to sit neatly perched atop your desk. Featuring HyperHEPA filters, this device has the ability to remove ultra-fine particles down to 0.003 microns.
Use the MyAtem app to easily control the unit from wherever you are; you can even set a timer so that your space is purified before you arrive at work.
Best Travel Air Purifier
Molekule Air Mini+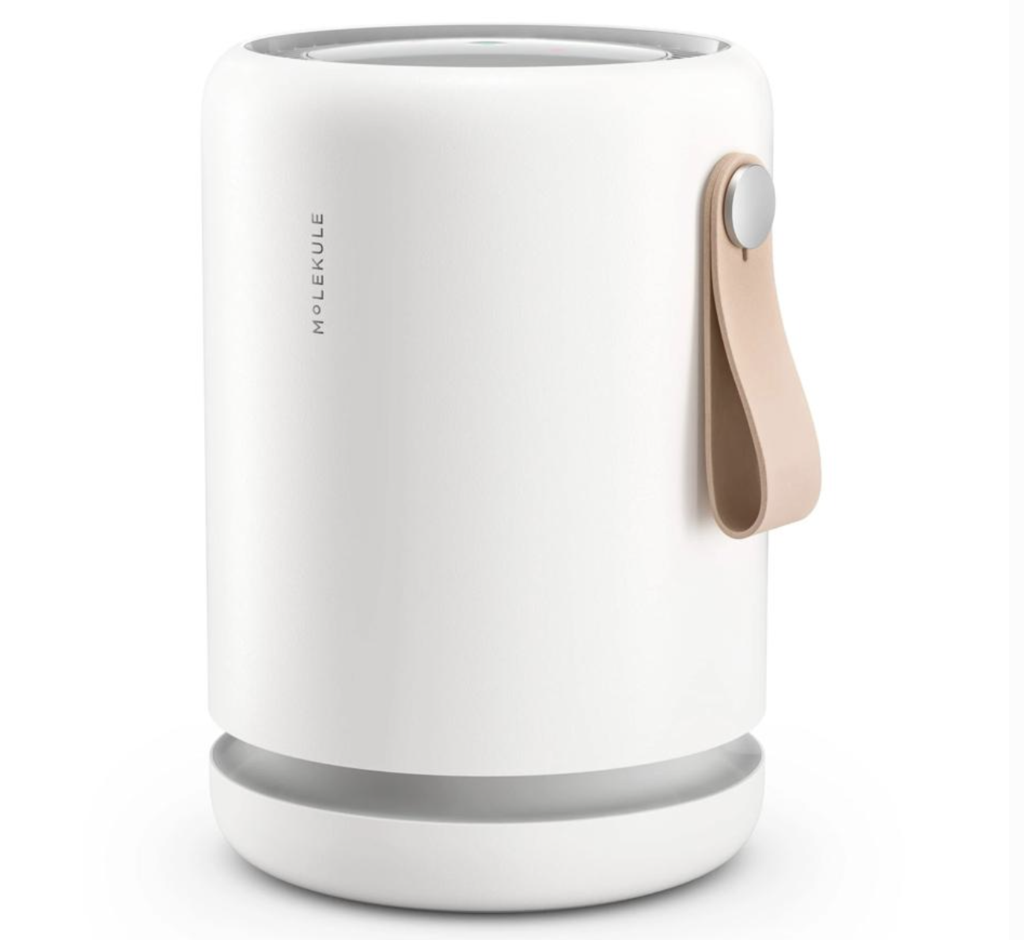 This unit may be portable and compact, but the PECO technology is powerful and will totally annihilate pollutants up to 250 square feet around you. Designed to be as "quiet as a whisper", you can leave it on while you sleep. It is also conveniently TSA pre-approved, so carrying it in your carry-on luggage is a breeze.
Air Purifier Brands
Since brands make the world go round (and the world's air pure, evidently), let's explore some of the top names in the purification game, in no particular order:
Dyson Air Purifier
As a brand, Dyson is widely respected in homes worldwide. They are one of the more recognizable appliance-makers and thus it wasn't difficult for them to launch a sought after air purifier onto the market.
Dyson Air Purifier Review
So far, so good. Dyson is known for effective, well-priced machinery for in-home use, so their air purifier was an easy sell and seems to have pleased reviewers from all walks of life. Many claim success in eliminating dust, odors and dander from the home.
Austin Air Air Purifier
Austin Air is a valuable brand to keep an eye on in the process of choosing which air purifier is best for you. Known for being one of the best brands for general use, their units are affordable and offer a fantastic all-around cleaning for homes and offices.
Air Doctor Air Purifier
Air Doctor's are one of very few brands that are making use of the UltraHEPA technology in their units. This system is proven to eliminate airborne particles as small as 0.003 in size, which isn't something a lot of brands are able to offer. They are one of the more respected brands when it comes to mold spores.
Levoit Air Purifier
As you now know from our best air purifiers roundup, we're big fans of the Levoit range. Based in Southern California, many of the Levoit purifying units have gone on to win awards and receive widespread praise for their effectiveness. The systems tend to take just 30 minutes to fully clean the air of a small room when running at high speed.
Honeywell Air Purifier
Honeywell was another brand that made our top units list, and they too have received global praise, including for their generous Honeywell air purifier wattage that has been difficult for other brands to compete with. As a brand, Honeywell is considered to be incredibly reliable and simultaneously affordable.
Honeywell Air Purifier Reviews
It's actually the reviews that told us just how reliable the general public are finding the Honeywell products. There is all-around positive feedback for this Northern Carolina company, with units now being shipped out worldwide due to the overall satisfaction ratings.
Holmes Air Purifier
Holmes air purifiers are a competitive name within the industry, and the brand has opted for a dual-approach to their filtration systems, offering units with both carbon and HEPA filters. The carbon ones need to be replaced every 4 to 6 months, while their HEPA units only need tending to after up to 18 months, depending on usage.
Molekule Air Purifier
Talk about a brand with a nod of approval from thousands. Molekule is a rapidly growing name in the industry, delivering highly effective filtration units for the management of odors, dust, mold, and allergens.
There are air purifier enthusiasts who say that you actually won't find better value for money elsewhere in the market; Molekule is the way to go.
Wirecutter Air Purifier
A lesser known name in the game, Wirecutter is an impressive system with the ability to filter out even the thickest wildfire smoke. This has made it a sought after brand in certain areas where such environmental factors are often a reality.
Air Purifiers for Sale
What Should I Look for When Buying an Air Purifier?
The things you want to look for when buying an air purifier are not only limited to size and weight. Yes, these are important when finding the perfect unit for your space, but there are more important things to factor in:
"Some air purifiers that generate ozone can be dangerous. Specific side effects could include a higher risk of respiratory infections, as well as throat irritation, coughing, chest pain, and shortness of breath. Your respiratory system may become harmed if you are exposed to more ozone. Utilizing air purifiers with HEPA and activated carbon filters is generally safe."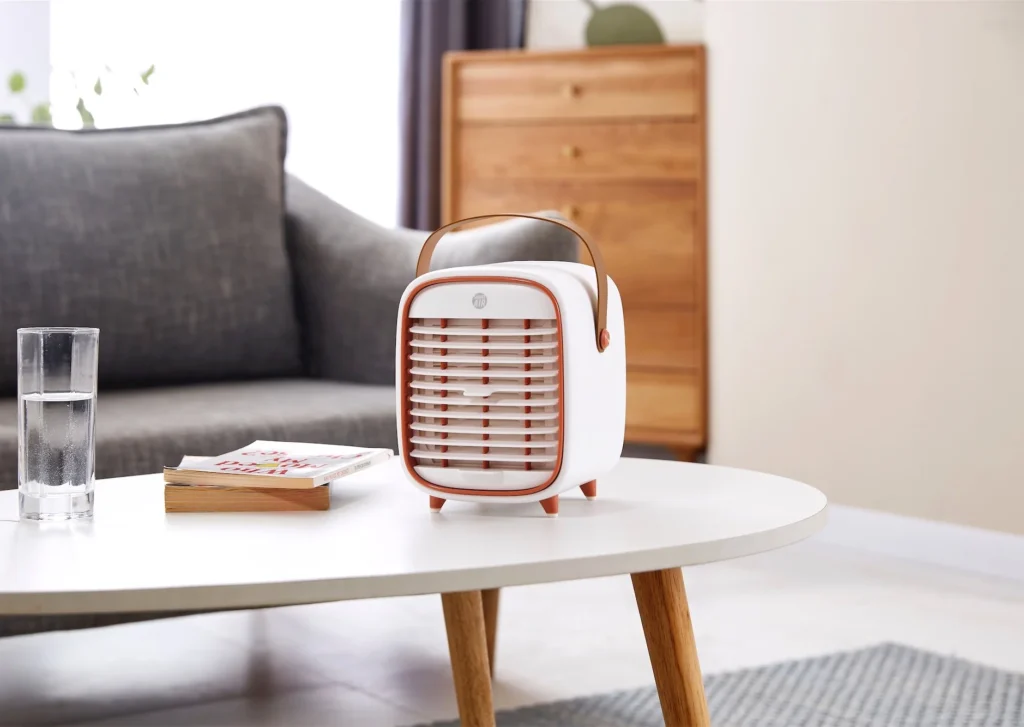 The above are the wise words of Laurice Constantine, the Managing Editor at Forbes Middle East. Look out for air purifiers that produce ozone, especially if you or your family members experience high sensitivity.
How Much are Air Purifiers
The cost of air purifiers is a broad spectrum, with units ranging from super cheap to virtually unaffordable (usually these sell to businesses or hospitals). One can get a decent, bedroom-sized air purifier for as little as $50, or one can splurge and get more chic units for hundreds of dollars.
Where to Buy Air Purifier
Gone are the days when one had to borrow their cousin's double cab for a weekend mall outing, just so the air purifying unit could be lugged home strapped to the back! These days, all you need to do is long on to your favorite e-commerce platform (we'll list a few below), or department store website, and take your pick!
Air Purifier at Walmart
Walmart will always be our top pick when buying air purifiers made in USA. Enjoy a wide range of brands, across a spectrum of prices to match just about every budget. We love that Walmart delivers to your door when you shop online, so no need to trek through the warehouse to find your perfect unit!
Air Purifier on Amazon
Amazon is another fantastic place to shop for air purifiers, and we love that they always have a few more decorative units on sale, too. Whether you're shopping for the home or office, there's something for every space!
Air Purifier at Target
Target is now on board with a wide variety of air purifiers at an even wider range of prices. Shop in-store or online and pick the perfect unit for either home or office use. If you're looking for more industrial units, we'd recommend looking elsewhere. Target's air purifiers are better for smaller spaces, like children's bedrooms or living room areas.
Air Purifier at Best Buy
Best Buy is a great place to source HEPA certified air purifiers. They tend to stock only high quality units, and their price point may be higher, but the products are made to last and will come with generous warranty periods.
Mold Air Purifier at Home Depot
If you're specifically looking for an air purifier designed to take care of mold, then look no further than Home Depot. This is another store where high quality units are favored over cheap placeholders, and you'll be helped by some well-trained staff who know the best brands for different needs!
Aldi Air Purifier
Not all Aldi stores stock air purifiers, so head to the bigger establishments when looking to buy. Alternatively, shop online and explore their range of products to be delivered to your door. Aldi's air purifiers are often sold at discounted rates, so you really can get a great deal on a quality unit here!
Did You Enjoy This Article?
If you enjoyed this article, you might also like our articles discussing the skincare and home essential products such as Best Body Wash, Best Essential Oil Diffuser and Best Bar Soap.