Treat your hair as you would your best friend… or so they say. We don't know about you, but we want nothing more for our besties than that they are getting the love they deserve, enough sunlight, and all of the vitamins and supplements for hair they need. So then, let's talk hair!
In this article we discuss the following:
Do Hair Vitamins Really Work?
Let's get right into it, shall we? Do hair growth pills actually make a difference to human hair? Surprisingly, this is a resounding YES across the majority of the self-care and wellness industries.
Hair vitamins, when properly absorbed and portioned, actually work wonders on accelerating the growth of human hair, as well as improving its quality. To fully engage this topic, we brought in a band of industry professionals who gave us valuable insight into the subject at large. We'll be referencing their theories throughout this article, but first let's introduce the panel:
Jake Dickson: Certified health and fitness coach
Dr Kish Sritheran, MBBS
David Gray: Owner of Talking Tan
Sally Stevens: Co-founder and Marketing Manager at Fat People Search
Dr. Carrie Lam, MD
Emily Alexander, M.ED, FNTP
Laura Jimenez: Owner of ishine365
How Long Does it Take for Vitamins to Work on Hair?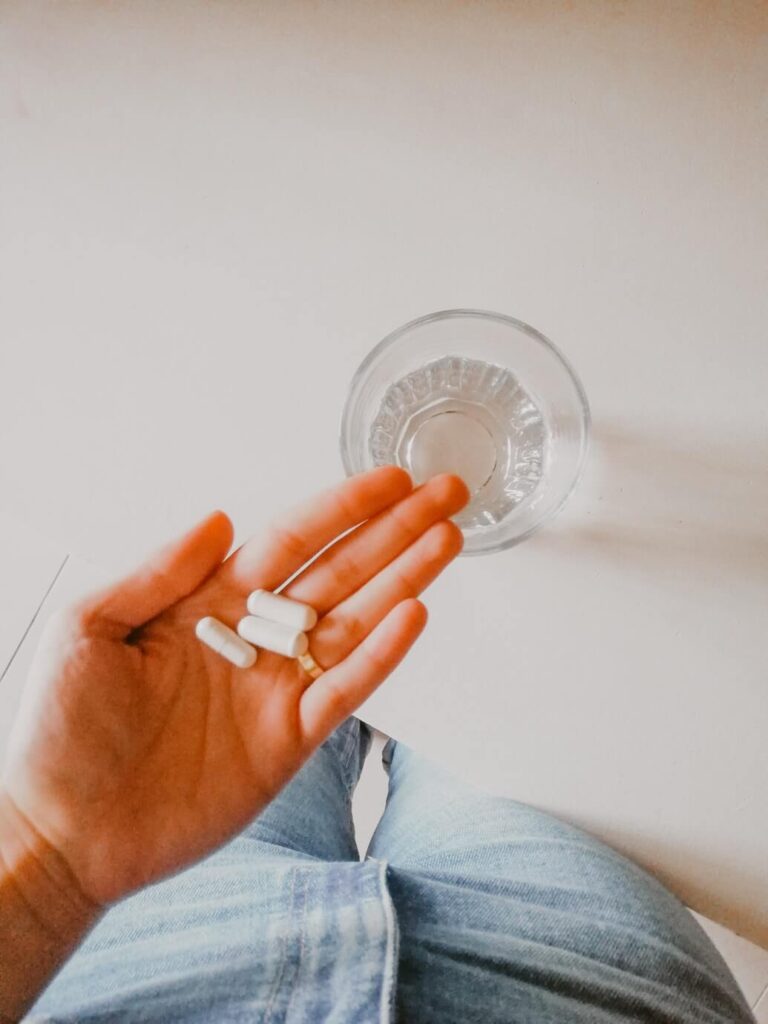 This is the all important question when it comes to taking hair supplements. These days, people want overnight results, so when they hear that hair growth vitamins could take up to 5 years to properly kick in, they can get a little deterred.
You need to understand that taking natural vitamins for hair growth means that these nutrients are being introduced to your internal ecosystem in incremental portions. This is so that the vitamins have time to acclimatize to your body, rather than overwhelm your system. It's a gradual movement toward long term, sustainable health — not a quick fix that simply masks the symptoms synthetically.
Expect to start seeing results from hair care vitamins after as early as 3 months. From there, it remains to be seen how effectively your hair takes to the newfound nutrient levels in your body, and what changes occur within the follicles as a result. There are some people who report astounding differences as early as one year in — so you never really know!
What Vitamins are Good for Hair?
To properly answer what vitamin is good for hair growth, we'll turn to our aforementioned panel of industry leaders. Though we spoke with such a varied group, it was interesting to see how almost all of them offered the exact same list of best vitamins for the purpose of better hair:
Vitamins A, B, C, D and E
Biotin
Iron
Zinc
Omega 3
Collagen
Jake Dickson introduced the list to us in explaining how adding vitamins and supplements for hair to your daily routine can greatly benefit the health of your hair. "While eating right and staying hydrated plays a role, supplements give you an added boost that can transform your hair. Taking Biotin on a daily basis, for example, can improve the look and feel of your hair. Water-soluble and full of B vitamins, biotin increases hair thickness and helps restore weak strands!"
Zinc for Hair Loss
Zinc is an essential mineral that came up across the board of professionals that we spoke with. Dr. Sritheran explained how zinc is used in the activation of a signaling pathway that is needed to transition the hair follicle from its resting phase to its growth phase.
Dr. Lam added to this in stating that "zinc deficiency is quite common, and it has been linked with hair loss. Although you can get zinc from foods such as pumpkin seeds, beef, spinach, and oysters, a zinc supplement may be required if you have a deficiency. Just be aware that too high of a dose can lead to hair loss instead of hair growth!"
This last point is an important one. When taking zinc it is incredibly important to make sure that you are correctly dosing, and not accidentally taking too much. It is usually best to determine a dose with a healthcare professional.
Vitamin C Benefits for Hair
Of all the vitamins for hair growth, vitamin C could be the most understated. "Vitamin C is an important nutrient for overall health, but did you know it also helps to keep your hair healthy? Collagen production is critical for hair growth that is thicker and stronger. Its antioxidant capabilities act as a shield to protect the scalp from free radicals," said Laura Jimenez.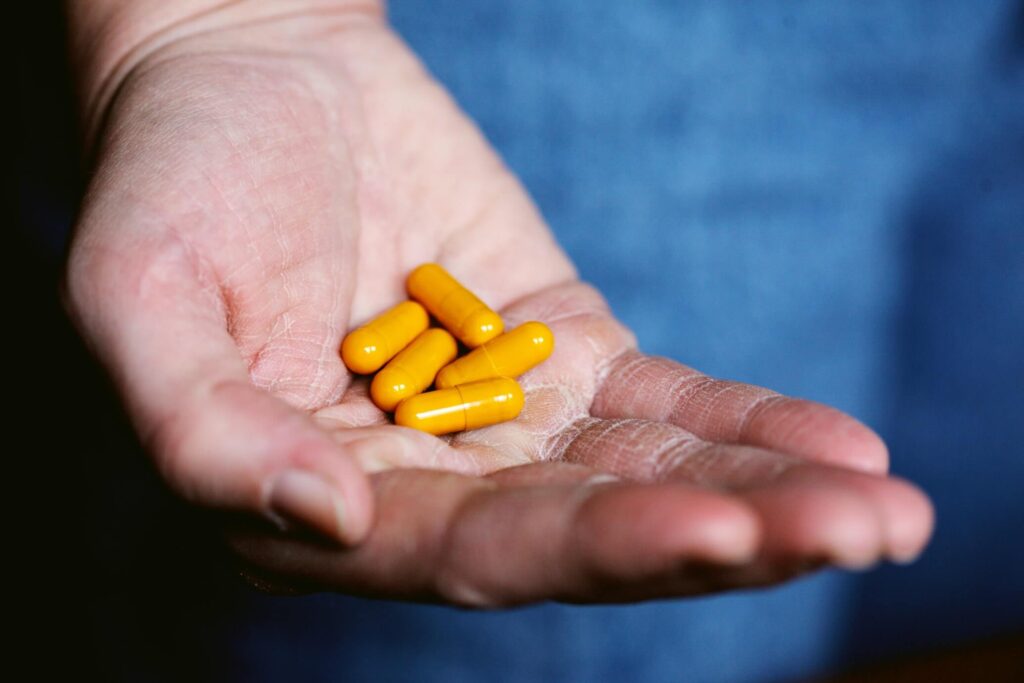 But what does vitamin C have to do with collagen? David Gray explained further, stating that vitamin C is a powerful antioxidant, protecting you. "Your body needs this vitamin to create collagen, which is important for hair structure."
Vitamins for Hair Loss
When we talk about hair loss, biotin is a nutrient supplement that almost always comes up. Jake Dickson shares this view, and is of the opinion that taking biotin on a daily basis can improve both the look and feel of your hair. "Water-soluble and full of B vitamins, biotin increases hair thickness and helps restore weak strands."
Biotin is essentially just a vitamin B compound, so when haircare professionals refer to vitamin B in general, it can usually be traced back to this strain. "Whilst Biotin is probably the most famous B vitamin linked to hair health, the other 7 B vitamins are vital to consider too. Whilst
Biotin can be produced by the body, the others can't. All of these work on several different pathways to help hair health," said Dr. Sritheran.
Vitamins for Hair Loss in Women
Women around the world have been turning to another essential vitamin in times of severe hair loss: vitamin A. However, as with zinc, too much of it can cause more harm than good. "Vitamin A is important for all cell growth, including hair cells. It also supports sebum production, which is the oil that your skin produces to keep your scalp and hair nourished. Do your best to get your vitamin A from food rather than supplements, as too much of it can actually speed up hair loss," says Dr. Lam.
In terms of what nature has to offer when it comes to healthy hair supplements, you can find enough vitamin A and its precursor, beta carotene, in eggs, pumpkins, carrots, spinach, and kale, according to Lam.
Hair Vitamins for Men
It's no secret that men tend to suffer more premature hair fall, which leaves them seeking vitamin tablets for hair fall control from as early as their mid-20s.
The solution to this problem could be more simple than it seems. A lot of research is being done on the importance of red blood cells, and their impaired ability to carry oxygen when not enough iron is present. This condition is called anemia, and hair loss is a major side effect to a lack of oxygen distribution. "Iron is a cofactor for a major protein needed for DNA synthesis.
With the hair follicle being one of the most rapidly dividing cells in the body, this is an important consideration," says Dr. Sritheran.
This problem is easily corrected by a daily iron supplement, for both men and women, but Dr. Lam warns that "iron supplements can be a little difficult on the gastrointestinal tract and can cause constipation. Try to eat more iron-rich foods, and if you do supplement, make sure that you also take vitamin C to help with absorption!"
Hair Growth Vitamins for Men
Men around the world can also benefit greatly from incorporating some sort of collagen supplement into everyday life. Dr. Lam offered some wise words on this subject as well: "Collagen supplements have been all the craze lately, as they can really boost hair growth, skin elasticity, and nail strength. For those with adrenal fatigue, collagen types I and III are the most useful."
We heard from Laura earlier, who mentioned that collagen production is critical for hair growth that is thicker and stronger. Its antioxidant capabilities act as a shield to protect the scalp from free radicals. Men start to lose collagen more rapidly once they reach the age of 30, so it is relatively important to start supplementing before this hump.
Best Hair Vitamins on the Market
Best Vitamins for Hair Growth
Bondi Boost Hair Growth Support Vitamins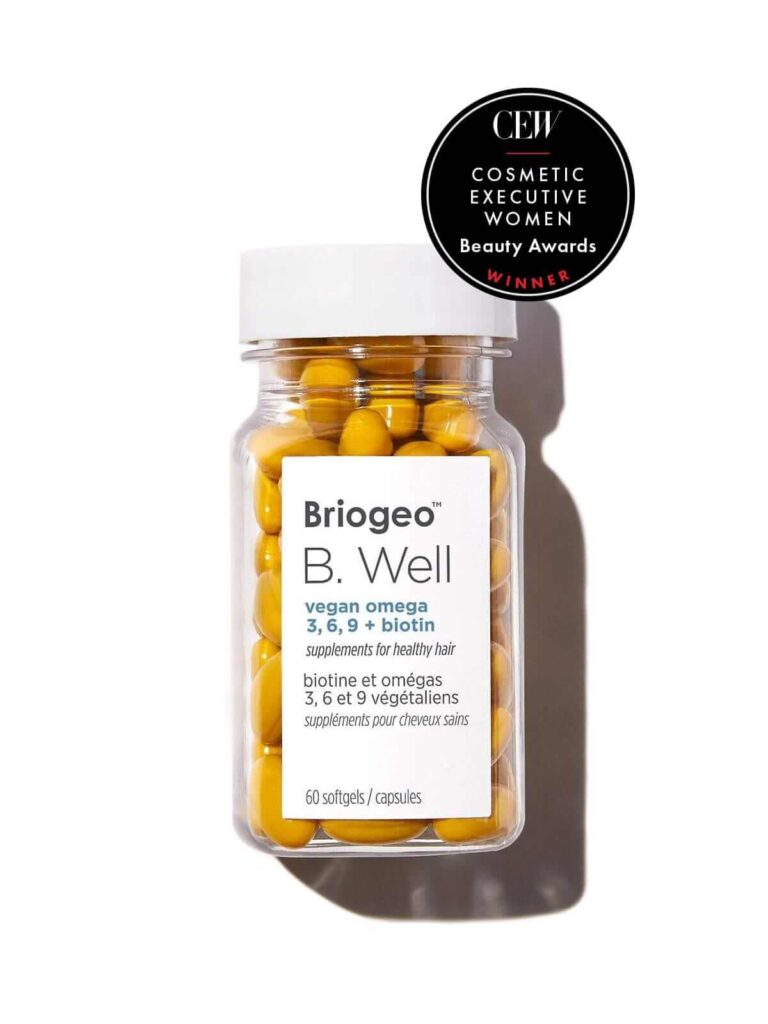 This pack of hair growth support vitamins is one of the top rated hair growth vitamins on the market. Packed with a cocktail of beneficial nutrients, the product has made waves worldwide, with many customers reporting drastic results in as little as 3 months.
The capsules contain a mix of biotin, vitamin C, folic acid, silica and vitamin E (amongst a few other ingredients). The capsules are vegan friendly and free from gluten.
Sally Stevens had some important points to note when we chatted about vitamin E. According to her, vitamin E is essential for the circulation in the body and has been shown to grow blood vessels. "This is what increases circulation. The increased flow improves the body's ability to make new hair. The recommended daily dose of vitamin E is 400 IU," said Stevens.
Best Vitamins for Hair Loss
Briogeo Hair B. Well
Okay, so these supplements for healthy hair may be one of the best kept secrets on the market. Packed with biotin and omega 3, 6 and 9 vitamins, hair fall will quite literally become a thing of the past.
The omegas are something we discussed at length with our panel of experts, and Sally Stevens was quick to point out that "omega 3 fatty acids are a healthy form of oil found in fish, especially salmon and sardines. The recommended dose is one tablespoon of fish oil a day to prevent hair loss." She also made a note that all those taking aspirin and other blood-thinning drugs should consult with a doctor before taking fish oils because they can increase one's tendency for bleeding.
Best Hair Vitamins for Women
Movita Organics Hair, Skin and Nails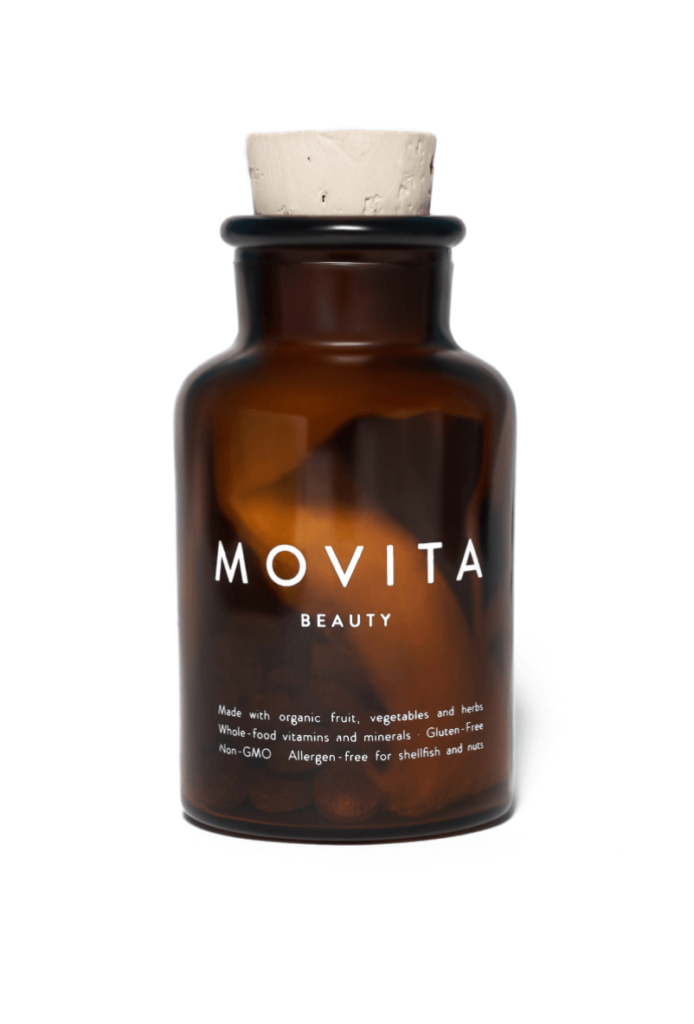 We love this vitamin blend for women… if you can find it in stock, that is. The impressive formula is so often sold out, as women around the world stock up in advance to avoid running dry.
Thanks to Movita's patented-fermentation process, their capsules have higher bioactivity than other regular vitamin brands, which is what makes the product so effective. This is a natural vitamin blend, packed with the goodness of broccoli, blueberry, rosemary, turmeric, peppermint and much, much more.
You'll see a visible difference in the overall quality of your hair, skin and nails, as well as undeniably faster growth all around.
Best Hair Vitamins for Black Hair
MoonJuice SuperHair Daily Nutrition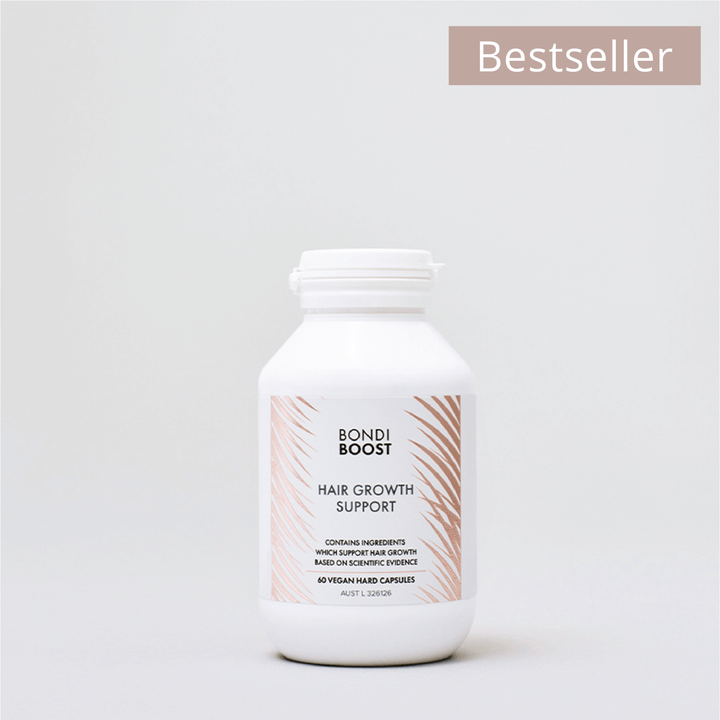 Moon Juice is widely regarded as one of the best supplement brands for African hair. The capsules offer a highly nourishing, moisturizing formula that supports a stronger state, and less brittle texture.
It's jam packed with vitamins, to say the least. A, C, E, D and K all make an appearance, in addition to five of the B-family vitamins. Vitamin D is what caught our eye in this unique complex; according to Dr. Sritheran, this is used to modulate and help grow the cells that produce your hair by binding to specific Vitamin D receptors in your skin. David Gray added that anyone who is deficient in Vitamin D may also experience hair loss because it plays such a large role in hair production, and most people don't get enough vitamin D as is!
The reviews for this product speak for themselves; scroll down on their website to have a read!
Best Hair Vitamins for Natural Hair
Hum Nutrition Hair Sweet Hair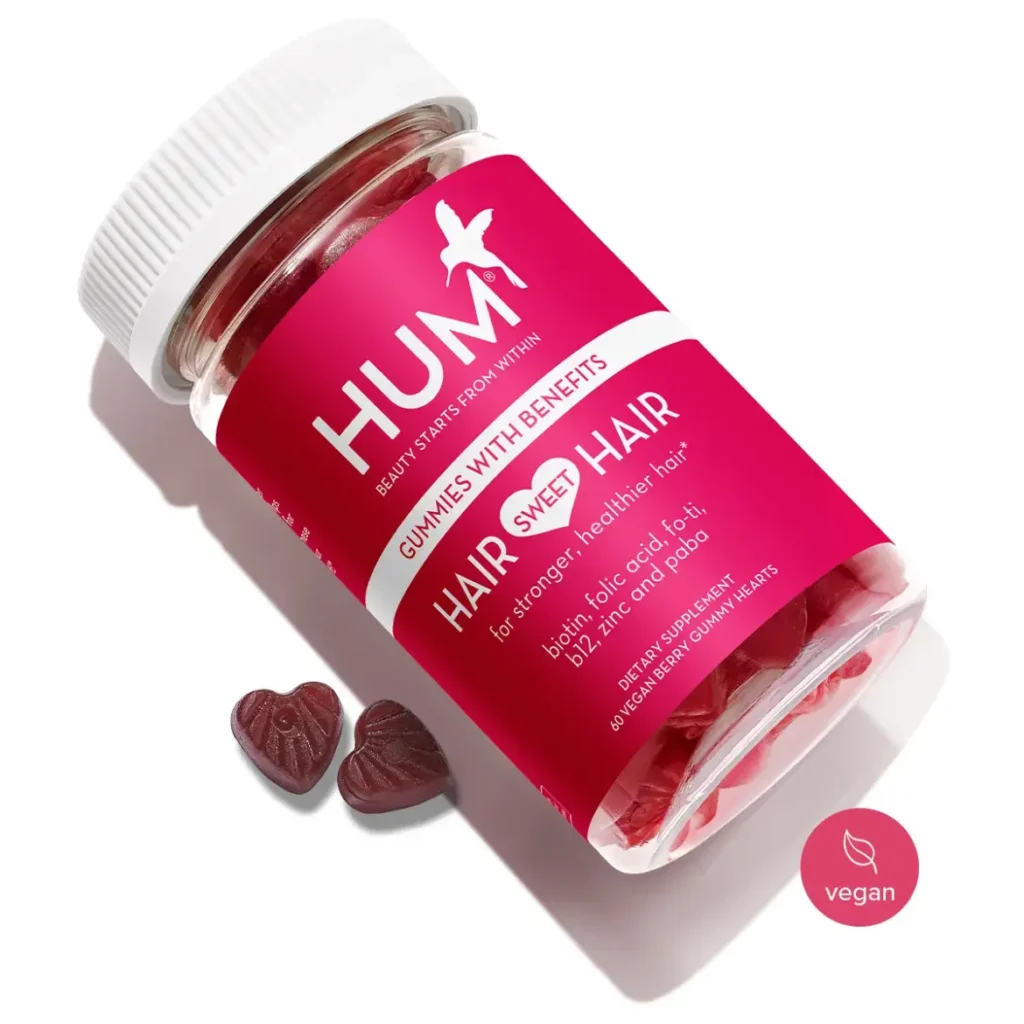 These vitamin gummies by Hum are a product to keep an eye on; the formula is a triple threat to note. Biotin, zinc and fo-ti make for longer, stronger and healthier hair without you having to lift a finger.
Again, the reviews speak for themselves and you can read the experiences of many (more than) satisfied customers from all over the world.
As we heard from our panel earlier, zinc is imperative in any healthy hair regimen, but too much can be dangerous. We love that these gummies are perfectly portioned to deliver the correct daily dosage for optimal results. As Dr. Sritheran so eloquently put it, "zinc is used in the activation of a signaling pathway that is needed to transition the hair follicle from its resting phase to its growth phase."
Best Hair Gummy Vitamins
Olly Undeniably Beauty Supplements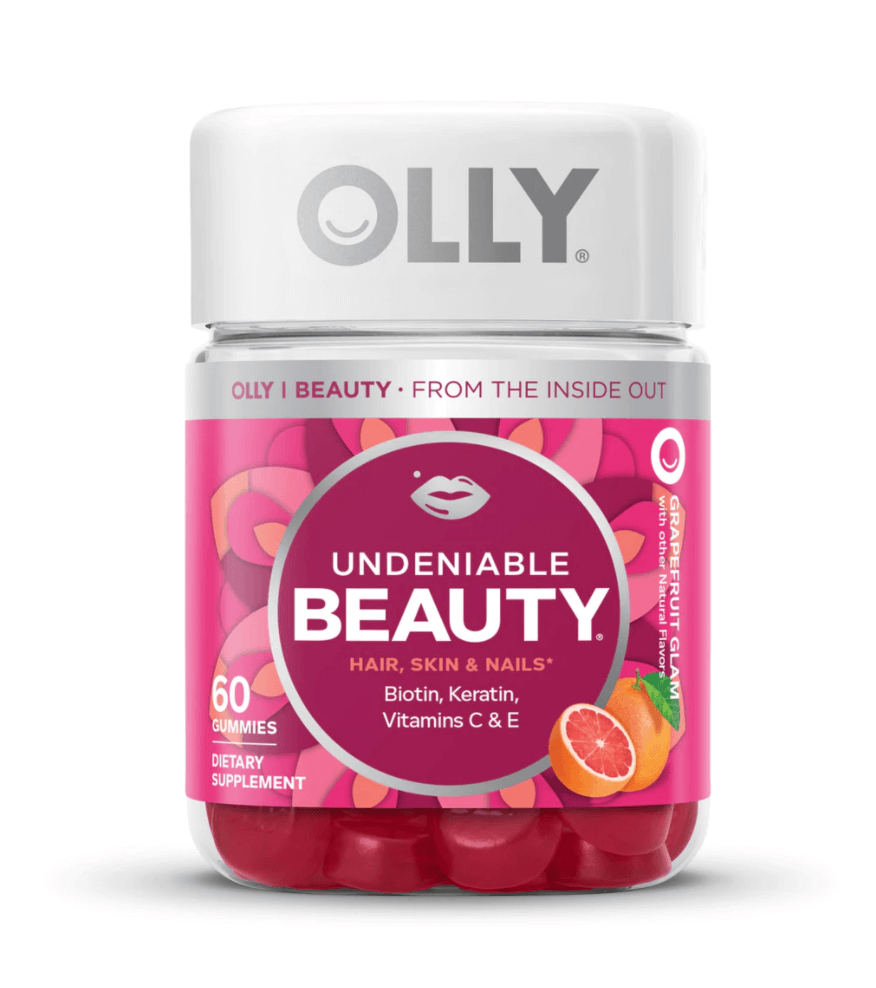 60 juicy gummies in 'grapefruit glam' flavor have earned these hair gummies reviews that are worth a second look. They offer a blend of biotin, vitamin C, E and keratin in a daily dose that gets right to work where it matters.
The gummies are designed to support the body's natural production of keratin, which is a highly essential element for healthy hair, skin and nails. The ruby grapefruit flavor makes these a delight to eat every day, and you can expect the benefits to speak for themselves in roughly 8 to 12 weeks.
Dr. Lam jumped in to add to the importance of vitamin E in a haircare supplement. "Vitamin E is known as the hair, skin, and nails vitamin, and for good reason. It's a powerful antioxidant that can make your scalp healthier. And a healthy scalp is what grows healthy hair. It is one of the most important vitamins for hair growth for those with alopecia, and it can be used internally or topically. You can also get vitamin E through food sources such as kale, spinach, and wheat germ."
Best Cheap Hair Vitamins
Nature's Bounty Biotin Supplement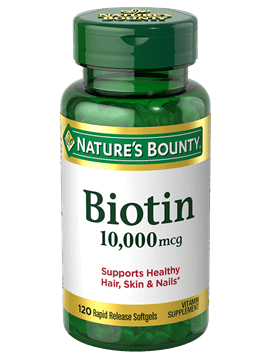 For the cheapest, most cheerful vitamin hair treatment, always look to biotin! This is as good as it gets, at a price that you cannot beat. At 10,000mgc of biotin in a single dose, this is 3333% of the required daily value.
It goes without saying that this will increase your body's natural ability to support healthy hair growth, while also increasing natural immunity and a healthy nervous system. Biotin helps to convert food into energy, too, so you're looking at a trifecta of benefits from a single daily vitamin.
Best Hair Vitamins Reviews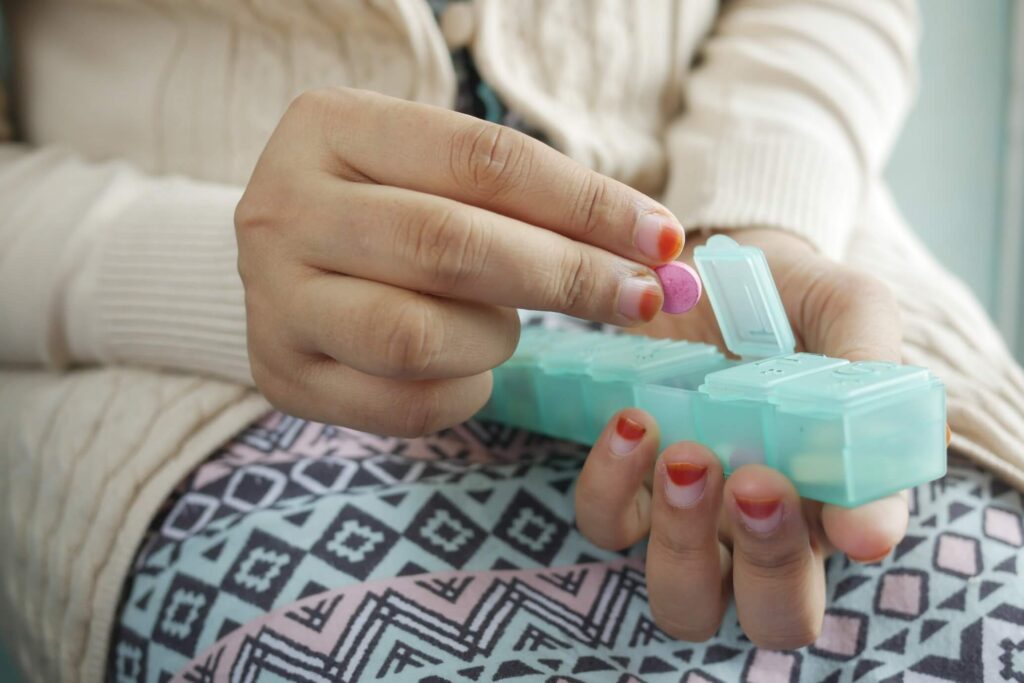 We don't usually advocate using reviews to gauge how a particular vitamin is going to affect a specific person, especially since health is such a subjective matter and it therefore results can never be guaranteed from person to person.
That said, there is something to the reviews left by customs who find a specific product has drastically changed the condition of their hair. Hair is something that can be easily quantified, even visually, whereas health in general is very difficult to pin down.
When it comes to using reviews as a way of deciding whether or not to use a particular supplement for your hair, we say go for it! Everyone knows their own hair, and determining whether something is improving or getting worse, is relatively straight forward.
Best Vitamins for Hair Growth Reviews
Some of the most effective hair growth vitamins on the market don't necessarily have a plethora of positive reviews to back them up, which means there could very well be a vitamin that is right for you, but none of the masses to bring it to your awareness.
This is why we also advocate for doing a ton of research before committing to one specific vitamin as the one for you. If you find a product that resonates with you, take the time to look it up on a variety of platforms. If the brand itself doesn't offer customer feedback reviews on their website, do a general Amazon or Ebay search for the same product so that you can use the public feedback section to read deeper into what the product may have to offer.
Best Hair Supplements
Best Hair Loss Supplements
Viviscal Maximum Strength Hair Growth Supplement
Viviscal is a hair support program that we have been increasingly impressed with over the years. This being a herbal supplement for hair growth, all ingredients are of natural origins and entirely chemical and drug free. It is fast becoming the number 1 selling hair growth supplement in the United States, and for good reason.
93% of customers would recommend Visiscal to a loved one, which says a lot if you really think about the hell that is hair loss and how sensitive a subject it is. For someone to recommend something, it must at very least do the job.
The formula contains biotin, vitamin C, iron and zinc; all of which were repeatedly recommended by our experts throughout this piece. We are reminded by something important that Emily Alexander shared: "Zinc deficiency is extremely common in those who experience hair loss, and rebalancing levels may reduce hair loss related to such deficiency."
Best Supplements for Hair Growth and Thickness
Naturenetics HairAnew Healthy Hair Formula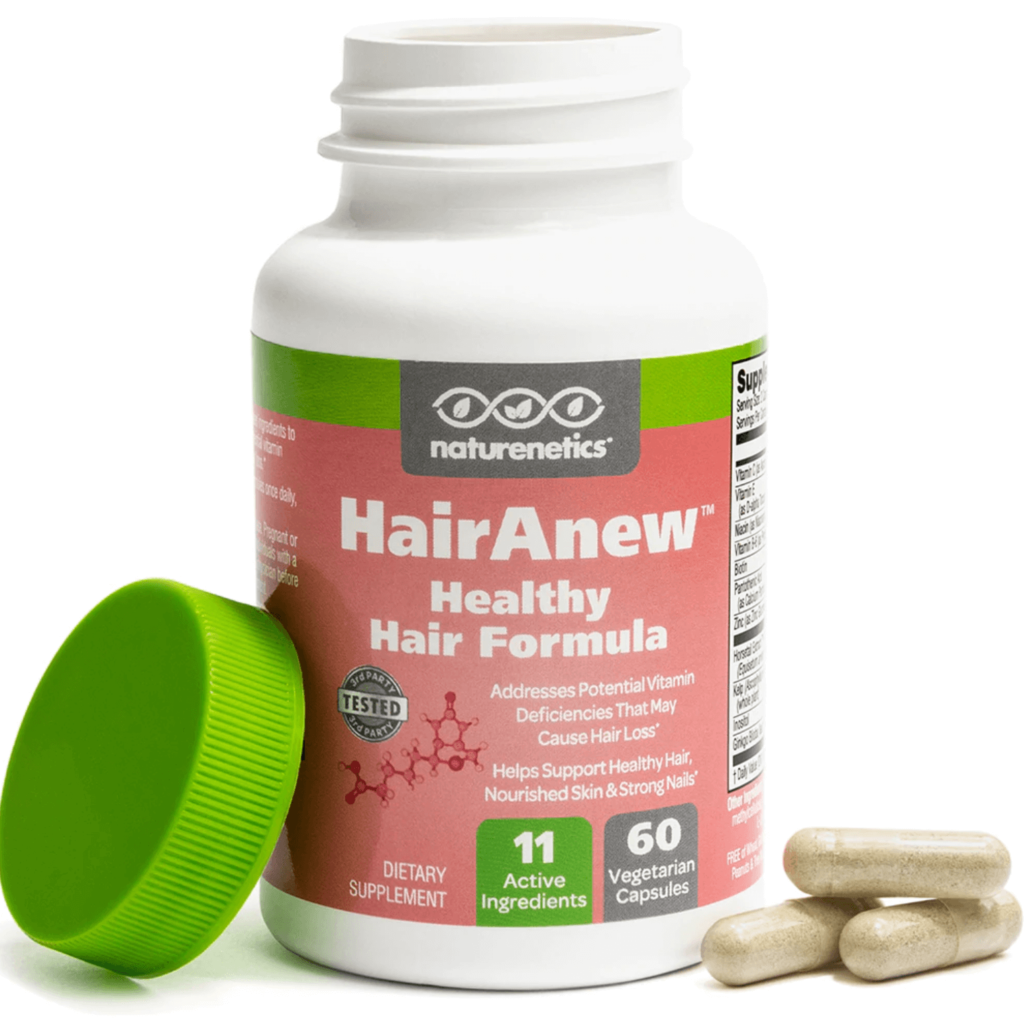 If thickness and rapid growth is what you're called to experience, then Naturenetics is a brand that we are called to put forward.
While they are packed with very impressive vitamins and minerals, there is a downside to taking this supplement. Some people find that the capsules give off an unpleasant taste and smell, making it hard to swallow if you have a sensitive gag reflex.
That said, if you can manage to get them down, there are numerous trials that show that just about everyone who persevered with this supplement experienced a notable change in thickness and overall quality. So there is a method to the madness. Perhaps do the old nose block 'n swallow technique?
Best Hair Supplements for Women
Hairburst Unicorn Vegan Hair Vitamins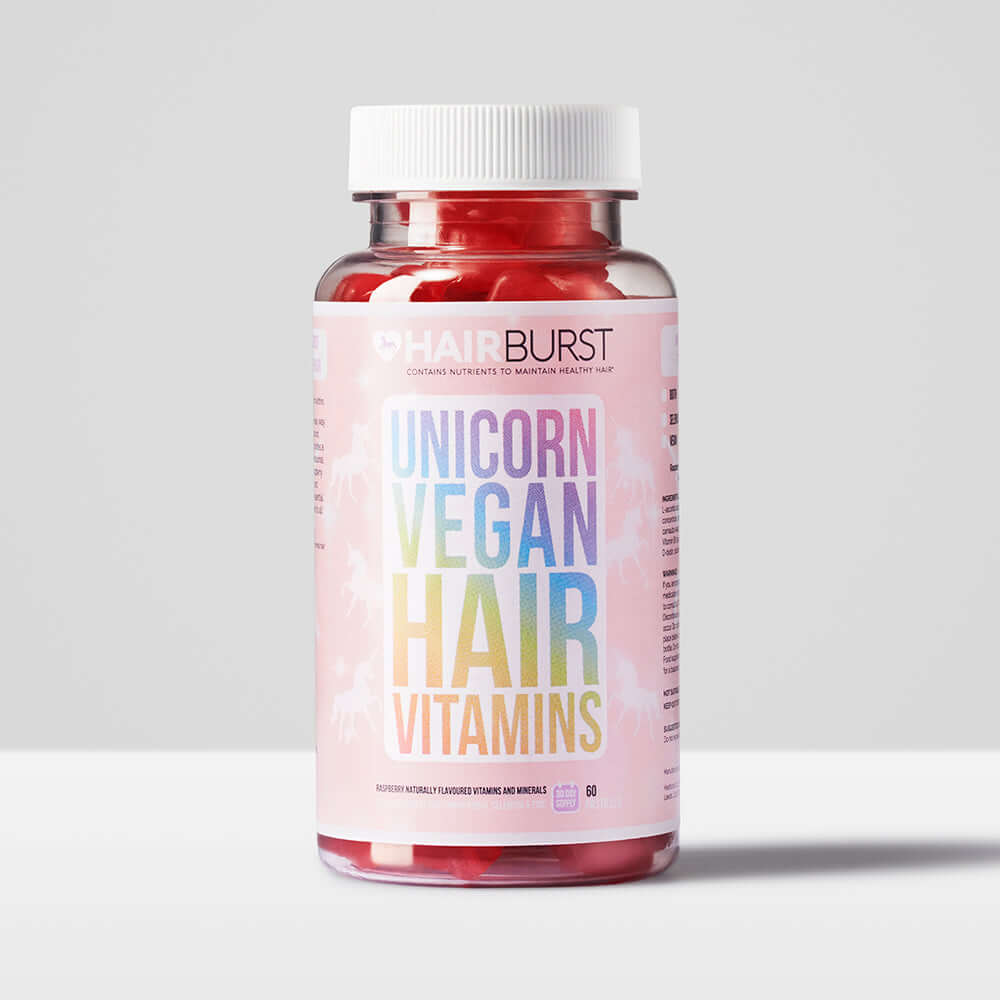 This packaging couldn't get any girlier if it tried. Luckily, they actually do what they claim to, so it's not just an effective branding illusion. Hairburst are berry flavored biotin gummies that take shiny, happy hair to a new level… while also improving the appearance of your skin in the process — bonus!
A combination of biotin, zinc and selenium makes for a nutrient dense formula that is great for women who have started to see their hair thinning out due to age or stress. The brand recommends two vitamins a day, taken alongside breakfast.
From there, one can expect to see results in as little as 90 days, which is why they also offer a 3 month bundle pack in which you'll save some pennies. We've read the reviews, and can confirm a plethora of happy customers, all with vastly different hair types.
Best Hair Supplements Reviews
As with the vitamins, supplements for hair can also be better understood through public reviews and feedback from previous customers. Things to look out for when reading reviews? We've got a little list of pointers to share with you:
Firstly, take note of the duration that the customer made use of the product. Anyone leaving a negative review who didn't use the product for at least 3 months is not to be trusted. Supplements take 3 months or more to start showing results.
Be weary of those who report side effects. Supplements are natural compounds of essential vitamins and minerals that human beings need to survive. Side effects from essential compounds is highly unusual, and typically doesn't mean that the brand itself is compromised, but rather that the person taking the supplements is either unknowingly overdosing (due to diet/other medications) or is one of the rare few who happens to be allergic to a specific strain of a specific mineral.
Don't assume that because a product didn't work for someone, that it automatically can't work for you. The human body digests vitamins and minerals so differently from person to person; you might absorb iron without any effort, while the woman next to you on the train can't absorb iron at all and needs additional help from alternative medicines. We are all different.
Did You Enjoy This Article?
If you enjoyed this article, you might also like our other articles discussing hair care such as: Silk Pillowcase for Hair, Top CBD Hair Products and Best Sulfate Free Shampoo and Conditioner.